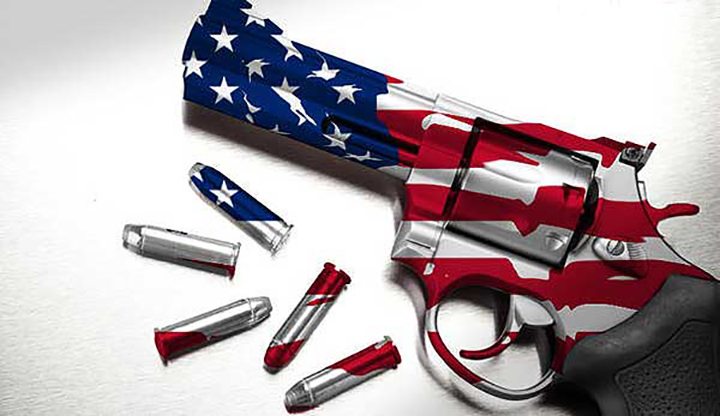 A black man slumped over the front seat of his car after a routine Wednesday traffic stop in Minneapolis.
A white police officer laying in the street following a peaceful Thursday protest in Dallas.
And red. Lots and lots of red.
This is America.
This is who we've become.
This is the collateral damage of our religion.
This is the rotten, stinking fruit of our shared faith.
This is the bloody yield of our worship of guns.
This is what happens when deadly force is placed in our flawed, fearful, quivering hands and allowed to do whatever it wants to.
The trigger only has one purpose: to be pulled.
The bullet only has one purpose: to penetrate.
The gun only has one purpose: violence.
And so, violence is what we have in more abundance than any country on the planet.
We have a sickening, growing global monopoly on death.
We can dance around it and talk in evasive semantics about "people killing people". We can debate legislation and hunting and safeguards and self-defense all we want, but the truth is right there in pools of crimson filling our streets.
And it's on our collective hands now. This is what we've chosen. We've chosen death.
Somewhere along the way, a professed "Christian nation" decided that we all get to choose who deserves to die and why we're justified in taking that life. We kill and then we create whatever narrative we need to bless the violence we've exacted:
He was reaching for a gun.
She was running.
The police have it coming.
He has priors.
I was frightened.
This was a bad guy.
Someone has to pay.
He was deemed a threat.
He cut me off.
She was acting erratically.
Now they'll listen.
This is the American way now and all of America has to lie in this bloody bed together.
The greatest myth we've allowed ourselves to believe is that the answer to our ills is ever a "good guy with a gun". We all believe we're the good guy.
None of us ever imagine that we are the danger, that we are the evil presence, that we are the impulsive, hateful, unhinged ones out there. We all consider our motives pure. We all consider our cause righteous.
And when we want to be the good guy and still kill people we find a way, and we find others who will line up to tell us we were right to pull the trigger. Those other bad people weren't of course—but we were.
Death and death and death and death. 
This is what idolatry is: It makes God into the hateful image we most desire and joyfully bows down to it. 
Jesus and Martin Luther King and Gandhi all tried to show us what goodness really looks like. They all tried to give us a bloodless path to walk.
Each lived a life where the boldest and most redemptive force wasn't force at all. It wasn't power or retribution or eye for eye. It wasn't aggression or malevolence—or even self-defense. It was the absolute defiant refusal to respond to violence with violence. It was peace even in the face of death. It was counterintuitive love as the last and loudest word.
They modeled a life that didn't require a gun.
But that life doesn't get us off. It doesn't scratch the trigger finger. It doesn't let us be cowboy and savior and executioner and judge and tough guy. It doesn't allow us to wield the kind of deadly power we've decided we've earned. It doesn't let us win a holy war.
America has always made claim to Equality, and maybe now we're finally there. We now all get to kill people when it suits us. This is the freedom we've now taken hold of. This is what the Home of the Brave looks like: a killing field.
The truth is black lives don't matter, and cops don't matter and Muslims and gays and kids don't matter because those who believe they don't matter can pull the trigger and remove them in an instant and feel perfectly patriotic and perfectly righteous in doing it. 
The families of black men and school children and police officers and spouses don't give a damn whether their killers believed they were good guys or not. 
Their loved ones are dead just the same.
Their bodies are lifeless just the same.
Their blood is on our hands just the same.
America, this is where we've chosen to place our faith: In our own trembling, hands with a finger on the trigger.
And unless we choose a different path, this daily death is our kingdom come.