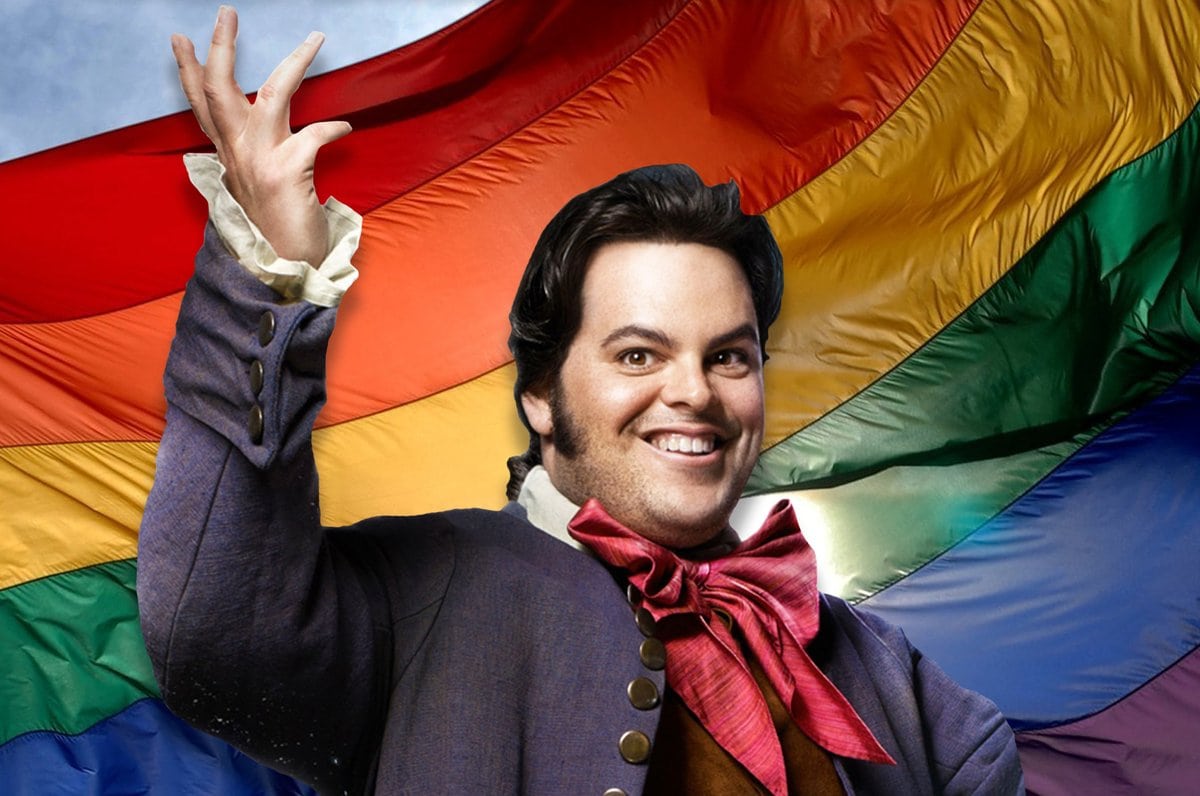 Conservative Christians have crawled out of the church pew woodwork to rend their garments and beat their breasts, at word that Disney's live action adaptation of Beauty and the Beast will feature an openly gay character. They've loudly promised to boycott the film and Disney itself in spiritual protest.
This news alone is of little surprise, as it's been the M.O. for these opportunistic, self-righteous Bible-thumpers who never waste an opportunity when there's publicity to be had, damnation to be dispensed, and joy to be squashed. Such unprovoked jerkery is what we now expect from the American Religious Right, who have long since jettisoned the loving, compassionate, redemptive justice work of a poor-loving Jesus—and gone all in with the glossy, homophobic pulpit bullies who arouse their passions. Their continued persecution of the LGBTQ community and anyone who supports them, is a sad song we've all gotten used to them singing.
But right now their sanctimonious diatribes and their public castigation ring more hollow than usual, because to offer these things they've had to take a break from the work of breathlessly and violently defending the three-time married, adultering, vile, misogynistic, professed p*ssy grabber that many of them voted into office. To ratchet up the energy to launch a witch hunt about a fictional gay character, they've had to pause from doubling down on supporting a flesh and blood President guilty of Olympic levels of lying, vulgarity, and a seemingly endless stream of decisions targeting the poorest, sickest, most vulnerable—not to mention the water we drink, the air we breath, and the planet we stand on. (Thank God there aren't any Bible verses addressing any of that stuff, or these folks would be looking pretty darn ridiculous right about now.)
It turns out that when the rubber meets the road (or the campaign trail), "Biblical morality" is far less of a concern when it's the guy who claims he's against abortion, the one who promises you a Supreme Court Seat, the one who can keep your state Red. Then, the selectively parsed out words of the Scriptures become far less pressing, the life of Jesus much less critical—and a stranger's sexual activity no longer a priority. In that case, they can in one breath lament the corruptible influence of LGBTQ people simply trying to live quiet, undisturbed lives—and in the next breath they can pledge allegiance to a foul-mouthed predator who's repeatedly treated woman as utilitarian sex objects.
And this is the pathetic, hypocritical corner the Evangelical Church has now painted itself into. By throwing its muscle, money, and manpower behind such an unapologetic, reprehensible, amoral human being like Donald Trump—it has lost the very small patch of moral ground it had left on which to stand to point the finger at any professed sinful behavior. They now haven't a pulpit to pound on. And this is why their decision to once again go back to draw from the well of making the LGBTQ community the target of attack is so reprehensible. That they insist on inflicting damage on an already marginalized community to rally their base, is opportunistic bullying and hypocrisy of the highest order.
More and more, younger generations view gender identity and sexual orientation as non-issues, which is making these religious folk's righteous indignation look more and more like the unhinged ramblings of an old man who has lost his faculties. The Christians who are weeping and gnashing their teeth right now aren't winning any converts, they're doing nothing to damage Disney, and everything to damage the image of the Church in the eyes of the world, as an out-of-touch, hateful, inconsistent horde—who apparently find gay people "icky" but misogyny perfectly Presidential.
I'm sure these folks will do some wild theological gymnastics to make a gay character in a fictional story somehow more of a threat to our children than a confessed predatory President who brags about forcing himself physically upon strangers. They will work overtime to try and get God to consent to their inconsistency—but God will not. They can conjure up all sorts of Biblical slight-of-hand to try and justify themselves, but it will all be fruitless.
There may have been a day in the now distant past, where the preachers and Evangelists would have gotten a nice bump from such histrionics; a time when they may have even convinced some Biblically illiterate, easily suggestible bystanders to go along with them. It may have been sound Church business at one time. But these self-righteous reservoirs are drying up, as the old folks in these communities die out and the building themselves grow dormant, with no new converts to fill them. They are quickly become dusty museums of a religious bigotry that thankfully fewer and fewer people feel like practicing.
Today these protests are falling on deaf ears, by an educated, technologically connected generation, who see such obsessions with people's personal plumbing all as much ado about nothing. They have no interest in a Church who doesn't seem at all burdened to attend to the real suffering in the world, preferring to protest musicals, out terrified teenagers, and police public bathrooms for nonexistent boogeymen. 
Disney's primary business is in the telling of stories and the dreaming of dreams and the singing of songs. And in days when the world has become so dark and so starved of simple joy—we need their brand of beautiful magic more than ever. The majority of us who affirm the inherent value of all people will pack the theaters and escape from that dim existence for a couple of hours, celebrating the diversity of this life with our children in stories and songs. Meanwhile "the Church" will stand outside with signs, sneering and scowling and being miserable in the name of Jesus—before returning to social media to troll some folks online who believe Donald Trump isn't a great model of morality for our nation's children.
And those of us who believe that we're all equally welcome at the table despite who or how we love (many of us committed Christians), will stand at the door smiling, and with our hands pointed toward the dining room, simply sing to all who gather:
Be our guest, be our guest…