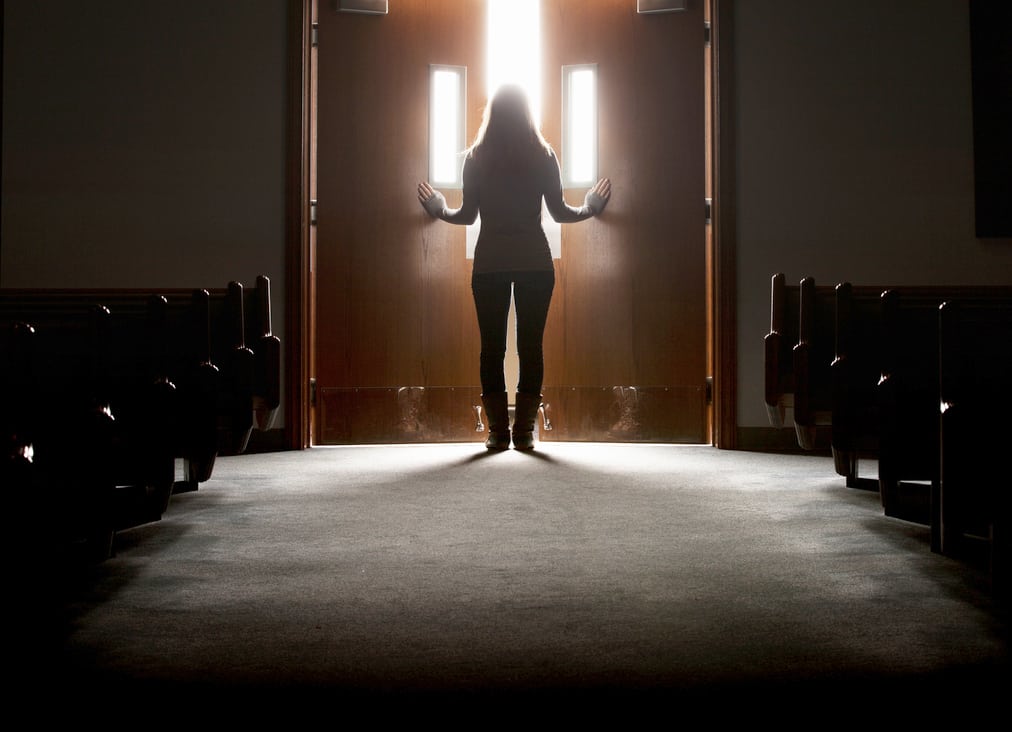 Every day I meet more and more homeless people.
It isn't that these men and women are without a physical place to dwell, it's that they have found themselves internally displaced. 
Presently in their spiritual journey, they've arrived at a spot where they realize, often with tremendous grief and a fair bit of denial—that they no longer belong where they once did. They no longer fit in American Christianity. Once fully secured there, they are now frightened refugees desperately trying to escape what their religion has become.
They may have become unwilling prodigals, forced to the periphery by the judgment and coldness of other believers.
They might have become estranged by the growing distance between themselves and those also claiming to be Christian.
Perhaps they've been gripped by the knowledge that they can no longer be the most authentic version of themselves in their spiritual communities.
Or maybe the election showed them a Church and a Christianity that they couldn't recognize Jesus in any more.
Whatever the reason, these orphaned souls have lost the sense of belonging and safety they used to feel in their religious tradition or faith community—and the existential homelessness of it all is terrifying.
My Christian faith used to be home for me. For nearly twenty years, the Church was the place I felt most connected to the world and most alive in it. There in a local church and as part of the bigger global Christian community I found affinity and connection and kinship. My religion was a place of respite and shelter in the tempest, a place to pause and to breathe.
This is after all, what home is. More than merely a geographic spot on the map or a building we find ourselves in—home is an internal condition, a feeling. When we're there, we can be exactly who we are without alteration. There in the space where we are fully seen and fully known, in the presence of those we don't have to earn approval from or deserve proximity with—we can exhale. We can rest. Many people are exhausted right now because they no longer feel at home in the families or marriages, in their churches or faith tradition, or even in their country. Everything is laborious and tiring.
Recently, my dear friend Christy called me. Sharing the story of the last few turbulent months of her life, she echoed the hearts of so many people of faith I speak with.
"I've seen things I didn't want to see, and just I can't go back there. I have no place to go now," she said as her voice cracked. "I don't belong anywhere."
This is familiar ground for millions of people right now—feeling like aliens wherever they place their feet, feeling emotionally unsettled.
It's difficult to admit the sense of homelessness I feel regarding the faith of my childhood and the devastating loss that comes with it. It hasn't happened in a loud, cataclysmic instant, but in a million small revelations, nagging questions, and uneasy feelings that all finally became too much to ignore. Slowly but most certainly I found myself outside.
That's not to say I don't still have a glowing ember of belief still tucked away somewhere in the center of my chest. That's the problem: I do. It's just that now I'm trying to figure out how to nurture it outside the religion of my younger days. I'm wondering if I will ever have the sense of belonging or shared purpose I had there. 
Maybe organized Christianity will never be home for me again. Given what it looks like right now, I'm more and more okay with that. It could be that from now on I am destined to be a sojourner who travels lightly and moves often. Maybe that's how this was always supposed to be anyway. Maybe that's the point: that this is all far too big for a building.
If you're feeling displaced from the religion of your past, that may be a good thing.
If it feels like the Church is pushing you outside, go there.
What feels like homelessness might actually be freedom.
Maybe that wide, expansive space that cannot be contained or fenced in—is home.