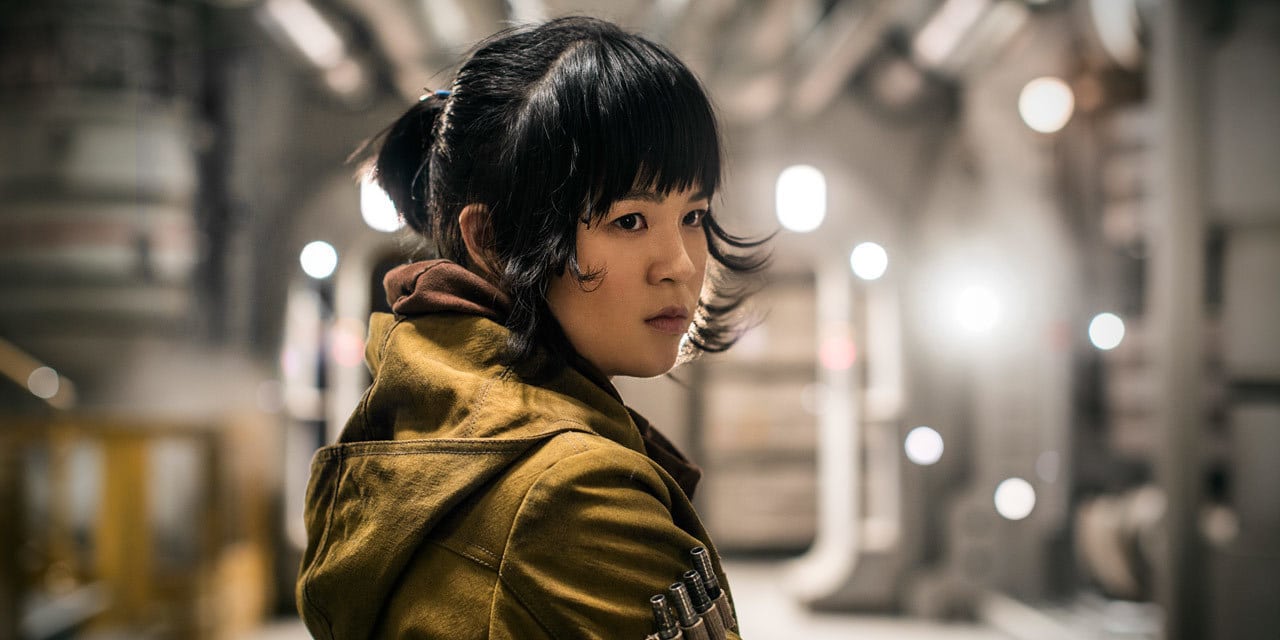 Image: Starwars.com
WARNING: Star Wars: The Last Jedi Spoiler Alert:
In StarWars: The Last Jedi, Rose Tico, a young fighter in the Resistance, has just saved fellow resister Finn from certain death as he's attempted to attack a massive First Order weapon alone.
As Finn pulls an injured Rose from the cockpit of her crashed ship, she offers him this sudden revelation—as much for herself as for him:
"We're going to win this war, not by fighting what we hate, but saving what we love."
It is a poignant moment in the film, and a beautiful sounding sentiment—but I'm not sure I totally agree with it.
The words remind me of the scoldings I've received from people about my forcefulness and anger in recent days, about my volume and my ferocity in opposing things happening here in America. It reminds me of the reprimands of people uncomfortable with other's methodology, who always seem to imagine a quieter, more passive, more benign activism than what they are seeing.
Rose's words seem to quietly echo the popular admonishment: "I know what you're against, not what you're for."
I disagree that such a one-sided declaration is ever possible.
I think it's really clear who and what we love, by what we oppose and what we hate.
I contest the assertion that you can either be loving—or you can be angry.
I don't believe that there is some clear, undisputed line dividing the acceptable ground for loving people to tread from that which is off-limits for them.
I resist the idea that matters of the heart are confined to the palatable and the pleasant.
I am loving—fiercely, passionately, unwaveringly loving:
Because I love the LGBTQ community, I openly call out politicians and clergy who deny their inherent worth, who try to determine for them where they can go to the bathroom and who they can marry and where they can worship and whether or not they can adopt children.
Because I love people of color, I speak into broken systems that deny them full participation, that silence their voices and minimize their contributions. I push back against a privilege that believes its whiteness superior to the lives of people of color. I will say with pointed clarity that they matter.
Because I love my Muslim brothers and sisters, I openly condemn the politics of fear that conflates their earnest faith with terrorism; that makes living and worshiping in America for them a daily hardship, that causes them to feel unwelcome in their homes and communities.
Because I love the vulnerable, I rail against those who would prey upon them; people who leverage their power and position to further marginalize them, by hoarding opportunity and education and care and votes. 
Because I love this country, I realize that I did nothing to be born here, that I sacrificed nothing to live here, that this luxury has not been earned. I realize that many people run here in desperation, seeking rescue from a kind of poverty, violence, and oppression that I'll never know—and I will have compassion for them and oppose those with contempt for them. 
Because I love women, I speak into a culture that objectifies them, that shames them for boldness, that would pay them less while requiring more. I will stand up when women politicians are vilified for the kind of strength that men are rewarded for. 
Because I love America, I use whatever is at my disposal to demand that those representing us in the world and appointing our Supreme Court Justices and upholding our laws, do so with the Constitution as their guide, not their fears or their whims or their prejudices. 
Because I love America I speak out when it seems as though the basic liberty, equality, and freedoms it stands for are being denied to great segments of their population, when its Constitution is being trampled upon.
Publicly standing against these injustices and those who perpetuate them is not a backhanded way to be hateful.
It is a way to be openly and brazenly loving to those who are denied love, those who are marginalized, those whose voices are not heard.
This is the very nature of love; that it is a direct, unflinching response to that which is unloving—and this will feel like violence against hateful people. It will be attack and confrontation to those stockpiling power and privilege.
Love is terribly offensive to those who would wish it silenced.
Love doesn't tolerate discrimination.
It doesn't abide bigotry.
It doesn't play nice with fear.
It doesn't wait in the corner for Hatred to consent to it speaking.

Love doesn't sit quietly while people are dying, for fear of being deemed impolite.
Love is audacious and inappropriate and undignified—at least Jesus' love was. In fact, his love was so offensive that it got him killed.
Love isn't a mousey wall flower.
It isn't a pushover.
It won't be managed or tone policed or shamed into holding its tongue.
Love is the furious eruption of the heart in the face of all that feels wrong and broken and deadly.
The same loves that embraces the hurting, fights back the hurters. It will be at once comfort to one and irritation to the other.
These are days when we are called to love, and to risk all that love asks us to risk, to give all that love requires us to give.
Love is still the greatest weapon good people have.
Love doesn't just love. It also pushes back hard against unloving things.
Yes Rose Tico, you're right, we do save what we love. That is the primary mission—and that means we may have to fight what we hate and even die trying to do it.
Plan A is Love.
There is no Plan B.