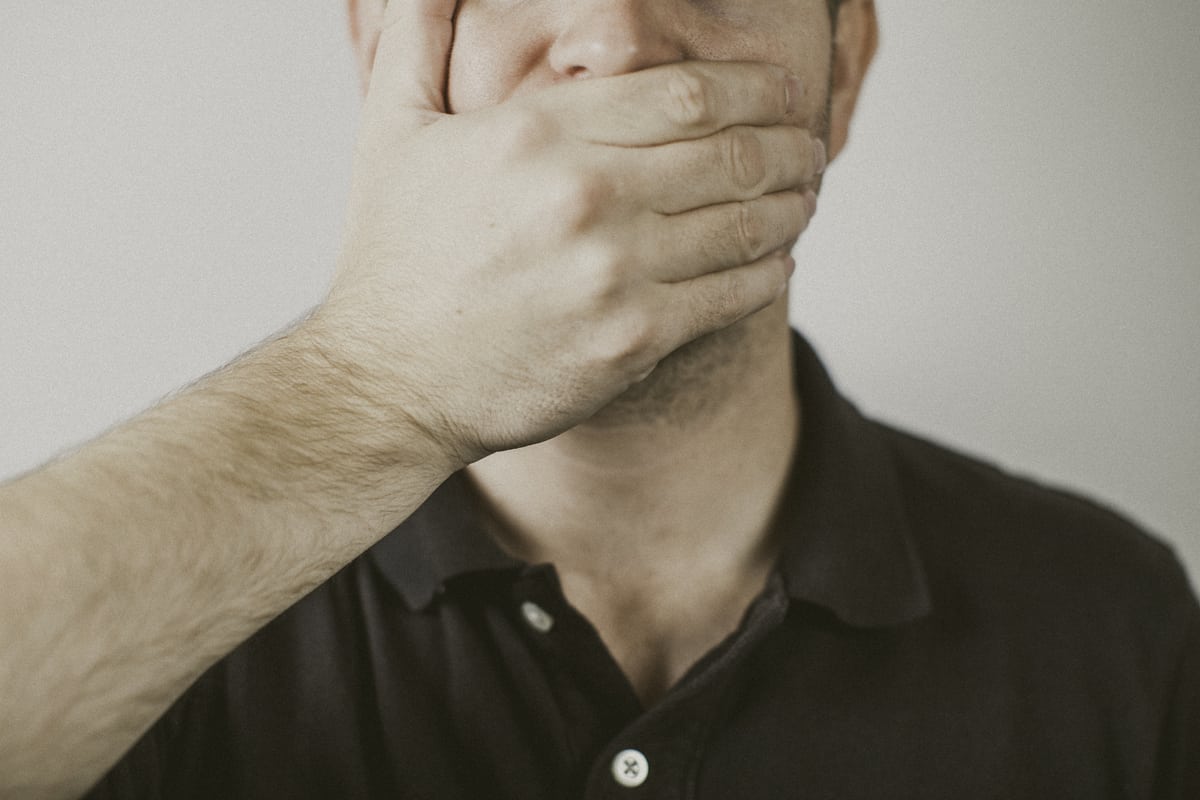 When people are pressed up against nightmares in the daylight—words are powerful, but they can't hold a candle to silence.
Silence can be a far more brutal weapon in doing them damage.
White Christian friend, I want you to know that I hear yours right now.
I've heard it since November 9th, 2016, actually.
Since that day, I've witnessed your steady and staggering lack of volume—while the world has been turned upside down for so many people.
As refugee families were stranded at the airport,
as marching Nazis were coddled by the President,
as protections for the land and the water were erased,
as healthcare was sabotaged in the middle of the night—
I've scanned your face and your social media profile for any evidence of outrage, any semblance of compassion, and urgency whatsoever.
I've leaned in and held my breath, waiting to hear you speak some opposition or voice any disgust.
Every day I've looked for a tipping point in your heart, when you would finally break your silence and speak.
Nothing.
Nothing about predatory Alabama Senators.
Nothing about multi billion dollar border walls.
Nothing about sexual assault accusations against the President.
Nothing about ICE raids in hospital rooms.
Nothing about Evangelical preachers defending discrimination.
Nothing about Tweet taunts of North Korea.
Nothing about the expulsion of Dreamers.
Nothing about Medicaid erosion.
Nothing about tearful airport family goodbyes.
Nothing about shithole countries comments by the leader of the Free World.
It's as if three years ago you vanished, as if you you've become a practical ghost: here, but having no tangible effect on the planet, other than your silence and disappearance.
I'm not sure if you're embarrassed and hiding, secretly jubilant, or frozen with fear, but in a way none of that matters. The result is the same: you have declared yourself a conscientious objector in the war for other people's well-being. You've barricaded yourself in the bunker of your privilege and you think no one notices.
I do.
I notice because I know you.
I've sat alongside you in church.
I've heard the religion you profess.
I know the faith you claim in a dark-skinned Jesus who lived among the marginalized and the poor.
I know how many weeks you spent on mission trips in those supposed "shithole countries," being humbled and blessed by those beautiful people.
I know how moved you claimed to be at the thought of young women being trafficked: the faceless #MeToos thousands of miles away.
I know how willingly you recited that God so loved the world—a world far bigger than America.
I know how often you read the stories of foreigners finding welcoming, of Jesus turned away at the inn, of angels being entertained in the guise of needy strangers.
I know how many times you've heard Jesus' call to love the least; those forgotten and oppressed and pushed to the margins.
I know how diametrically opposite this America is to that message.
And I know that despite your complete Monday through Saturday silence—that you'll be really loud come this Sunday.
This Sunday, you'll again find yourself in a room (probably filled with other white Christians), and you'll raise your hands skyward and bellow loudly and shout your amens.
You'll be boisterous in claiming to bear witness to a non-Christian, Middle Eastern Jesus, who calls you to be transformative salt and light in toxic, dark places;
who demands you be a visible expression of compassion, love, mercy, and justice;
who compels you to mercy for the wayward and vulnerable.
In that room for that hour, your voice will be booming, your declarations unmistakable, your convictions clear.
Which is why your silence right now is such a sin of omission—because you should know better; because you say you know Jesus, because you claim to seek his heart; because you claim you desire to walk so close behind him in this life, as to be covered by his dust.
Because if this is all true, then right now you should be the loudest of voices, the one screaming from the rooftops, the one flipping over tables; the one braving the slings and arrows of the bigots and the predators and the moneylenders and the bullies.
Your activism should be involuntary right now, instead of invisible. 
I imagine you think that when this nightmare is over and things find some sense of order, that you'll be off the hook, that no one will recall your silence—but you would be wrong.
I'll remember just how quiet you were, just how little outrage you expressed, just how many times you could have been the Good Samaritan—but turned your head and walked to the other side of the street; leaving someone bleeding and someone else to tend to their wounds.
Jesus will remember it too.
White Christian friend, I don't care what you do on Sunday for an hour in a building.
That's the easiest time and place to have convictions.
That is a paper tiger faith; one that has no real teeth and no true power.
It is the greatest of empty religious performances.
Fortunately there are plenty of people of faith out there who are speaking, who are stepping into the fray, who are naming and opposing this ugliness—but not enough of us. I keep hoping you'll join us.
I've been waiting for a year here outside that building and that hour on Sunday, for you to break your silence and loudly resist all that is so terrible.
I won't hold my breath any longer, while you hold your tongue.
Just know that I hear you.