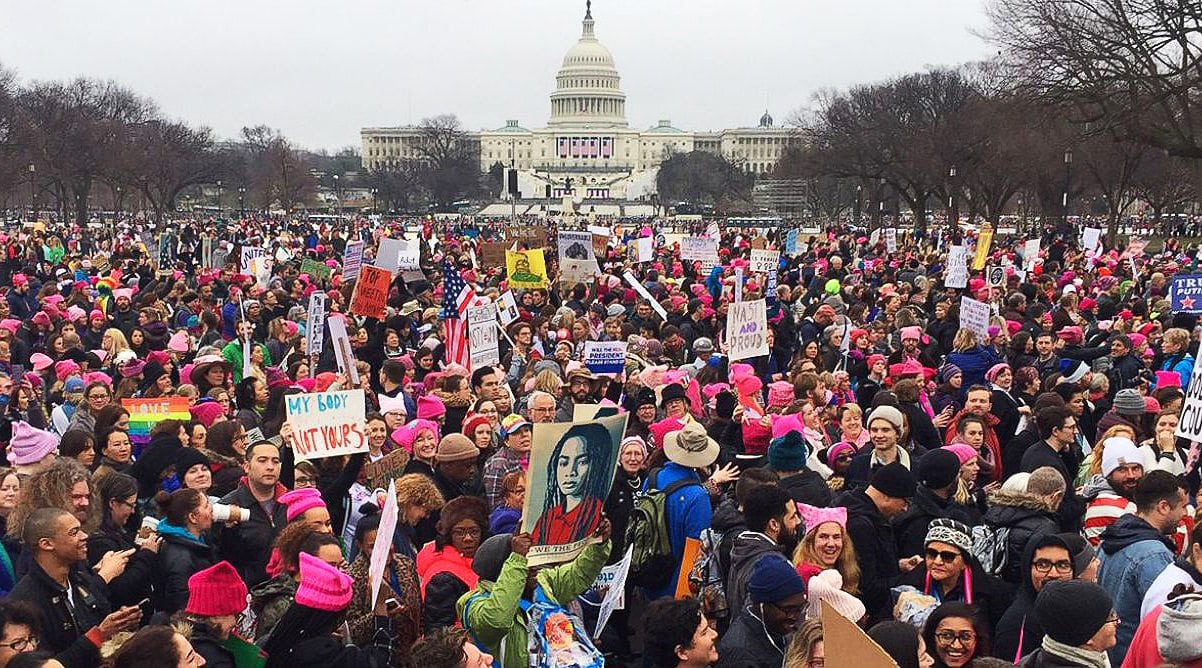 Image: ABC News
Mr. President,
I spent your first day in office, among tens of thousands assembled here in the streets of my home city of Raleigh, along with millions in similar gatherings all around the country and the world.
We came together to affirm the rights and intrinsic value of women and to celebrate our love for one another and for this nation. We came together as a visible expression of the beautiful diversity of humanity.  We came together to remind you that we are among the overwhelming majority of American citizens who did not vote for you in November, and who question your commitment to us.
We marched, we sang, we laughed, we hugged strangers, and we saw the very best of our country. We made a massive, clear, bold, nonviolent declaration. I walked with my wife, my two young children and good friends from our church, and we all felt hope in the joyful exuberance of the moment.
This is how I spent your first day in office. Mr. President.
I also know how you spent your first day in office. You spent it angrily Tweeting and hastily arranging press conferences. You spent it shutting down websites and pasting up photo boards. You spent it dispatching your apologists and cronies to try and discredit us. You spent it verbally assaulting the very people you are charged with caring for. You spent it spitting venom at millions of Americans who were being America, and by doing so— you proved us right.
You did this because you're simply not a true leader, Mr. President.
If you were a leader, you would have found some humility, some dignity, some grace.
If you were a leader you would have checked that eggshell ego and that paper-thin skin and you would have paid attention.
If you were a leader you would have shut your mouth and listened, instead of responding like an embarrassed middle schooler who'd just been jilted by a crush in the cafeteria.
If you were a leader you would have realized the incredible healing that might have taken place in our country, if you had said to the millions marching and the millions more who love and support them: "I see you, and I want you to know that I want to be your President too. I want to protect you and to advocate for you and your families. I hear you and I am listening, and I will prove to you that I am deserving of your trust. We're in this together."
But you didn't say any of that, Mr. President.
Instead, you argued that we didn't exist in the numbers we did, you minimized our voices, and you publicly called the Press and people with working eyes—liars. You made your Press Secretary parrot your incendiary, nonsensical words to try and make you out to be both the victim and the hero, which is your way. You gave your rabid supporters the fuel to be horrible in response to us. You turned peaceful protest against you, into bitter war with one another.
On your first day in office you showed us the leader, the man, the Christian, the decent human being that you are not.
You showed us that you are that petty, that shallow, that insecure; that you would attempt to make people believe they weren't seeing what they were seeing, that you would seek to alter and redefine truth, simply to bolster your very delicate vanity.
You showed the millions of us marching that we are right to be terrified of you and correct in believing that you do not care about the rights of all Americans, and that you are a danger to us because you are not mature enough to sit in the seat that Jefferson, Roosevelt, Kennedy, Reagan, Bush, Clinton, and Obama have occupied with such wisdom and humanity.
Yesterday you claimed you have an "ongoing war with the media." This is inaccurate.
You have an ongoing war with The Truth and with Reality, and because of that—with the 65 million plus who don't buy your shtick and will not be gaslighted into thinking we're out of our minds or that we're the problem here.
The problem, is that America has just installed a fraud in the White House. We have just entrusted our nation to a petulant bully. We have given the keys of our future to an easily baited coward. We have elected a grown-up baby who can't control himself when faced with the slightest adversity—and that's the thing that will prevent America from being as great as it could and should be.
Your supporters keep telling me to "give you a chance". I do and you keep blowing it. You blew it again, this weekend—bigly. You squander every conceivable opportunity to show that you are for us.
If you were a true leader, you would have stepped up and met those of us marching right where we were and led us to a place of redemptive conversation and measured compromise. You would have validated and reassured and acknowledged us—but you didn't. Instead you condemned us and attacked us and diminished us. 
And this is why we'll keep resisting you every single hour of every single day until you're no longer here, or until you prove to all of us that you can be the leader this great nation deserves.
We aren't going anywhere. These marches were not a landing pad they were a launching pad.
We have eyes, Mr. President and we see you clearly.
You had a golden moment this weekend to bring healing to the people of this country—and you missed it.