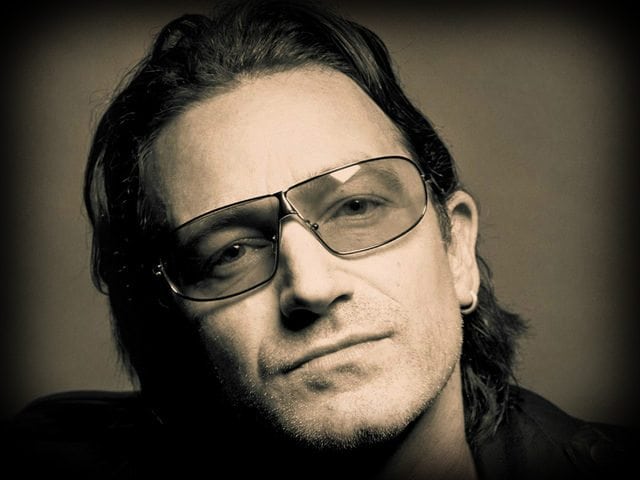 I have climbed the highest mountains
I have run through the fields
Only to be with you
Only to be with you
Hey Bono,
I remember the first time I heard those words ringing out from the speakers of the suitcase-sized silver boombox resting in my lap on the afternoon school bus. They cut right through the din of my classmates and the roar of the wind through the windows. They spoke with eloquence the cries of my young heart; that straining to reach something to fill the holes that never seemed to get filled—ones I didn't even realize were there until that very moment.
I have run, I have crawled
I have scaled these city walls
These city walls
Only to be with you.
This was my church music. It was tenuous communion with the invisible Greater. It was a seductive dance with the elusive Divine. I could own those words and sing out every bit of longing and incompleteness without feeling any more alien than I usually felt. 
I found solidarity in that song, a sense that someone got me in my all my oxymoronic glory; my faith and doubt, my confidence and vacillation, my arrogance and insecurity. It was the ragged hymn of a fellow flawed pilgrim seeking a home he believed was just around the corner.
But I still haven't found
What I'm looking for
What I never imagined that afternoon, is that I'd still be singing this song almost 30 years later—that I'd still be looking, that those holes would be as massive as ever.

Yes, there have been fleeting moments when I thought I'd figured it out, brief times when everything turbulent within me seemed to settle and I no longer felt the nagging unrest in my spirit like a burr in my shoe. But whether it was love or faith or sex or stuff or success or achievements or praise—they eventually all left me wanting and returned me to searching again, to singing once more.
I have kissed honey lips
Felt the healing in her finger tips
It burned like fire
this burning desire
I heard this song again last night, and I thought about you. I got to wondering whether you did indeed did find what you were looking for. I wondered what song you would sing to the much younger man who wrote these words; what you've come to know about the search now, after so much climbing and running and crawling and scaling.
I started to imagine what I would say to the me who sat on that crowded school bus, with a boom box in his lap and seemingly endless miles of road ahead of him to figure out everything he didn't yet know.
I have spoke with the tongue of angels
I have held the hand of a devil
It was warm in the night
I was cold as a stone
The boy I was when I first heard these words was sure he had plenty of time, and so there was no urgency in the search. Now, even by my most optimistic estimates I'm halfway through this life, and likely the days I have left are fewer than the ones I've already lived.
The scar tissue of my disappointments and failures and betrayals has formed tightly around my heart, and I'll confess that on some days it can be difficult to keep singing at all. Yet despite the wear and the miles, in so many ways I am still that 18-year old wide-eyed young man, still hoping to make sense of it all; still fully expecting to find a clearing of peace and rest just off in the distance.
But I still haven't found
What I'm looking for
I grew-up believing that the Sunday School answer to all this striving was God; that Jesus was the elixir for everything that afflicted me, but frankly my results over the past thirty years have been decidedly mixed. With every seeming pure revelation there has been a misread sign, with every blinding flash of beauty in the Church an equally ugly darkness, with every ounce of love received there's been a pound of flesh taken.
For as often as religion has been the balm for my soul it has been the source of its wounds. And so on many days I sing these words not a quiet, confident psalm—but as a pissed-off protest song to the heavens; an impatient plea for more solid ground to stand on, to a God who seems to be hiding.
I believe in the Kingdom Come
Then all the colours will bleed into one
Bleed into one.
But yes, I'm still running.
Maybe I've too often I've fashioned the people of God into an idol; allowing their hatred, their bitterness, their darkness, and their cruelty to become God and to keep me at arm's length from what is shaped exactly like the holes within me. Maybe that's still where this search is headed, and I'll learn how to overcome Christians to get to this Jesus.
Or maybe I'll make peace with the fact that even the best evidence I have just isn't convincing enough, and that what I can see and touch and kiss are the truest and surest things I'll ever know here. 
You broke the bonds
And you loosed the chains
Carried the cross of my shame
Oh my shame, you know I believe it.
I don't know how much longer I'll get to sing this song. I wonder if thirty years from now I will have figured it all out. I wonder if I'll look back and realize I was as close right now as I'd ever be. Maybe I'll just be more content with all that I don't know.
And maybe that's the answer; to keep climbing and running and crawling and scaling. Maybe the whole point is to keep singing while we still can. Maybe the beauty is in the search and the refrain.
But I still haven't found
What I'm looking for.
*words in italics by Bono