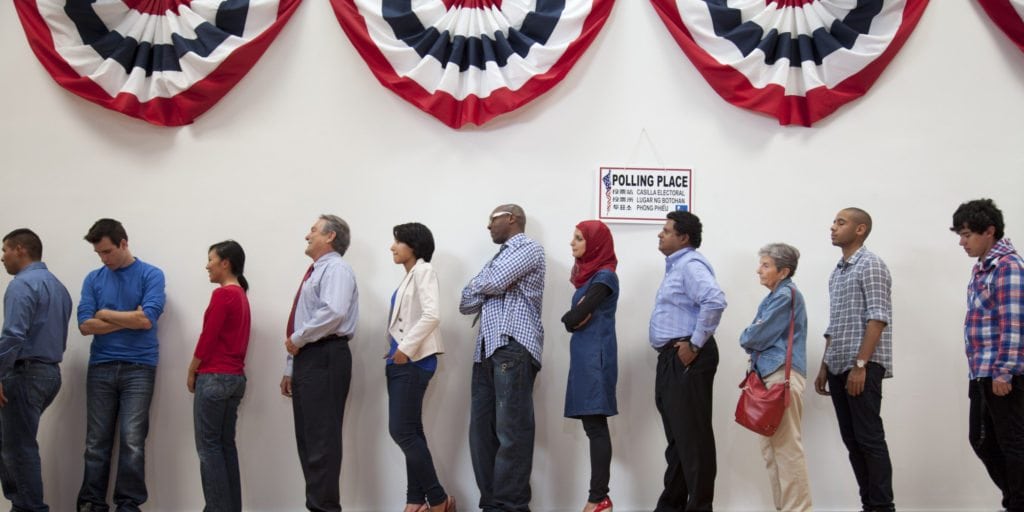 Some days serve as reminders, allowing you to remember what you used to know but may have forgotten.
Today was such a day.
Early voting has opened here in North Carolina, and after two previously aborted attempts due to surprisingly long lines, I hunkered down and settled in to wait my turn and speak my voice along with the hundred or so folks already assembled ahead of me. During the 90 or so minutes I stood alongside the full, glorious spectrum of humanity stretched out over our library sidewalk, I was reminded of a few things:
1) People are more than hashtags. There we were gathered in the rising sun of a crisp Raleigh morning; all the #NeverTrumpers, the #NastyWomen, the #LoveWinsers, the #BlackLivesMatterers, the #MakeAmericaGreaters, the #ImWithHers—but we were and are all far more than that. We are moms and granddads and sons and sisters and best friends and good neighbors and stories and roads and journeys that no word or phrase can contain or do justice to. These shorthand summaries that we've gotten so used to using for ourselves and others may help in reflecting a bit of who we are and a fraction of what matters to us. They may give us a handy snapshot of people from a distance—but they don't do any of us justice. There is no quick caricature, no lazy stereotype, no easy label that fits us or the people we cross paths with. Our beautiful and specific complexity is worth remembering.
2) All Americans love America. It might be the America they believe used to be, or the one they imagine is, or the one they wish to be, or the stuff they believe America is made out of. It may be an America that exists only in their heads or their history books, but I was reminded today that we all live and speak and work and vote to affirm this same ideal of Freedom. No one who calls this country home has contempt for it, none of us wish for its weakness or failure or demise. We may all find parts of it or realities about it upsetting or worrisome or even infuriating, but at the heart of every one of us is a love for this place. We all do share the same dream, even if we can't agree on the way toward making it real. To accuse people who disagree with us of anything less is a slippery slope and a terrible mistake.
3) Face to face will always trump screen to screen. Soon after we found our place in line, a woman campaigning asked the crowd if we needed guides for the Conservative judges on the ballot. The answers quickly popped back, "No.","Nope.", "No thanks." Whether these replies meant that the speakers required no such help because they were fully set in either side didn't matter. The responses were delivered simply, politely, and with a smile; no sarcasm, no passive aggression, no trolling. I can only imagine if a similar request were Tweeted or posted on Facebook—the instantaneous sh*tstorm it would surely generate. We are better people in person, we simply are; kinder, more patient, more decent than we are online. For people, including myself who experience others more and more through laptop and phone screens, it would serve us all well to go and be with human beings from time to time. We'd probably be far more human to one another.
4) We live for our kids. As we waited this morning, a kindergarten class walked by, tethered together in a paper chain gang, all decked out in Halloween costumes and looking every bit as unbearably precious as kindergarteners do. We all smiled and marveled at the sugary sweetness parading in front of us. I thought about these kids and about my own; about how much I want a world for them that is secure and just and safe. Then I remembered that I'm not alone in this. I remembered that the elderly couple in front of me and the new mom behind me and the young people next to her all have children they love too, and the things we all want for them are probably very similar.
5) Goodness is our default setting. By the time we all reached our turn in the voting booth an hour and a half later, it was fairly clear the candidate we were each supporting, and honestly it didn't matter. We'd all just spent some time shoulder to shoulder and face to face; sharing space, joking about the length of the line, talking about the weather and our families, and in general just being decent to one another for a little bit. This is a lost and under appreciated art. I was reminded again of something I have always believed: that regardless of their politics or religion or the money they make or the color of their skin or the work they do, most people are basically good. Almost all folks, if you allow yourself to sit across from them or stand in line with them or really listen to them, have a great deal that is redemptive and beautiful.
I think most people walked away this morning as I did; grateful to live in a country where I do have a voice, fully aware of the importance of these days, and cognizant of the fact that in ways that are far greater than we usually remember, we are in this together.
These reminders don't mean that we can't or shouldn't loudly, boldly, and continually advocate for the people and causes that we are burdened to. They don't make the differences between us and others any less real or profound, but they should be things we try to hold on to so that we don't forget the humanity inherent in those around us—especially those we don't agree with.
If we can be reminded of these things on days when aren't gathered together for 90 minutes sharing a crisp Fall morning, maybe we'll all be a little less horrible to one another the rest of the time. That kind of aspiration should be one that wins by a landslide.