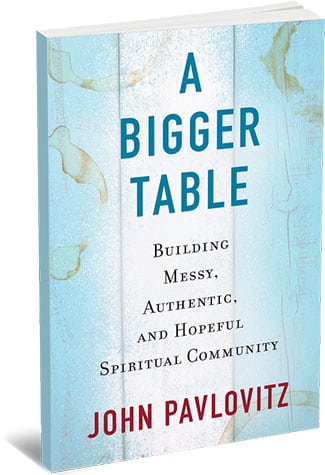 John's first full-length book is available October 6, 2017 on WJK Books. A Bigger Table: Building Messy, Authentic, and Hopeful Spiritual Community shares a bit of John's story and a vision for spiritual community that allows everyone a place.
Read an excerpt:
Friend, the heart of the bigger table is the realization that we don't have to share someone's experience to respect their road. As we move beyond the lazy theology and easy caricatures that seek to remove any gray from people's lives, we can meet them in that grayness, right where they are without demanding that they become something else in order to earn proximity to us or to a God who loves them dearly. Just as was true in the life and ministry of Jesus, real love is not contingent upon alteration, it simply is. There is no earning of fellowship or deserving of closeness; there is only the invitation itself and the joy that comes when you are fully seen and fully heard.
– A Bigger Table, Chapter 4: When in Rome
The signed bookplate offer is no longer available.