If the work here is meaningful to you, you can partner with me in a very real way through Patreon.com.
Patreon allows people to financially pledge to support artists, writers, musicians, and other creative people.
Your contributions directly help move me toward being able to write, speak, and minister online full-time, while having the freedom to do so without censorship or influence.
You can also make one-time contributions using Paypal.
Please help support my ministry and magnify my voice by pledging or giving.
Thanks for considering.
John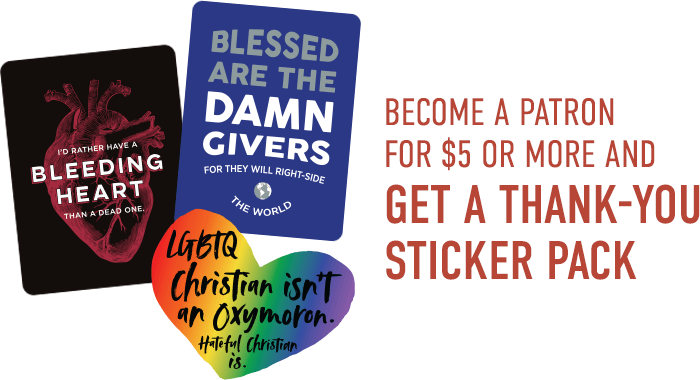 Pledge at Patreon →
Give through Paypal →
More info about sponsorship:
I served in megachurches for many years and made a comfortable salary, however I stepped down so that I could minister to people differently and speak in ways that would be almost impossible on staff at a larger church.
The people who sponsor me on Patreon see me as a pastoral missionary, doing very real ministry in the world, and doing so without a church paying my bills or providing healthcare. They fund my ministry the same way others support missionaries in Africa or China or elsewhere.
These funds allow me to write the blogs, and also to counsel people through phone, Skype, and in person in the Raleigh area. I will soon be launching an online ministry to help connect people who have come to the blog and want community, encouragement, and to grow spiritually, and these contributions help form the bulk of my salary.
I send a monthly message to all of the patrons; sharing the projects I'm working on, the people I'm meeting with, as well share stories and anonymous email excerpts so that they can share in successes and keep me accountable. I also share prayer needs there.
If you have more questions, please let me know.