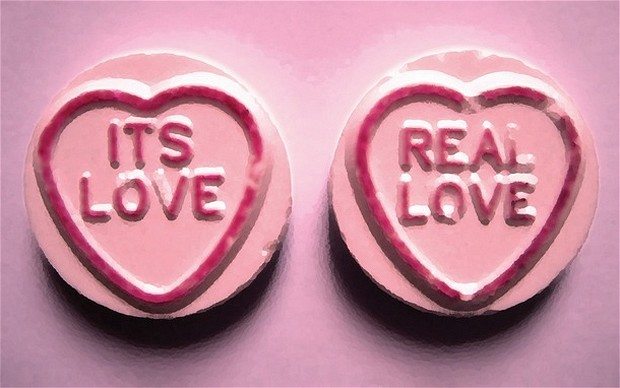 Sometimes our lies come with the best of intentions.
We aren't always given false information by those wanting to deceive or confuse us. We aren't necessarily being intentionally misled by some sinister adversary lurking in the shadows.
Sometimes the lies help shield us from the painful stuff in the world, they soften the jagged edges of life, they inject a little bit of wonder into the brief time we have here—a time that is so often lacking in it.
They untruths often come from a place of love and sweetness:
Santa Claus.
The Tooth Fairy.
The Easter Bunny.
Leprechauns.
Unicorns.
Soulmates.
That last lie is particularly tricky, because it's so stinkin' subtle and so seemingly beautiful.
It's also the only one that we can walk through adulthood without completely jettisoning.
In fact, where the other myths fade as we mature and grow, the lie of "the soulmate" becomes more firmly embedded into the deep canyons of our hearts.
It begins as we soon as we begin to look for a language for our deep feelings (usually around middle school).
It reaches from Hallmark cards, Disney songs, Rom-Coms, and Teen Fiction, and it fatally and permanently skews our understanding of love and of what it means to be in union with another person.
The Soulmate Lie is so dangerous because of the Everest-sized expectations it sets for all of us, as we seek to find someone to walk through this life with.
It turns the search for that someone, into a once-in-a-lifetime, needle-in-a-haystack lottery, that we need to somehow magically hit—or forever settle for less-than.
As a result of The Soulmate Lie, we nearly kill ourselves seeking perfection from others, we become hyper-sensitize to people's flaws, we cut bait and discard relationships whenever things turn less than ideal.
The Soulmate Lie keeps us perpetually in search of something better; that foot to fit the glass slipper, the cleft-chinned prince on horseback, the one whose kiss wakes us up from a dire slumber.
I've been married for nearly 23 years to my wife, who I met while we were attending college together in Philadelphia.
She's smart and funny and beautiful and talented.
She's my wife, best friend, sweetheart, partner in parenting, companion, and co-conspirator.
I've been wonderfully, irrevocably, and uniquely altered by her presence.
She's absolutely the love of my life.
But she's not my soulmate (which is perfectly fine for her, because I'm not hers either).
We both could have just as easily met and married any number of other people, and had fun, meaningful, enjoyable lives. We just wouldn't have had this life.
As someone who has spent the better part of two decades ministering to young people, I've seen the damage done when we try to hold on too tightly to the Soulmate Lie; the way it makes us chase feelings and romance and ease and pleasure; the way it puts a phony, shiny veneer on real, irregular, unvarnished love.
The advice I give young people, especially those who are pursuing lasting relationships or marriage is this:
It isn't magic.
It isn't a fairy tale.
It's not a love song.
It ain't a Broadway musical.
Love is work. It's daily, difficult, sometimes monotonous work, but more than that love is a decision.
It's a decision to endure, and fight and give and forgive and compromise and not leave. It is a decision to stay.
A lifetime of fidelity doesn't happen just because two people are "made for each other". It happens when those two people make a choice to be faithful, and it's in that choice that love is expressed fully. It's a choice that trumps mood, and preference, and personality, and circumstance.
My wife isn't my soulmate. She's my sole mate.
We are sharing this life together, not because the stars aligned or because there isn't another person on the planet who could ever love us or because God altered all of creation so that we could line-up in the same graphic design classroom in art school 25 years ago. (Can you imagine how awkward and difficult it would have been had we believed that back then?)
We're sharing this life together because we chose to love each other; with all the mess, flaws, and failure that you get as the side dish of a main course of laughter, warmth, respect, and goodness. 
As you navigate the path of finding love and of committing to another person, don't wait for someone who is perfect, wait for someone who's all-in it with you; someone who knows how to stay.
That's where the magic is.
May you find your sole mate.