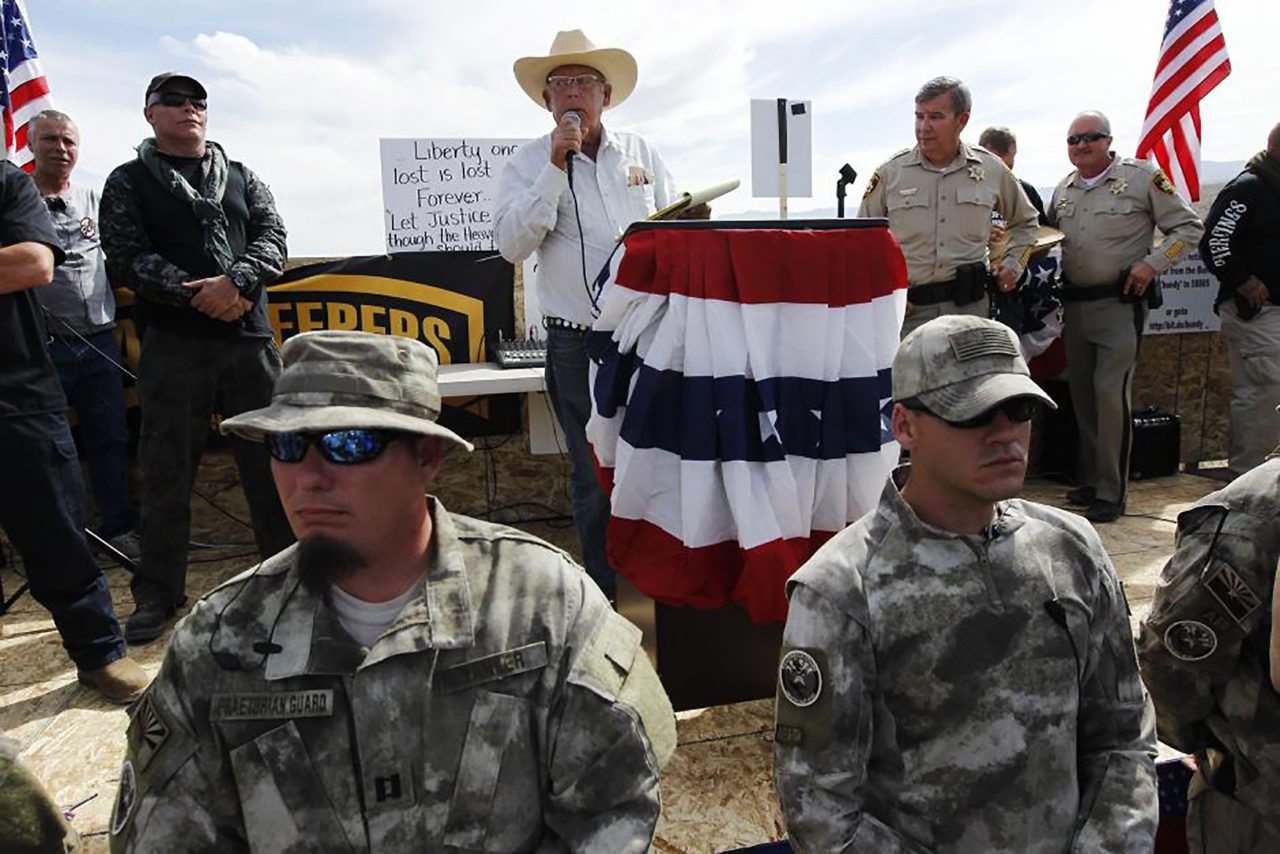 Self-delusion is not an American ideal—or at least it shouldn't be.
Someone really needs to inform the men hunkered down in a Oregon wildlife preserve that because it seems they missed the memo.
The standoff isn't about good men being courageous in the face of evil.
It isn't about righting a wrong.
It isn't about standing up to a corrupt government.
It isn't about defending the freedoms our country was built upon or about championing the Constitution.
It's not an accurate reflection of Jesus either.
This is grown men angry playing dress-up.
This is weekend warrior fantasizing, using live ammo.
It's a Wild West daydream come to life in a way that only white men could get away with.
It is petulance and tough guy bullying wrapped in nationalism and covered with the flag.
All of the threats and the taunts to the President and the "cold dead hand" posturing of these men reveal the truth. What we have here is little more than a bunch of dudes doing Civil War reenactments on Saturday afternoons, only the war they're commemorating is the one they're trying to create. It's a future hero story they're dying to write for themselves, and so they stand in the town square now with their hands at their sides amid bouncing tumbleweeds and swinging saloon doors, hoping for a chance to draw their weapons, take out the bad guys, and ride off both virtuous and victorious.
If these gentlemen were truly interested in confronting the Government and in speaking truth to Power and in defending innocent, marginalized people against unmerited violence, they would have already assembled months ago in Ferguson or Baltimore or Cleveland to say that black lives really do matter—but that is not the agenda here.
These men aren't about justice, they're about preference. The only thing they're truly interested in defending is their own fragile sense of comfort and control.
The sad truth is that if a group of black folks or Muslims or gays or Latinos pulled anything like this, these very men would be the ones most loudly, vehemently, and continually calling for bombs and airstrikes and decisive police intervention.
This is about spoiled caucasian guys who believe they are above the law and beyond reproach and that they get to make the rules whenever they want to, simply because that has so often been their American reality.
This is a manufactured battle with Freedom of the highest order and we need to say it. That is the true beauty of this country: that we get to call BS on stuff that stinks, wherever it comes from and whoever doesn't want to hear it. This does.
The Bundy Militia is what happens when your desired victim narrative doesn't become reality.
You see, if you keep on screaming that the sky is falling long enough without it actually falling, you take matters into your own hands and try to bring it down yourself. (In this case you threaten to shoot it down from a Federal building bunker).
When all of the oppression you've predicted doesn't come to pass, you need to invite or generate some or you can't live in that fantasy anymore.
It's sad that in a time when people of color, when Muslims, when the LGBTQ community still face a daunting, daily battle just to get some semblance of civil equality in this country, their efforts to do so (even peaceful, legal endeavors) are treated as contemptible troublemaking.
But perhaps the saddest thing about Ammon Bundy and his defiant posse of self-appointed patriots, is that some will blindly paint them as the national heroes and would-be martyrs they so desire to be, instead of calling them what they are: home-grown terrorists.
They are ISIS with Levi's; equally dangerous, just as insidious, but with different costumes and more familiar accents and shorter commutes. They are still a growing danger to the vast majority of decent Americans who live well outside of their volatile extremism and who want no part of it.
Thankfully many good people see through it all for what it is.
We see that there is nothing noble about a group of paranoid, privileged white guys with gunlust and a power jones, trying to force their self-fulfilling prophecy of their own persecution and oppression.
We know that there is nothing worth applauding when already powerful people make a stand for even more power, or when they champion only the most narrow and selective brand of justice; the kind that serves them exclusively.
We recognize that there is nothing Godly or Christlike in aggression that so desires a fight enough to incite one, and that the heart of Christianity isn't a brazen, armed standoff but a sacrificial lifestyle of humility and compassion.
Friends, there are all kinds of good, decent, courageous hardworking people out there to aspire to and look toward. They are parents and teachers and police officers and social workers and ministers and sales clerks and waiters; ordinary people getting up every day and doing their best to live and love well and to be a productive part of the global community.
There are all sorts of folks to emulate and celebrate and support with your passion and your words and your dollars right now. This may not be a good place to find them.
Any violence assaults all of us.
Don't glorify terrorists, no matter where they live or what color they are or what language they speak.