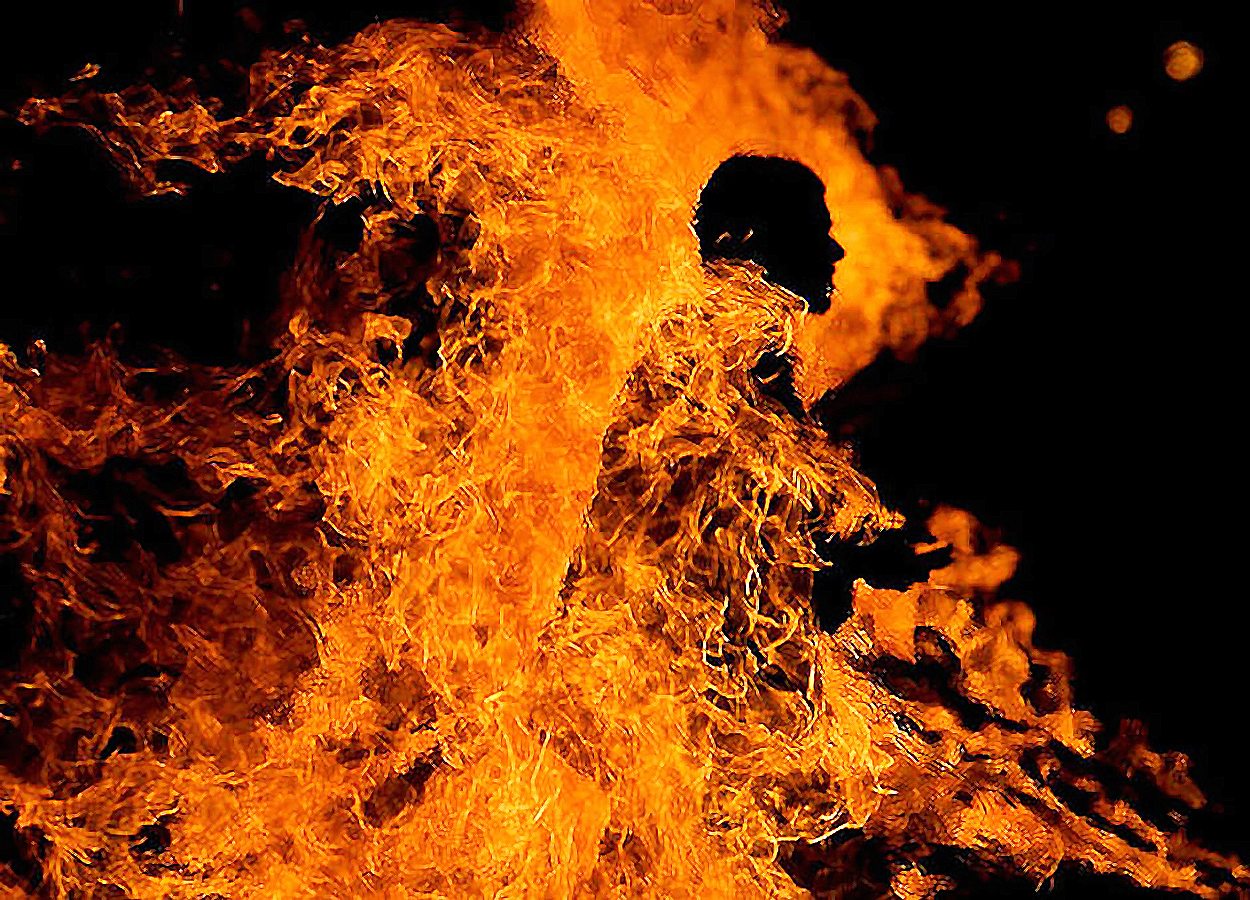 So there I was on a sunny Sunday afternoon at the local dog park, gingerly tiptoeing through an eclectic minefield of canine care packages and discussing the eternal destinations of our souls with a complete stranger—as one does.
And I was about to step in it.
I'd only a few moments earlier met this young woman and her husband, and after a  brief smattering of small talk I told her what I did for a living and we began chatting about our shared Christian faith.
Almost immediately into our conversation she smiled widely and said to me, "I'm just so grateful to God because He loved me when I deserved Hell."
Hearing those words out loud like that caused a reply to launch immediately from my lips without giving me time to edit or soften it:
"You did? You deserved Hell… just for being born?"
"Yes, the Bible says that I was born sinful and separated from God." she matter-of-factly responded.
I pressed her, "So God lovingly made you and gave you life… but despised you out of the chute?"
"No," she tried to clarify. "God loved me so He sent Jesus to save me from my sin."
"But, couldn't He have just forgiven you (all of us), without needing Jesus and his death, and without you needing to believe this?" I asked. "And Isn't He just saving you from Himself then anyway?"
Things got awkward. The kind of mess you can't easily scrape from the bottom of your shoe with a stick.
There are moments when the faith of your past is deconstructed in real-time; when your own heart sends an alarm that something is not right and you realize you have reached a fork in the road and things will never be quite the same.
This was such a moment for me.
It wasn't a total surprise as it had been a long time coming, and yet it still felt seismic in its scope, jarring loose the bedrock of my religion and bringing with it aftershocks of guilt that I'm still feeling today. (Turns out guilt is a crippling addiction as tough to shake as any ever concocted.)
I've been a Christian for most of my four-plus decades on this planet, a pastor for nearly half of those and largely during that time, quite sure that Hell was real and that many people were going there or presently roasting. It was simply something I accepted as part of my Christianity Starter Kit and incorporated into my religious worldview, my default theology, and my working spirituality. It shaped my understanding of me and it guided the agenda I approached others with, often turning me into an oxymoronic self-hating, yet overconfident jerk.
But with each passing day over the past decade or so, I started to feel it eroding little by little; the unwavering certainty of something that had once seemed so critical and non-negotiable to my belief, yet which had grown more and more paradoxical in my mind: eternal damnation at the hands of a supposed Loving God.
At this state of my spiritual journey and in my current understanding of the character of God, I simply no longer can reconcile these two things.
As hard as I have tried to (and believe me I have), I do not have peace with a Creator who would give us life and force us to spend much of that life looking for a spiritual needle in a haystack to avoid torture for eternity. This is not a conscious decision, so I can be argued or proof texted out of it, rather it's more of a yielding to the involuntary response of my heart as I have walked in faith and lived life seeking Jesus.
I've certainly wrestled with these issues before, but meeting this young woman and hearing her confession of faith there in the park, framed it all in a way that finally called out in all caps, bold type what I'd had so much unrest about:
She believes she's inherently dirty.
Amazing Grace how sweet the sound, that saved a wretch like me.
This is one of the central pillars of our faith story: Our depravity?
There's something so very sad about that.
Imagine this was also the heart of your parents as they raised you. Imagine growing up with the first seeds sown into your young spirit; that you were afflicted with a vile moral birth defect, unfit to be in their presence and unworthy of intimacy with them unless you confessed your inborn filth.
I'm not sure we would find this anything but horribly abusive, and yet this woman walking her dog and speaking with me that afternoon had lived this very God story quite passionately—one centered around her own sickness. I had lived it too. Millions upon millions of Christians have and are living it right now. I just can no longer be one of them and be honest at the same time.
And yes gallant Christian Soldier, before you cavalierly launch the sacred grenades of favorite Scripture quotes into the comments section, know that I have already read them all, studied them, unpacked them, taught them, lived with them for twenty years—and literally bought the t-shirt.
That the concept of Hell is part of a great many Christian's orthodoxy and a staple of  recent Church History isn't revelatory—and it isn't going to alter my conclusions either. I once heard it said, that there is a truth that you cannot argue us out of once we have experienced it. This is the spot from which I speak and believe now, even though there is unsteadiness.
In the quiet places where I seek and pray and encounter God, the deep that calls to deep says:
"There is no fear in Me. You are beloved. I delight in you."
You can mount all the violent assaults of systematic theology and doctrine and dogma and they will not be louder than this voice.
All the finger-wagging and threat-throwing and pulpit pounding will likely fail to scare the Hell into me.
You can label me a false prophet and prodigal rebel, and I will rest in the reality that I am simply an honest disciple trying to find the truest truth and live it.
And if my heart is mistaken in all of this, I trust that the One whose voice I so strain to hear will know more than any, the depths to which I have been seeking and the earnestness of my desires, and will give me safe passage to Glory. If Perfect Love is real, this is what it looks like.
Yes friend, you and I are most certainly flawed and fractured and all sorts of jacked-up—but I do not believe we are inherently horrible.
We are not born wretched.
We are not enemies of God upon conception.
We are not filthy from the womb.
And we do not deserve Hell.
Read more about this subject on the blog here and here and here.