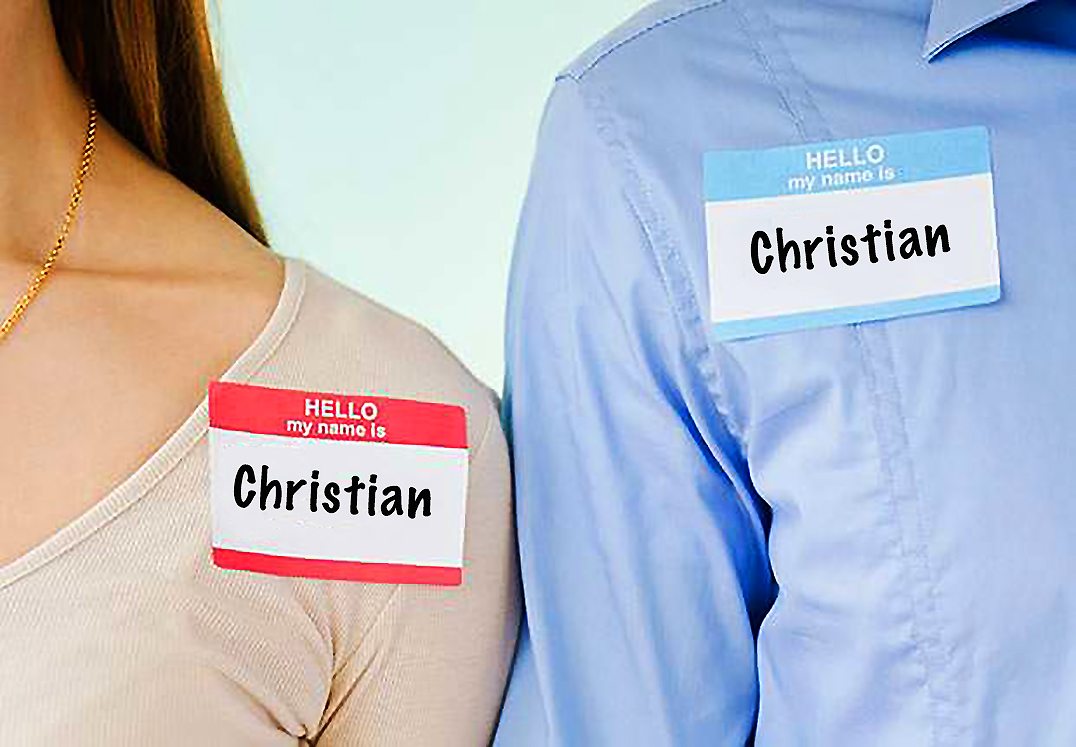 People love to advertise themselves as Christians; on Facebook posts and in t-shirts and through tattoos, in Presidential campaigns and after football games and on bumper stickers.
The Church regularly stands upon a soapbox to claim its collective Christianity, bloggers brandish the title as a calling card, and folks use it as a qualifier in social media conversations.
I think we've really botched this "Christian" thing up. I think we need to stop appointing ourselves worthy. I think we need to take off our labels.
The first century Christians didn't give themselves that title. It came from people outside their community who saw lives that reflected Jesus and made note of it. They noticed how they treated one another and attended to the needs within their midst, how they responded to adversity and to attack, and they named them "Little Christs". And it wasn't a label that earned them cachet or privilege, but one that guaranteed conflict and turbulence.
And Christian wasn't a brand either. There was no clandestine meeting where a grand marketing scheme was hatched to cash in on the name Jesus; to ride the coattails of his robe to international acclaim and worldwide influence. People saw Jesus in these early followers and often in a critical fashion, affixed the label to them as a way to call them out.
Maybe our problem in the Church is that we're so quick and cavalier and presumptuous to place the name "Christian" upon ourselves, or to remove it from others. How dare we assume we've earned the title; that this is within our pay grade to determine?
Maybe we need to quietly and clearly live our lives of faith and let others tell us what they see, or to simply be content to let the evaluation of our hearts come from Jesus and rest in what he might find. Perhaps we should be less concerned about self-identifying and more about wordlessly incarnating Jesus in our flesh where our feet touch the ground or our where lives reach into cyberspace.
This may all sound like an exercise in semantics, but it's really a matter of humility. There's a profound arrogance that decides that our own lives perpetuate Christ sufficiently enough to wear his name; that simply because we say so, that we resemble Jesus.
Far too many Christians (especially those commandeering the microphones and megachurch pulpits and political platforms) are wearing Christ like an ill-fitting pair of pants that's splitting at the seams and showing our nasty bits beneath. It's making him look bad and revealing our hypocrisy in the process.
I think we rush to advertise our Christianity to the world because we're terrified. I think we're really afraid that if we didn't tell people we were Christians, no one would see Jesus in us and we'd realize our chosen title is ceremonial at best.
I'd love to see every professed Christian simply shut up and live without any self-promotion, and see if God was at all glorified or if anyone actually sensed something beautifully strange in their midst and dared to ask what it was.
Honestly, I bet instead of people saying that when they look at us they see Little Christs, they would admit that they see little Christ.
Christian, you might stop saying that you're a Christian and see if anyone sees Jesus in you. 
If they do, then you might begin to earn the title.
As for me, I just hope I resemble Jesus a little to those whose lives I rub up against, and that my presence brings more joy or peace or compassion than there was before.
I don't need a title.