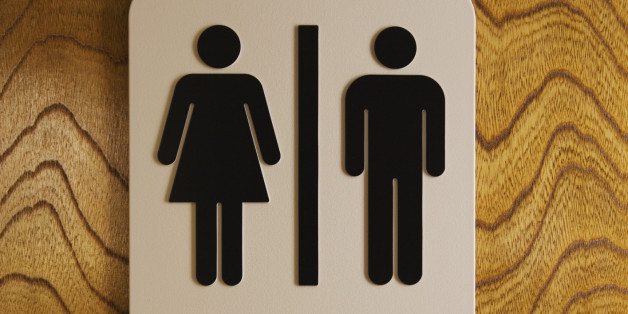 Surveying my news feed lately, I can't help but think that most people doing the same thing would be hard pressed not to come away with the conclusion that all Christians are preoccupied with plumbing—both personal and public.
God help us, we just cannot stay out of people's bathrooms and bedrooms.
Whenever a pastor, church, denomination, or Christian politician makes headlines these days, invariably it's to champion or defend some horrible piece of discriminatory, anti-LGBT "bathroom bill" legislation, or to block someone from ministry based on their gender identity/sexual orientation, or to once again boil down all the ills of our society to what gay people do with their naughty parts.
Seriously Church, we haven't just the lost the plot—we've literally flushed it down the toilet.
And the worst part is that we've done it on purpose.
Somewhere along the way, white Evangelical Christianity began to fixate on sex for the same reason the porn industry does: it titillates people and generates lots of money.
As church attendance has continued to decline, nervous pastors, worried high-profile evangelists, and terrified politicians have realized that they need to continually manufacture urgency to stoke the ever-dwindling fires of the faithful. And they learned fairly quickly that nothing, but nothing stimulates their shrinking bases like talk of sodomy and fornication.
The topic of gender identity/sexual orientation is a cheap, effective aphrodisiac for bored, self-righteous people needing a reason to feel religious. It's spiritual Viagra for people who can't sustain passion naturally.
The blueprint for these shenanigans was sketched out over the last few decades by the Evangelical Right, and has since been hewn to perfection: violently rip a few Bible verses completely out of context, offer some homegrown supportive propaganda disguised as objective Science, create and promote the most horribly distorted caricature of the LGBTQ community, and voila: full-blown panic in the pews.
And into this sweaty orgy of church sanctioned paranoia and religiously fueled fear, Christian leaders jump gleefully in to save God's people from the writhing monster of runaway libido that they themselves have created. Brilliant really—if not at all Biblical.
Thank God Jesus rose from the dead or he'd be rolling in his grave watching what these folks have done to the Gospel; how they've appropriated his name and likeness to give cachet to the kind of hateful, myopic endeavors that he'd never ever have been a part of while he walked the planet.
Read the Gospel stories of Jesus and hold those up against what organized Christianity is passing off as faithfulness these days and you'll see it clearly—there's virtually no shared resemblance.
Jesus never would have wasted time with denominational splits or withheld wedding cakes or policing bathrooms (at least not on the side many Christians suspect). He was about the far greater, far more pressing, far more costly work of love and justice.
What you see in the sum total of Christ's' life and ministry was the lowering of the powerful and a lifting of the marginalized. You see a leveling of humanity that called people to give to those with less, to care for those in need, to bless others as they were able, so that earth might resemble Heaven. You see a call to personal repentance, to counterintuitive compassion, to radical forgiveness, to the making of peace, to the giving of mercy.
The only time Jesus ever mentioned sex in any capacity was to personally challenge people's hearts, not to sanction them to impose their own preferences upon anyone else. It's as simple as that.
In the Gospel accounts of his three-year ministry Jesus never utters a single word regarding gender identity or sexual orientation. Not one. These kind of public crusades about people's body parts or private sexual conduct that are now so commonplace in modern Evangelical Christianity would have been foreign to him. (In fact, the only such times Jesus singles out a group of people, it's the hypocritical religious leaders for misusing their position and power.)
Professed Christians can continue to do what they're doing to the LGBTQ community, but they can't rightly pass the buck to Jesus.
That the Church is still preoccupied with waging war on these folks and claiming that Christ compels them to do so, is one of the greatest and most sustained sins in our history—and it needs to stop.
Real followers of Jesus don't need to be aroused by manufactured culture battles and non-existent boogeymen in public toilets.
They don't need to be frightened into phony holy wars with imagined gay agenda armies or to be threatened with doomsday scenarios about Transgender restroom misdeeds.
They don't require a distraction to stimulate their spirituality.
Followers of Jesus simply live, and they do so passionately burdened by the things that burdened him: poverty, injustice, inequality, excess, greed, abused power, perverted religion. The world sees plenty of those things every single day—and they're wondering why so few Christians seem to care about any of it.
And this is the heart of these matters.
The more Christians fixate on trivial crusades about sex and sexuality, the more we cheapen the Gospel, the more we distort the life-giving message of Christ, and the more we alienate the watching world who sees this all too clearly.
Just once they'd like to see us claim "religious liberty" compelling us to feed children or curb gun violence or combat Cancer—or anything remotely life affirming. Instead we use it to withhold wedding cakes and police public toilets.
When the Church has its eyes squarely on Jesus it will find itself seeking the hurting and the needy and the forgotten, and abandoning its lazy battles and desperate witch hunts.
When the Church has its eyes squarely on Jesus it will follow him straight out into the streets to bring the good news to the world—leaving bathrooms and bedrooms far behind.
May that day come soon.