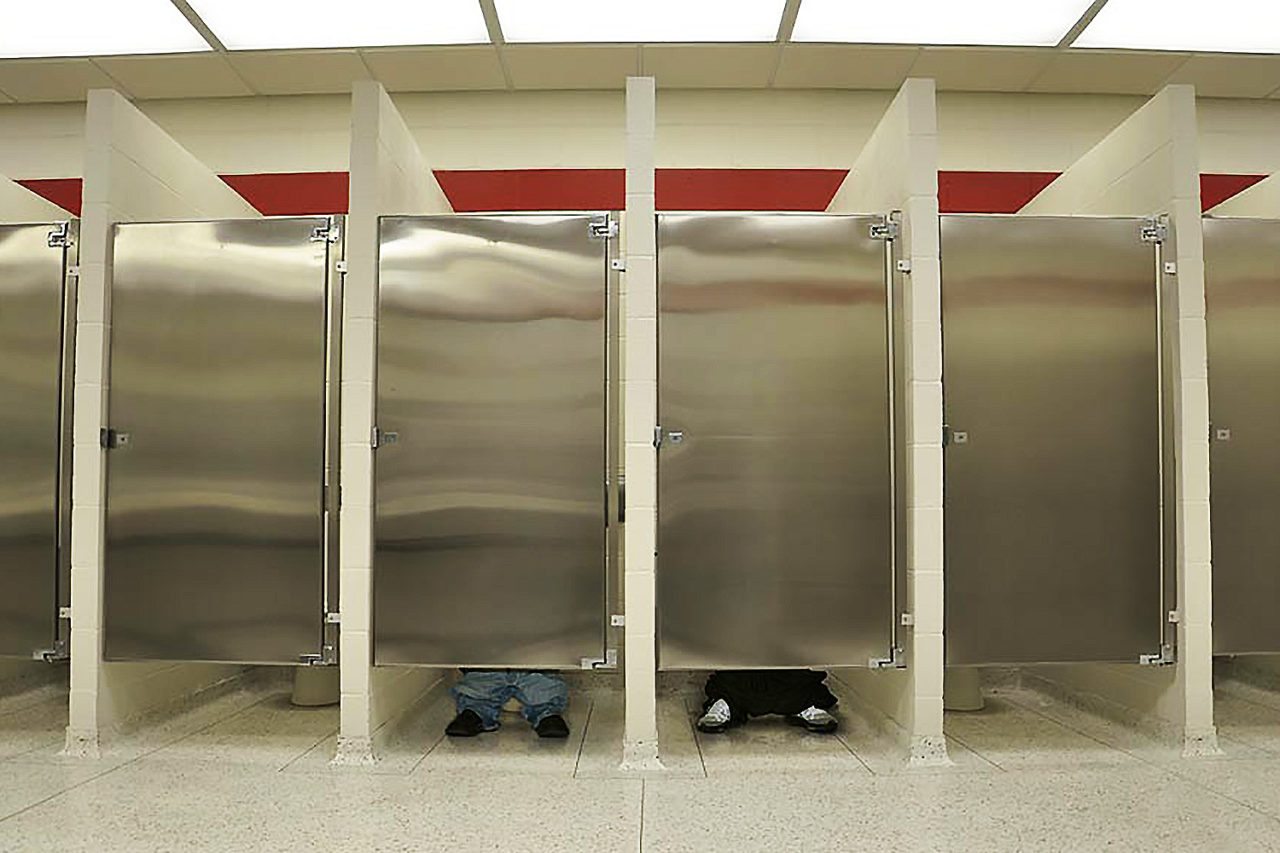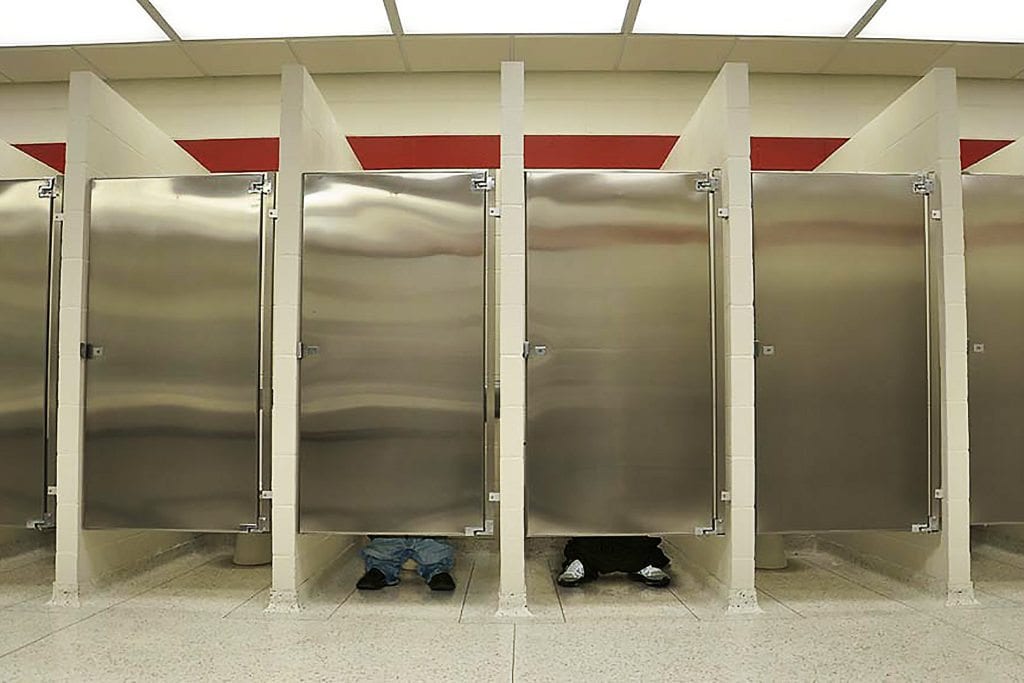 "How did I become the bad guy because I don't want guys in the bathroom with my daughters and their friends. Just pee in the damn bathroom your supposed to!"

This Facebook post showed up in my news feed this morning from a friend, who I absolutely do consider a good guy. It was liked and commented on favorably by many Christian folks I currently or once considered friends. I think it is indicative of sentiments I see shared frequently in the Church and by those sharing my faith these days. 
Here was my response to the folks on that thread and those reading this who have similar feelings:
1) No sane, decent, loving fathers want guys in the bathroom with their daughters. 
Making these claims is setting up battle lines that don't exist and creating a false good vs. evil delineation to make ourselves feel better. It's claiming some manufactured moral high ground that simply isn't present.
2) We straight folk have all been using the public bathroom with LGBTQ people for our entire lives and most of us have never had an issue, (and definitely not one this bill addresses).
We will all continue to use the bathroom with LGBTQ people going forward. The idea that we now won't, or that this will somehow keep our daughters safer is simply misinformation and fear-peddling to justify a conclusion. It's a false victory based on a nonexistent threat, which the Church and politicians specialize in.
3) These pieces of legislation have nothing to do with keeping men out of women's restroom facilities, and so much to do with businesses being allowed to discriminate based on gender identity and sexual orientation. 
The heart of these bills is about giving license to refuse service to individuals and to keep those individuals from legally disputing this refusal. Heterosexual men who disobey laws to assault women won't have any more grounds to do so regardless whether or not these laws are passed.
4) If said straight men could be trusted not to do bad things to women, we wouldn't be having any of these conversations.
As a Christian I'm disappointed that we aren't talking about that in our churches and on campaign trails, or making bold public statements about that. I'm profoundly saddened that high-profile evangelists and pastors aren't facing this real monster with the same sustained ferocity they attack an imagined one with.
Women are in exponentially higher danger of being sexually assaulted by a boyfriend, spouse, or a classmate, and children at home by a relative or family friend, than by a stranger in a bathroom—and it isn't even close.
5) A cisgender white male saying to a Transgender person, "Just pee in the damn bathroom your supposed to", is one of the least helpful and least compassionate responses one can utter, and exposes a startling lack of knowledge on that matter.
These individuals feel an internal brain disconnection with their physical anatomy. To be Transgender is to not feel accurately represented in the gender you were assigned at birth. It is about someone's personal sense of being, so "peeing where they are supposed to" is exactly what they are trying to do here.
Google the phrase "white privilege" and you'll see why this statement is an issue in itself.
6) Unless we're all going to show our birth certificates at public restrooms, nothing about these bills has any relevance at all with regard to public safety in the bathroom—not to mention completely unenforceable. 
This is a non-issue. It's Don Quixote's windmills. It's the worst kind of distraction because it pretends to solve nonexistent problems that it wouldn't address even if they did exist.
7) I don't want bad guys in the bathroom with my daughter either.
I've just researched enough to know that nothing about this legislation has any bearing on that desire. I've realized that the greatest danger to her isn't the LGBTQ community or public restroom use, it's cisgender-hetero guys who can't control themselves wherever they are.
I know I can't legislate the world so that she has no contact with these men at school, out shopping, at fraternities, at church, on band trips, at work, in relationships—those places where she is most in danger of being assaulted. All I can do is teach her, guide her, and try to create a less horrible world for her to walk into.
Like minded people on my friend's thread shared a frustration that they are wrongly called "intolerant" by expressing the above views. It's not intolerance that is the problem here, it's education. It's a lack of knowledge that we're OK living with.
I think we're always looking for a clear enemy and an easy solution. There just isn't one here, and definitely not within these bills. HB2 is a bad decision made for the wrong reasons to solve a problem that didn't exist. Too many people are all too willing to take the lazy hate bait because they'd rather not do the difficult work of reading and reflecting and wrestling with complex issues, and addressing matters if they become too complicated or time-consuming than is required to read a divisive meme. This is especially true when we believe our faith is somehow under attack.
If we want women to feel safe in the bathroom or anywhere else, we can't legislate it so. We've got to ask more difficult questions and to face much more troublesome realities about who we are as a (predominantly heteronormative) society. 
This isn't a battle for the safety of stalls for our young women, it's a battle for the souls of our young men.
I told my friend that he's not the bad guy and he's not. The bad guys are straight guys who want to force their way upon women wherever they do this, those who stay silent in the face of them, and those who shut down efforts to call them out as the real problem—a problem a "bathroom bill" does absolutely nothing to address.
Unless we make this the main thing in these conversations, especially in the Church, I think we're missing the point—and often times on purpose.
Trying really hard to be a good guy…