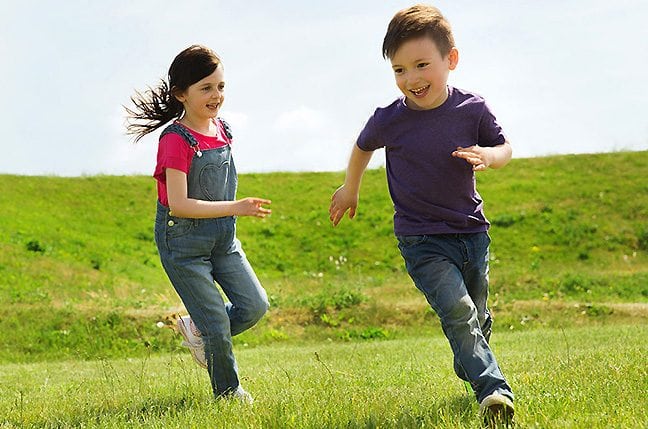 I still remember the day I chose to be heterosexual. It was the fourth grade.
I was 10 years old and I already knew all about girls. I knew to take precautions with them. I knew to be very careful.
I knew they all had girl germs.
And if there's one thing a worldly young man like myself already realized, it's that you definitely did not want to catch girl germs.
And so I spent every recess sprinting through the schoolyard, tearing around the jungle gym, and barreling through clusters of scattering kids, trying to escape being touched by one of the female runners. It was like the cornfield human round-up in the Planet of the Apes (or maybe The Walking Dead, a few decades early). I did my best to help the other boys when I could, of course, but we all knew that when push came to shove, it was every guy for himself. Better them than me.
We ran for our lives every lunchtime, knowing that to be touched was to be contaminated. But I was super fast. Maybe it was my sweet new pair of Zips, maybe it was my natural ability, or maybe it was Adrenaline and desperation—but I was one heck of a runner.
That is, until Lori Kopcash.
Up until that day, Lori had been my greatest playground nemesis, and her very presence struck fear in my 10-year old heart. She was gross and icky and absolutely crawling with girl germs—and she could run fast too.
One afternoon Lori was chasing me through the blur of the screaming crowd around me, when I suddenly realized I wasn't running as fast as I could anymore. In fact, I was sort of dogging it on purpose. The truth blindsided me like a truck: something in me really wanted Lori Kopcash to catch me.
That was the day I chose my heterosexuality.
Of course, there was no real decision to be made here; no furious debate in my mind, no great wrestling with the choice at all. I simply became aware that Lori Kopcash made me feel something I'd never felt before. I couldn't rationalize it or explain it—I just liked her. I just liked girls. My perception of girls and their respective germs was never quite the same again.
We all can point to those moments early in our journey when we realize something true about how our hearts and bodies work. There would be more times, but this was the first.
It wasn't until later that I learned through the faith tradition I'd inherited, that apparently not all people worked this way. Some people, my Christianity told me, choose to be gay; they reject the very natural reality of what God had hard-wired into them, and make a conscious decision to be a different way. What I experienced without thinking in that playground—they somehow decide. What was an awareness for me, was for them a premeditated choice.
I knew right away how ridiculous an idea that was.
I knew that it was both arrogant and ignorant to imagine that anyone else's experience of attraction or affection or desire were any different from mine—simply because the orientation of those things were. The story that my religion told me about these things just didn't ring true that day. It still doesn't.
Later when I became a pastor, I was committed to remembering how natural what I felt that afternoon for Lori felt, and to work toward a Church that respects that we each have a truest truth; that we should be allowed to live and love and worship from that most authentic place. If God made any of us to naturally feel what we feel without getting to choose it—God created all of us this way.
One of the greatest failings I see in my fellow Christians, is assuming that they can determine what is natural for someone else; what is their real, their truth—that they can decide for another person who they are.
It grieves me when I see followers of Jesus dismissing someone else's story; their sense of identity, their inclination to love, the orientation of their affections, and the revelation of their own hearts—as if they know more about those people than they know about themselves. It's the height of hubris.
One of the prayers I carry daily, is that more people who claim faith in Jesus will find the humility to remember what they learned about themselves at some point in their lives, and to allow everyone the dignity of coming to their own conclusions.  
There in the playground of St. Mary's Catholic school, Lori Kopcash made me stop running. And when I did I woke up to the way my heart worked. I didn't choose anything, I discovered it.
That is a gift we should give everyone, both inside and outside the Church: the joy of being who they really are and trusting them with their own stories.
We should tell all people that when it comes to how they love and who they love—they can stop running.