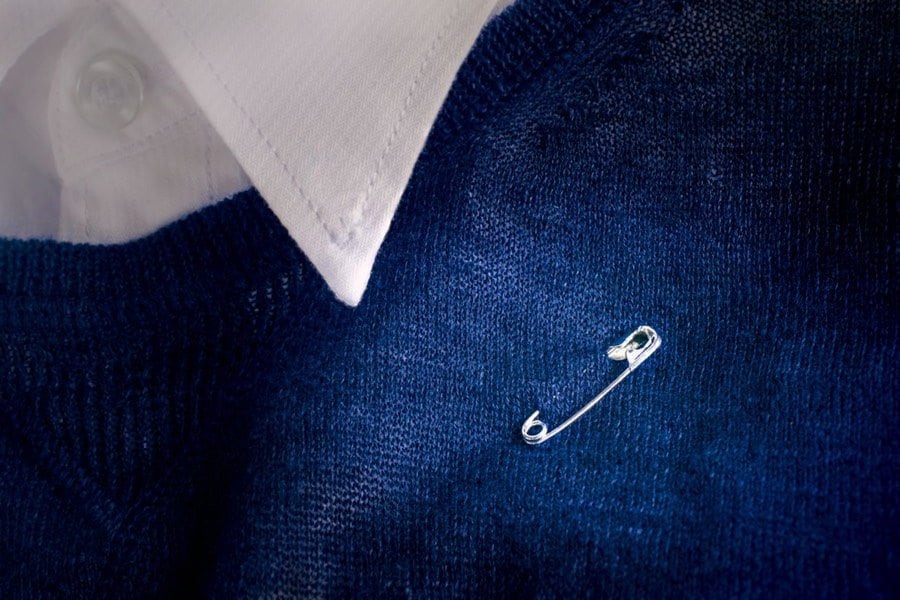 Save your safety pins.
If you're a white person and you voted for Donald Trump, it's a little too late to pretend you're a safe space for people of color, for Muslims, for the LGBTQ community, for immigrants, for women. You had a chance to be that. You had a chance to make your country that.
Now is not the time to profess concern for the well-being of those in marginalized communities. That was what the election was about. That was your opportunity to speak and you spoke, and regardless of what you say now, your vote was the loudest and most powerful declaration you could have made.
There were no secrets in this campaign. It was all out there for everyone to see. The candidates were household names with track records and well documented resumes and a massive body of work on which to make a decision—and you decided.
And so for whatever reasons you had for choosing the President-Elect, you also chose not to make violence toward minorities a deal breaker. You declared that whatever bigotry and misogyny and anti-Semitism gained traction and legitimacy in our Government with a Trump Administration, all constituted acceptable loses. Whatever your religious convictions or your economic priorities or your stance on the social issues you hold dear (all of which may be valid), you were also willing to live with collateral damage to those who are already the most vulnerable—and you now have to live with that.
As Donald Trump's cabinet becomes populated by those who occupied the most extreme fringes of the Right, marginalized communities and those who sought to protect them with their votes, are getting more and more confirmation that our fears were well founded. And if you voted for Trump or you abstained from voting, no amount of office supplies will make it okay.
Safety pins aren't going protect gay people's right to marry.
Safety pins aren't going to give the sick and the poor access to healthcare.
Safety pins aren't going to make it easier for sexual assault victims to step forward.
Safety pins aren't going to fix the way voter i.d. laws are silencing already quieted voices.
Safety pins aren't going to keep Christian extremists from the Supreme Court.
Safety pins aren't going to shield those with brown skin and headwraps from profiling and violation.
Safety pins aren't going to ensure women autonomy regarding their own bodies.
Safety pins aren't going to elevate balanced voices to the Senate and the House.
Safety pins aren't going to give young black men confidence in law enforcement.
Safety pins aren't going to discourage hate crimes in schools and against affirming churches and in the streets.
So while the idea of safety pin feels like a noble gesture, it is ironically a safe one.
It's a low-cost way for white people who held their noses and consented to an open bigotry from a Presidential campaign, the likes of which we've never seen—to now feel better about themselves. It's a self-administered emotional balm for the guilt they now carry for the blind spot of privilege. Adding a safety pin to their lapels or social media profile becomes a temporary hallucinogen that tells them everything is now balanced and equal, that their vote is less damaging.
Sadly that's not how this works.
I'm glad that there are expressions of hope and compassion and decency rising up now in a really painful time for our nation, but I suspect that those really burdened with the suffering of marginalized communities were already safe spaces before, and will continue to be in a day or so when the memes disappear and the momentary social media high wears off. People around us already feel seen and heard and loved.
Those of use for whom discrimination and bigotry are deal breakers, will continue to work and speak and minister and live openly for equality. We will be working for legislation that encourages diversity and protects the vulnerable, and when we have the chance to choose elected officials we will speak loudly again. We will continue to create workplaces and churches and schools and streets that are safe for everyone. If you want to be a part of that, then you won't need to advertise it, you'll simply do it—and we will welcome you in this work.
And yes, we will post and wear safety pins because we have tried to be safety pins and because people need to know that we are still here. But we also know that these pins are not enough.
But right now, if you're a white person who voted for Donald Trump, save your safety pins.
You could have made people feel safe right now.
You could have voted their safety.
Make America safe again.