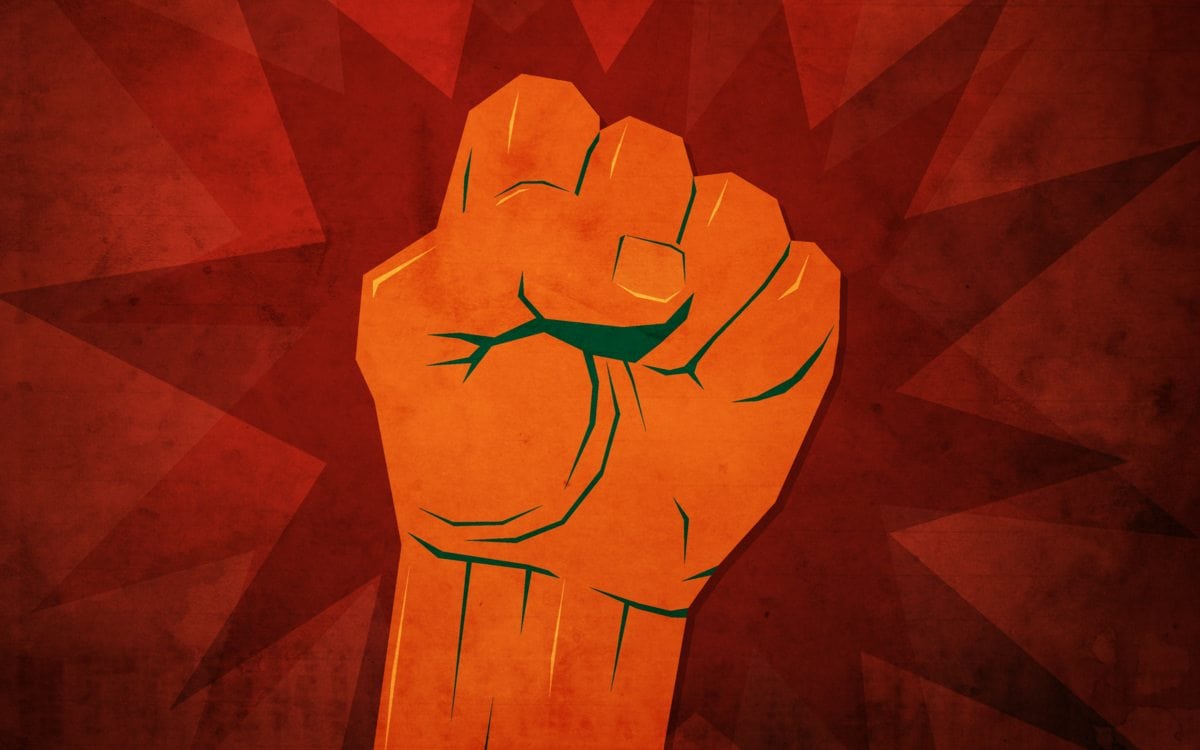 I'm sorry to break it to you, Internet trolls—but Jesus was a social justice warrior.
He could also probably come across as a real jerk sometimes, too.
Most Christians paint in their minds a highly selective picture of Christ, one that usually makes him a placid, stoic, passive presence; little more than a silent and smiling spectator who was above all things perpetually—nice. We like this tame, well-mannered, benign Jesus. We especially prefer this version of him when we don't like what we're hearing from other Christians. The moment anyone claiming faith becomes the least bit loud or unruly or uncomfortable, we suggest that they are somehow betraying their namesake. We try and shame them into behaving themselves.
"I can't believe you call yourself and Christian and…"
The implication is that if you're angry or offensive or abrasive, then you aren't accurately reflecting Jesus.
Bull.
Jesus was not a pacifist, he was a peacemaker, and these are very different things. One implies inaction—the other, intentional engagement. At the center of Jesus' life and ministry was the idea of making peace, of creating Shalom for another human being; enabling them to have the same access to wholeness, sustenance, justice, and joy as anyone else. It was not merely some internal understanding about the intrinsic value of all people he held in his heart, but the tangible response in the world that affirmed this understanding whenever that value was disregarded.
Jesus was an activist in a myriad of ways:
When he turned the tables over and drove the money lenders out of the temple.
When he claimed God to be sovereign and solely worthy of worship, in a culture that declared Caesar was.
When he touched the hand of a leper instead of expelling him for his moral filth.
When he publicly called the powerful religious elite a "brood of vipers".
When he healed on the Sabbath when work was forbidden.
When he spoke to a Samaritan woman in public in the middle of the day to discuss faith with her.
When he declared the poor and the oppressed to be his very purpose for being.
And it was this bold, unapologetic, activist heart of Jesus that caused him the greatest pushback and ultimately his execution, because it troubled the waters of the powerful and the religious who weren't used to such turbulence. This is always the work of the Christian: to be a disruptive voice for the voiceless even if it sometimes means shouting down those used to being heard, and drawing their wrath. To quote journalist Finley Peter Dunne, the follower of Jesus it is to "comfort the afflicted and to afflict the comfortable."
This is the beautiful and complex heart of the Gospel; the specific tension of being an extremist, but an extremist for Love.
Most people think that Jesus was a shepherd but this was only a half-truth. Yes, to the sheep he was shepherd. To the vulnerable, the marginalized, and the invisible he was protector and healer and the mender of wounds. To them he was safety and softness; gentle caregiver and quiet reassurance.
But not to the wolves. To the wolves he was something else. To them he was the holy fury of an outraged God who refused to tolerate the mistreatment of those made in God's image. To the wolves he was as fierce and fiery and offensive as they come. To the wolves Jesus was a terror.
In Matthew Chapter 23, Jesus repeatedly tears into the religious leaders for their hypocrisy and for their abuse of those in their care and under their influence. His words were brutal and bold and direct, and one can imagine the Pharisees right feeling attacked, even offended by them. But that was not reason enough for him to be silent. Their hurt feelings were not the priority, the defense of those being victimized was.
Jesus' scathing words were true and righteous and redemptive, and he sacrificed none of his Jesus-ness to deliver them without softening or apology. It didn't alter a sub-atomic particle of his goodness to say those words and to be that forceful. His unrelenting activism was the overflow of his compassionate heart for those who were hurting, and it has to be ours if we are to make any legitimate claim to his name.
It is not enough to simply have a burden, we must have a burden that moves us to respond, even at the risk of being offensive to those that response places us in direct opposition to. Despite what some Christians claim, outrage and benevolence can inhabit the same space. The former does not have to leave so that the latter can come. In fact, it is when they are allowed to exist simultaneously that transformation happens within us and around us, These are the dual engines of redemptive justice. When we are faithfully replicating the fully expansive heart of Jesus, we will be both minister and activist, servant and warrior, sheep protector and wolf chaser. We will yield both gentleness and audacity equally.
When injustice takes place, one group is being damaged while the other is doing the damaging, and the Christian needs to respond to both parties with equal vigor. To only do the one is to perpetuate a lop-sided Christ that doesn't honor him or to the work we are called to do of making Shalom for all people, not just for some.
Christians should never sacrifice passion and conviction on the altar of decorum and hurt feelings. 
It is not a betrayal of Jesus to live as an activist, it is in fact an embracing of his very heart.
There is much to be outraged about in these days, so let yourself be outraged and let that outrage be catalytic. Yes, cultivate compassion and respect for all people. Go care for the sheep as gently as you can and with as much kindness as you are able. But when you need to, bravely face an offensive world and risk offending it.
In the face of extreme hatred, be an extremist of love who will not be silenced.
In the name of Jesus, go forth and piss off the wolves wherever they show up; in your home, your school, the streets, the church, in City Hall—or in the White House.