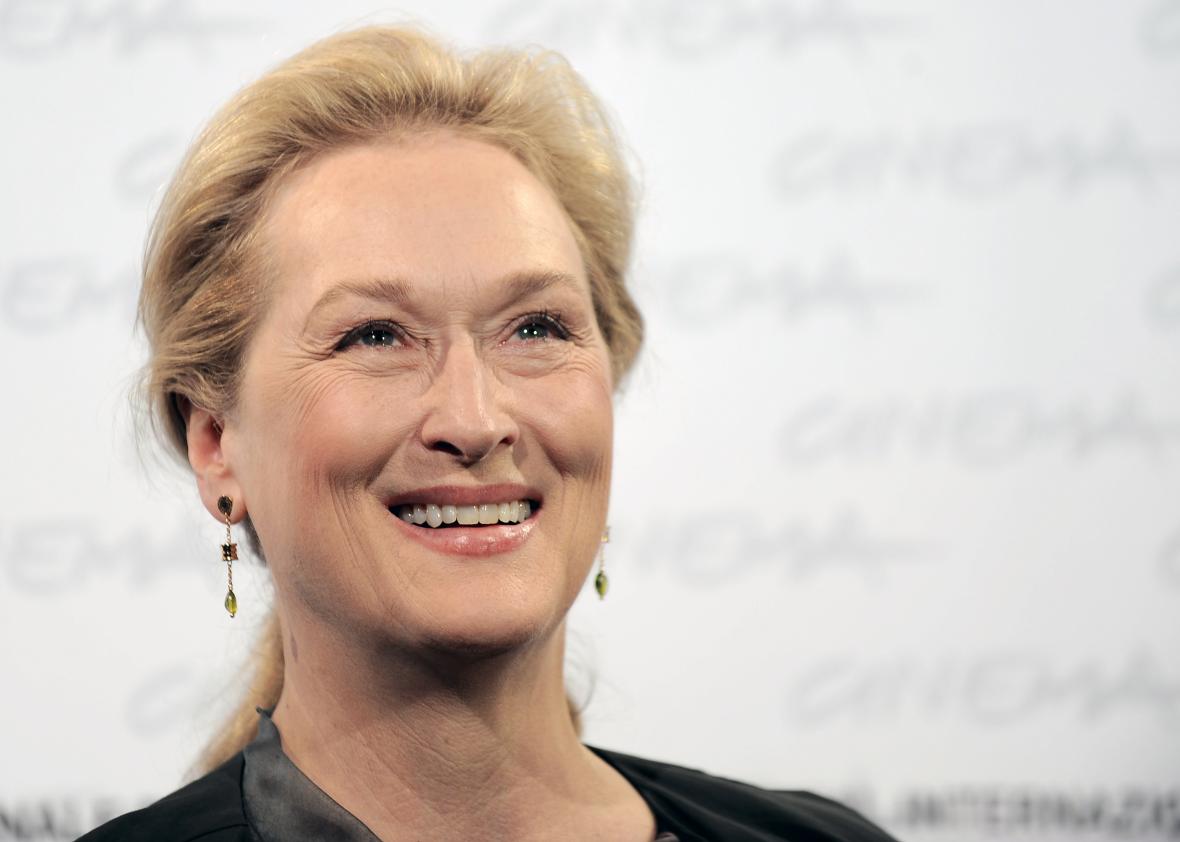 Photo credit: Slate.com
During her Golden Globes acceptance speech on Sunday, Meryl Streep said what a majority of Americans believe: that cruelty and indecency aren't who we are, that our diversity beautifully defines us, and that our powerful should be accountable for the way they wield that power.
She was right—and she was right to say it there and then,
despite Vince Vaughn's dagger stare,
despite NRA/Bush advocate, musician Travis Tritt's ironic social media scolding,
and despite the President-Elect's petulant, childish but sadly completely expected Tweet tantrum at 5:30 AM the following morning.
People telling her to "stay in her lane" are simply wrong.
If you live in this country, if you contribute with your gifts and your work, if you pay taxes and you pay attention—America is your lane. That's what our freedom means. That's the heart of our Constitution. Your citizenship gives you both the right and the obligation to speak.  
The idea that Meryl Streep should be silent on matters of politics because she is "unqualified", is completely ludicrous as well as patently un-American. By such logic, no one other than experienced politicians gets a say in the way decisions that affect us are made—and the rest of us should all silently consent to whatever our elected officials do with the power entrusted to them. (Apparently Vassar, Yale, and Dartmouth educations aren't an impressive enough resume for someone to be able to speak into the value of empathy and the virtue of not being a jackass.) 
America's greatness is the fruit of activism, of the voices of disparate citizens raised in all spheres of life when it is called for. We have been continually renovated by our people speaking into the injustices around them, leveraging the power at their disposal. People who call this country Home, should use whatever platform, position, and influence they have to speak into the issues that matter to them. To not do so is irresponsible and selfish.
Meryl Streep was raised a Presbyterian, and as a Christian, I see her words drawing a clear line to the compassionate heart of the Jesus of the Gospels, who spoke of loving "the least of these"; not those who are at all less-than, but those treated as less-than. For me it was a powerful and subversive sermon. Without mentioning religion, the essence of her faith was evident in her manner and her message. I've never been able to say that about the President-Elect—and that's telling.
The great irony is that the same people criticizing Streep for being an "out of touch celebrity" who has no business commenting on politics—voted for one to run the country. They're the same ones who'll gladly boost the signal of the Duck Dynasty geniuses, the ever-eloquent Scott Baio, or that wisest of sages—Ted Nugent. (Apparently FoxNews gets all the qualified celebs.)
The truth is, Meryl Streep did something inherently American this week:
She used her moment of attention to speak for empathy and decency.
She affirmed our shared humanity in a way that transcended politics—or should.
She called vile behavior, vile.
She reminded the bullies that we will not tolerate them.
She asked people not to be horrible to one another.
If more people had done that this year—we'd have a much different nation than we have right now.
I'm with her.