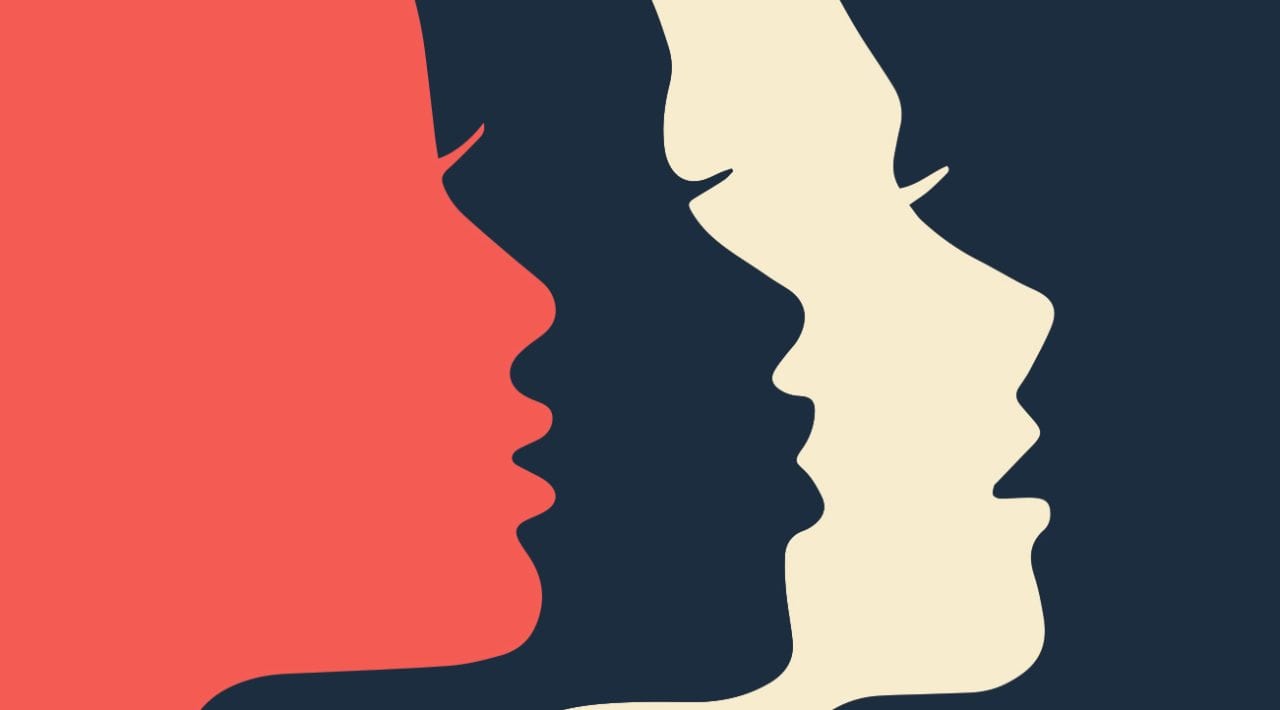 In the days following the Women's Marches all around the country ( including the largest protest of its kind in our nation's capitol), I watched a curious and telling response on social media: men pontificating about why women really marched. This has been particularly prevalent in Christians circles, with dudes like self-appointed Jesus-guy guru Dale Partridge, who speculated that women were "confused", and that the march (like all things for such men), really boiled down to women needing men to "lead them". Olympic level mansplainer (though he abhors the term) Matt Walsh, took to lecturing women on their methods and proceeded to dismiss and talk down to those who marched—as Jesus would.
These two are symptomatic of the problem we have here, especially in the Church: men telling women why they do what they do and how to do what they do; proving again they are capable of spectacularly missing the point on even a day as ripe with moments of learning for them as it was. They proved that they ultimately believe that the only solution to a women's problem is a man. It's this kind of subtle or overt knuckle-dragging misogyny that has characterized organized religion for decades, and reminds us what fragile men who are threatened by women, look like.
I decided to do something Dale, Matt, and lots of these types never think about doing: I asked women why they marched.
Here are just a fraction of the thousands of responses that came in:
_______
I marched or justice, for the poor, for immigrants, for friends who face so much discrimination and hatred because they are seen as different and threatening. I marched for equal rights, and so my nieces can have educations, good jobs, and be respected. – Julie
_______
I marched because personal autonomy is my right, not a privilege bestowed on me by men. – Kim
_______
I marched with 100,000 others in Portland because I disagree with everything the new administration stands for. I support women's rights to control their own bodies, I believe our environment needs protection and that Native American rights must be respected. To have a president who does not support equal rights for all people, LGBT included, and gets his news from FoxNews and the National Inquirer is anathema to the truth and the faithful leadership our country needs. – Beverly
_______
I marched because 46% of the people who voted cast their vote for a man who thinks he is entitled to grab us by the genitalia, because he is a C-list reality personality and thinks women should be considered human on a case by case basis. – Kathy
_______
I marched for my gay son, Muslim friends, my best friend who is African-American, immigrants and all those marginalized who cannot or are afraid to march themselves. – Bethany
_______
I marched for my son, because I want a world for him to grow in that has not normalized hate and disrespect. I marched for my sisters, nieces, cousins and all the young girls on the verge of womanhood to show them sexism, narcissism, and misogyny won't stand. I marched for the young daughter of a friend who has faced herculean health issues to show her health care is a right and that people deserve to get help no matter their economic background, sex, or predisposition. I marched for my gay friends, because no loving couple should ever live in fear their loved ones will be torn from their marriage because of fits of homophobia and prejudice. I marched for my husband, a journalist, in a time where freedom of speech is endangered, fake news helped foment a fallacy of belief, and post-truth has become a reality. I marched for the young adopted son of a friend, because no child should ever be terrified that he will be sent away because of the hateful rhetoric of a wall to divide this country. I marched for my Muslim friends, because a difference in religion does not mean a difference in humanity. I marched for my African-American friends, because no one should die at the hands of unchecked authority. I marched because I am a child of immigrants, proud of my heritage, and understand we are a country founded on immigration and blessed with a melting pot of divergent history. I marched for my police and fire family and friends because the drive to protect and serve believed by the majority of them should not be poisoned by the racism and fear mongering spewed by a few. I marched because women's rights, to our bodies, to our sexuality, to our intellect, to our future, are equal rights. I marched because while we have come so far, we have so very far to go. I marched because silence is acceptance. And as I marched, I carried you with me. – Sue
_______
I marched because Christ directed us to care for the poor and the needy and to share what we have with those less fortunate. I marched for my LGBT son who deserves a world as loving and kind as he is. – Janie
_______
I marched because I have been assaulted and harassed and had no voice to object. Now a man who brags of grabbing women is in the utmost office of our country and my support of him is supposed to just be given; without objection, without a voice? No, I have my voice now and won't be shamed for standing up to him. – Heather
_______
So my grand daughters will have control of their bodies, so rape and sexual assault is not legitimized, so the poor are not villainized, so Muslims, Jews, and black people are not terrorized, so gay people can live in dignity, so they will know haters are the minority, so they know they will never turn us against each other. – Brenda
_______
I marched because not everyone is as "fortunate" as me. I have had medical coverage my whole life. I've never been denied coverage because of a pre-existing condition. I've had a job (often multiple jobs at once) since I was 15. I make a decent living as a woman and as far as I know, I don't make less than a male would in my same job. I've never been raped or sexually assaulted. I've never been in a position where I've had to consider abortion or needed Planned Parenthood. I've never identified as another gender and been called someone I'm not. I've never been pulled over for no other reason than my skin color. I've never been denied the right to marry. I've never had my child sent to a special school because she's on an IEP. I've never been persecuted because of my religion. I've never been publicly mocked for having a disability. – Kari
_______
I marched because I want my granddaughters to have the same opportunities as my grandsons. I want them to have access to an affordable education. I want them to have equal pay and a living wage. I want them to have autonomy over their bodies. I want all to be free to worship as they choose. I want immigrants from all nations to be welcome in America. I want them to have clean water and clean air. I don't want walls, bigotry, hate. – Teresa
_______
I marched for my ancestors and my children, for my Japanese mother, aunties and uncles, and grandparents who suffered persecution as second-class citizens in this country and could not achieve their dreams. I marched for my daughters, so that their reproductive health care is not controlled by a pseudo-Christian agenda. I marched for my sons, so that they know that in this family, dignity and respect for others, especially the women in their lives, is written in their DNA. – Keiko
_______
I marched or equity and equality for ALL people. Because my faith demands that I stand up for the oppressed, the marginalized and the poor. Because I couldn't NOT march. – Michelle
_______
I marched for my children. I want them to know I do not support making fun of those less fortunate. I DO support helping others. I marched out of respect for our Constitution. I marched to support those who are afraid due to the color of their skin, their religion, their socioeconomic position. I marched for my grandmothers. I marched to honor their hard work in tirelessly and thanklessly raising a gaggle of children without their own choosing. I honor them and try to speak on their behalf. They mattered. We matter. And NOT because a man gave us his nod of approval, but because we are human, alive, and worthy of a voice with—or without your approval. – Rebecca
_______
I marched because our new President needs to know that we are watching him. I marched because I want for my wife and I to remain legally married. I marched because I don't want women to die getting back alley abortions or unable to get medical care or birth control. I marched because I black lives matter. I marched because Muslims are people and our nation was founded on religious freedoms. I marched because Americans deserve quality healthcare and a living wage. I marched because I want my nieces to get equal pay for equal work. I marched because I want my son to enjoy national parks and a quality education. And I marched because I want my nieces and nephews and my son to see that it is important for people to stand up and fight for what is right. – Tanya
_______
I marched for women's right to decide about their bodies and for rights of gay people to live and love freely. – Anne
_______
I marched for those whose rights have been threatened: immigrants, Muslims, and any non-white woman. I marched because when any man grabs, rapes, assaults, or harasses a woman, I see her as my own daughter. I marched because if my daughter shows her shoulders, she may be sent home because a boy can't control himself and focus. I marched because if women had not marched before me, I would not have the rights that I do. – Missy
_______
I marched because they have to ask, and when some of them do, they are baiting; listening to respond, not listening to understand. – Laura
_______
I marched because it was time for me to move from the armchair to the pavement! – Jo
_______
I marched so because no man has the right to grab me or my daughter by the pussy… I don't care how much money you have…. and if one of them rapes my daughter than she deserves the right to a safe abortion. – Hannah
_______
I marched for my friends. I have friends and family who are LGBTQ, I have friends who are Muslim, I have friends who are Jewish, I have friends and family who are black, I have friends and family who are Hispanic, I have friends and family who are disabled. I know and love and am moved to compassion for homeless people. I believe black lives matter. I don't believe our inner cities are rife with bad hombres and horrible "inner city people" carnage. I believe all people deserve to be treated equally, with respect and to have the same rights I do. I have friends who are, or have family members who are, undocumented immigrants. I believe in compassionate immigration and that our system is broken. I do not accept racism and discrimination. I will never normalize it. I will never overlook it. I will continue to fight against it.   – Caryl
_______
I marched as a statement of respect for women and to be part of a movement that will assure my granddaughters and all girls will be treated with justice. I am concerned about anyone/anything that objectifies women. In terms of health care, I'm very frustrated that Planned Parenthood is on the chopping block when its services to women, especially the financially marginalized, are so critical. I marched because women should not have to pay more for health insurance than men, something that might not be protected if the ACA is repealed. I marched so young women will know they have a voice. Pro-life or Pro-choice was not my issue and I respect those on both sides of this issue. But pro-life means much more to me than protecting the unborn. It also means quality education for those children, access to health care for all, addressing food insecurity, protecting social security and Medicare for the elderly…the lives of immigrants, people of all colors and religious beliefs and sexual orientations…..protection of life starts at conception but doesn't end at birth. For me to say I'm pro-life means I will work to protect life throughout the journey. –Kay
_______
I marched for the equality of humanity. I march for kindness and respect and tolerance. I march because love is love and humans are humans no matter their race, gender, or sexual orientation. I march because I am a teacher and the future of public education is important to the future of our country and world. I march because science is real. I march because America is beautiful because it's diverse. – Kelsey
_______
I marched because I'm the granddaughter, daughter and wife of a pastor. I have given my life for the church and I watched as they turned their back on women and didn't just vote for a sexual deviant but they applauded him. They extolled him and made comments like "It will be good to have God back in the White House", and meanwhile we still have people walk out of our church when a woman speaks. I marched because I have a daughter that should expect more of men than locker room talk. I marched because I'm the mom of 2 boys that have so much more to give than grabbing and assaulting girls. I marched because I'm a teacher who knows my students deserve better than a billionaire public school hater to lead them. I marched because I'm pro-life. The REAL kind. The kind that not only wants babies born but is willing to sacrifice to make sure those babies are clothed, fed educated and given medical benefits. I marched because I needed to feel like their was hope because I'm so flippin'mad that I had to do something. – Shelia
_______
I marched to support women's reproductive health and rights, I am also in a same-sex marriage and see this administration waging a war against women and the LGBT Community – Patricia
_______
I marched to wholly and fully reject hate, division, and show in the most visible way that it's not "business as usual." We're not going to accept a platform that wants to legalize hate and bigotry, we're not going to sit back and quietly accept white supremacists and warmongers in the White House, and we'll stand up loudly and in mass numbers to firmly reject rolling back the clock on rights people have fought and died for – women's healthcare, civil rights, religious liberties, immigration, LGBT rights, etc. We have a long way to go but we've made tremendous progress and we're not going to give that up without a loud and long fight. It was showing that Trump and his supporters, along with their losing popular vote, don't speak for the country and we're going to make that known at every turn during this administration. – Angie
_______
I marched because the environment must be protected for our children and grandchildren. Because we must protect our precious public lands from being sold to the highest bidder. Because immigrants and people of color must not be marginalized. Because love is love and LGBTQ rights must be protected. Because affordable healthcare is a right, not a privilege. Because women are losing rights that we fought for and won over 40 years ago. Because we don't get equal pay for equal work. Because we love this magnificent country too much to let a demagogue destroy it. And this: I marched because I believe in protecting the rights of the marginalized. I didn't march only for my rights – I marched for others. – Danielle
_______
I marched because I am so shocked and appalled at Trump's behavior in the campaign, his attitude about Americans that are Muslims, of Mexican heritage, those that are gay, lesbian, and transgendered, those that have disabilities, and his comments about women. I marched because I am horrified at his cabinet choices, his disparaging comments about Gold Star families, those who were captured and held as prisoners of war, and rudeness towards those who worked their entire lives on civil rights issues. I marched because the lack of information about his debt is alarming, his flippant attitude towards our diplomats and long-time allies is scary, his comments about scientists concerned with global warming is nuts, his dismissal of Russian hackers and admiration of Putin is scary, and his attitude of having to be the biggest and the best inauguration is off-putting when there are actual problems to tackle. I marched because I was so lucky to have Planned Parenthood to go to when I was a young woman with endometriosis and no insurance. I marched because dismantling the ACA will directly impact my daughter, and therefore my entire family. I marched because I've been vocal and active since November, calling elected officials about supporting the ACA, cabinet choices, my thoughts about the ethics committee, and more, and I wanted to be around others who have taken steps and will continue to take steps to push back on policies that hurt others. But most of all, I marched because I want to be able to look at my kids years down the road and say to them I objected to Trump, and the March was just one of the ways I acted on it. – Lynn
_______
I marched because had I been born 16 years earlier than I was, I could not have attended my beloved alma mater, the University of Virginia. I marched because I refuse to attend an Evangelical church because they treat women like second-class citizens and I wouldn't teach my daughter that she has limits based on her gender. It is my job as her mother to fight to remove the limits we still have so that she can shine however she is meant to shine, regardless of her gender. – Dani
_______
I marched because I am worth equal pay and want to keep the right to say what happens to my body. – Diana
_______
I marched to tell Trump and his rich white cronies that I am raising my children to value humans, the earth, diversity (of gender, race, ability, ethnicity, religion), health care, and civil rights more than $. I marched to say that I won't allow us to return to the days when women had no choices about family planning. I marched to say that hate and fear are toxic and unwelcome in my America. I marched to show those who are more vulnerable than me that I'm out of my bubble and I stand with them. – Andrea
_______
I marched because silence has never made change. Because dissent is patriotic. Because Hillary win the popular vote by almost 2.9 million votes. Because women of color still don't have adequate representation, and though I don't speak for people of color, I stand by them indisputably.
I marched for so many reasons, I can't list them all here. But it's worth looking into if you really think we just wanted to make noise for no reason. – Chelcie
_______
I marched because JESUS gave me my marching orders in Matthew 25:35-45. I will march against hate and all who claim to represent Christ but are really just taking his name in vain! As ordained clergy and a pastor I heard my calling despite my church. I want all people, male and female, to be able to hear the call of God for whatever they are meant to be! – Tracie
_______
I marched for the women still treated like the perpetrator when trying to bring justice to their rapist.
I marched for the women who will never see justice come.
I marched because in 2016 a rapist literally caught in the act can be sentenced to 6 months and only serve 3 for "good behavior".
I marched because as much as we've fought so far, sexual abuse and rape culture is still rampant and accepted and we've still got a long way to go.
I marched for the parents who have lost their son due to police brutality.
I marched for the 12-year-old boys still being treated like adult criminals simply because their skin is black or brown.
I marched for the single moms crying because they can't provide for their kids, questioning whether to get a second or third job and if that would even be feasible.
I marched for the women told they are irrational, overbearing, or even abusive when they ask to be treated with equal respect in the workplace and expect not to be sexually harassed.
I marched for the men who still think being violent and domineering is the only true "masculinity", and for the women who accept and enable those mindsets.
I marched for the women still believing their dreams and life goals are irrelevant and that being a woman means they have to be a wife and mother and nothing else. – Joanna
_______
I marched because equality hurts no one. I will march for minorities, for rape victims whose offenders walk free, for my LGBTQ friends/family, for affordable healthcare for all, for the environment, for women to have the right to control our own bodies, but mostly, for the future of our children. They deserve better. Shawna
_______
I marched because I am a white, educated woman whose mother came here as a WWII refugee. My Lithuanian grandparents were so grateful for the life they had here, and my grandmother voted in every election until she died. Everyone should have the opportunities that my mother and subsequently I, have had. Trump and his minions scare the crap out of me. I think this is the test of our generation, and I'm determined not to go quietly. – Donna
_______
I marched because:
You are not equal. Even if you feel like you are. You still make less than a man for doing the same work. You make less as a CEO, as an athlete, as an actress, as a doctor. You make less in government, in the tech industry, in healthcare.
You still don't have full rights over your own body. Men are still debating over your uterus. Over your prenatal care. Over your choices.
You still have to pay taxes for your basic sanitary needs.
You still have to carry mace when walking alone at night. You still have to prove to the court why you were drunk on the night you were raped. You still have to justify your behavior when a man forces himself on you.
You still don't have paid (or even unpaid) maternity leave. You still have to go back to work while your body is broken. While you silently suffer from postpartum depression.
You still have to fight to breastfeed in public. You still have to prove to other women it's your right to do so. You still offend others with your breasts.
You are still objectified. You are still catcalled. You are still sexualized. You are still told you're too skinny or you're too fat. You're still told you're too old or too young. You're applauded when you "age gracefully." You're still told men age "better." You're still told to dress like a lady. You are still judged on your outfit instead of what's in your head. What brand bag you have still matters more than your college degree.
You are still being abused by your husband, by your boyfriend. You're still being murdered by your partners. Being beaten by your soulmate.
You are still worse off if you are a woman of color, a gay woman, a transgender woman. You are still harassed, belittled, dehumanized.
Your daughters are still told they are beautiful before they are told they are smart. Your daughters are still told to behave even though "boys will be boys." Your daughters are still told boys pull hair or pinch them because they like them.
You are not equal. Your daughters are not equal. You are still systemically oppressed. – Jennifer
_______
I marched because of Brock Turner. And every other rapist that gets off with a slap on the wrist. And because of our politicians have so narrowly defined rape that they aren't technically rapists. – Leigh
_______
I marched because I personally, have been lucky enough to not be a victim of anything relating to my gender (that I'm aware of). I have however, seen and felt the stifling of women's voices in church. I marched for other women of any age who are embarrassed, fearful or ashamed to voice their beliefs and concerns. My sign said "Christian Feminist . . . is not an oxymoron." I chose that phrase in an attempt to show other women in my church community that they are free to speak up as well. – Laura
_______
I marched for all the victims of sexual assault, of which I am one. I marched because we've come too far to be turned back 100 years. I marched because no government should be allowed to tell us what to do with our bodies, men and women alike. i marched for the mothers and children bathing themselves in brown water while the government refuses to give them clean water to drink. i marched because brown skin doesn't make you a terrorist. i marched because of double standards. I marched because i believe in the constitution, every. single. word of it—not only for our citizens, but for every human being. Human rights aren't determined by where you are born. – Bobbie
_______
I marched to show my children that in the face of hate and cruelty they must speak loudly for justice.
I march because I know this country can be safer and calmer with reasonable gun laws like universal background checks. Because women in the United States are 11 times more likely to be murdered with guns than women in other high-income countries, and when a gun is in the home during domestic violence American women are 500 times more likely to be killed. Gun violence is a women's issue.
I march because Black Lives Matter and despite the first line in our founding document, we are not living equally. I will use my ears to hear an experience that I do not know, and my voice to affirm, because white silence is violence.
I march because I will not allow homophobic and transphobic men to take anything away from vulnerable LGBTQ kids or committed adults. I will not be silent as suicides spike in states with so-called 'bathroom bills'. If people were actually concerned about women and girls being molested, they wouldn't have voted for a sexual assaulting predator.
I march because disabled Americans deserve full respect with their own voices added to our national conversation, not mockery by the highest power in our government. And disabled children deserve the same quality education as my children, and that is such a fundamental human right that it should not be a decision left up to states.
I march because our earth is more important than profits and I will allow my environmentalist son's voice to yell through me into these ever-warming winds to save these finite resources for him and another thousand generations of humans and all of his beloved creatures.
I march because I am fiercely proud of the wave of democracy our country brought to the world and the freedoms protected by the First Amendment. I consider a vote for a speech-threatening fascist to be unpatriotic and I will use my voice and dollars to fight for a free press.
I march because all of the steps I will be taking in D.C. will be just the start of my resistance. This has not been normal here. It is not normal. It will not be normal. – Erin
_______
I marched for many reasons and the main one being the 2 amazing sets of eyes that belong to my girls (13,10). I told them we were marching in the snow and cold temps to unite with thousands of other women and men across the world to speak up for those that can't speak as loudly for themselves. That while we wouldn't agree with everyone we marched with or every sign we saw that we would with most and we wanted them to feel seen and heard. With all of my being I believe Jesus would have been marching with us.
I desire my girls to not even know there are ceilings to shatter because they have already been shattered– I desire healthcare for all who want it including my 14-year-old son who was born with a pre-existing condition, I desire our earth to be cared for, and I desire for our voices to be heard that we will not quietly stand by as hatred and yuck are spewed out from the highest of leadership in our country. Not on our watch! – Camille
_______
Guys (Christian and otherwise), here's an idea: Ask women why they marched. Don't tell them why they marched. Every single one of them knows explicitly why. This is a golden moment for we who claim to be real men, to be silent, to sit down—and to listen.
If you marched, please add why you marched in the comments below.
Also, to hear more stories, see #WhyIMarch, #virtualwomensmarch #WhyIWalk, or visit my Facebook page to see the undress of responses not included above.