Friend, we don't think you've been listening.
If you'd been listening you'd understand.
If you'd been listening you'd see us clearly.
If you'd been listening you'd hear the honest cry of our collective hearts.
If you'd been listening you'd know why we're doing this—
You'd know why we resist.
This resistance isn't about a political party.
It's not about blue state or red state.
It's not about Democrat or Republican.
It's not about a politician or a preacher.
It's not about religion or the rejection of it.
It's not about Coastal Elites or Bible Belters.
It's nothing even remotely that small or insignificant.


This is an unapologetic, nonpartisan affirmation of Life—
not just life that agrees with us,
not just life of one complexion or orientation or nation of origin,
not just life that aligns on every issue,
or votes the way we vote,
worships the way we worship,
loves the way we love.
This resistance is not a rebellion against nation or an act of treason—but a declaration of the deepest patriotism.
We resist because we believe that the America we aspire to us is big enough for all who wish to be here,
because we believe that its beauty is in the richness of its diversity,
because we remember it was born out of people seeking refugee from tyranny,
because it is not a birthright to be guarded but an undeserved blessing to be shared.
If you knew this, you may have joined us in the streets of this country as we marched these past few months.
You may have stood shoulder to shoulder as we bore witness to one another's inherent worth.
You'd have seen the unbridled joy of disparate souls declaring their interdependence.
You'd have felt the sweetness of strangers recognizing their kinship together.
You'd have realized that this is not a funeral, it's a birth announcement.
It is not a protest of what we are against but a celebration of all that we are for.
And most of all you'd have realized that you too are welcome here in our America.
The greatest tragedy right now is that you believe that we are the enemy or think that we believe that you are the enemy.
We don't believe that you are; nor is faith, family, security, safety, or whatever you treasure because chances are we probably treasure it too. That's how Humanity works.
Hatred is the enemy, bigotry is the enemy, injustice is the enemy, isolation is the enemy, inequality is the enemy.
It is against these things that we resist, in whatever form they take and from wherever they originate and whatever religious or political affiliation conceives them.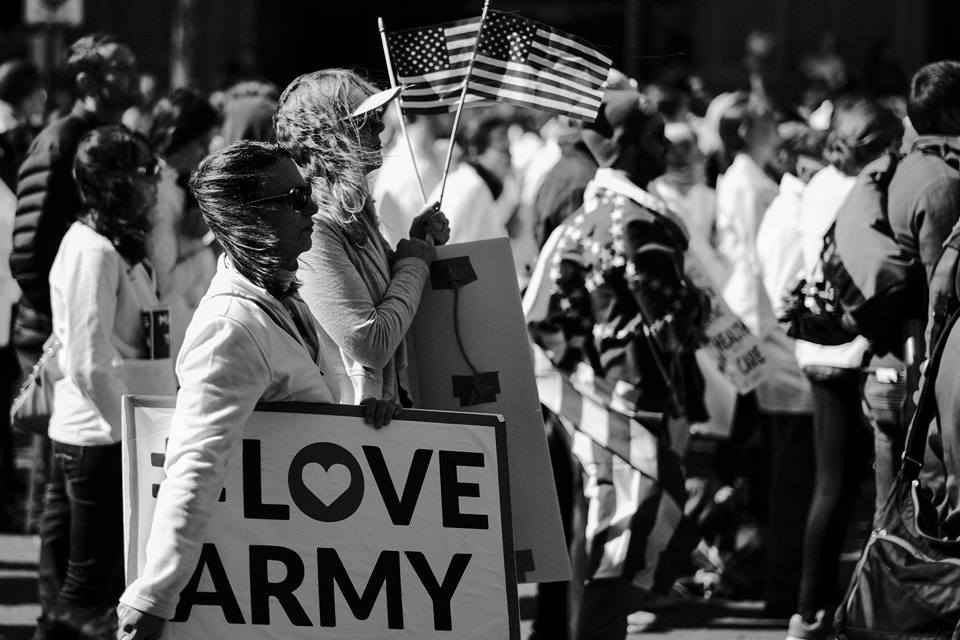 We are for every life, which means that we are for you too.
We don't advocate for healthcare for our families alone, but for yours.
We demand well-funded public schools, not just for our children, but yours.
We fight for the rights of all women to have autonomy over their bodies, not only those who vote Democrat.
We are insisting on pristine air and water not just for our future generations, but yours as well. 
We understand that poverty knows no color, creed, or nationality,
that illness and injury are not partisan intrusions,
that age and vulnerability befall us all, whatever our orientation or distinction. 
We believe that every family is worth protecting.
We believe that every child deserves defense.
We believe that every marriage is equally sacred.
We profess all humanity as fully deserving of dignity.
We only wish you would refrain from shouting from a distance.
We wish that you would stop telling us why we're doing this.
We wish you would stop taking a battle posture.
We wish you could see this country as large enough for us all.
Most of all we wish you would really listen, because if you were to really listen—you'd never think so small as to talk about politics ever again.
If you'd listen you'd understand that we are as much for you as we are for ourselves.
We'll keep resisting because those we resist for are worth it.
All we ask is that you endeavor to listen.
If you do you'll hear the immutable truth:
We really are in this together.
This really is the way forward.
It truly is America's greatness.
The beautiful photos in this piece were taken at the Moral March on Raleigh, and are used by the kind permission of Raleigh photographer Daniel Hosterman