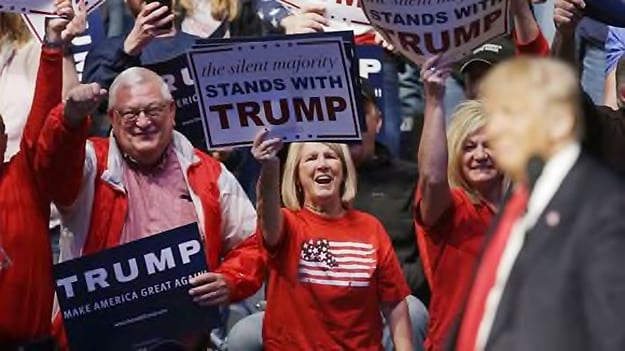 Photo: USA Today

A vote is loud.
Whether that vote is cast with trepidation or begrudgingly or without all the information or as protest—it makes the same bold statements:
This is my choice.
I am with this person.
I consent to them.
I bless their conduct.
A vote doesn't have qualifiers or caveats or escape clauses. It is simply says Yes.
Before Donald Trump had spent one day in the White House, his approval rating had already begun plummeting, showing that many who voted for him were already rightly feeling buyer's remorse.
Whether it was his nonsensical Twitter rant at the cast of Hamilton, his public attacks on the Intelligence community, his social media criticisms of social rights activist John Lewis, the disturbing collection of White Supremacists and unqualified billionaires beginning to assemble as his inner circle, or the odd decision to use his daughter as a surrogate First Lady/White House staffer—it all showed someone who was ill-equipped to do whatever it was they expected him to do when they voted. Even as they said "Let's give him a chance", inside they were thinking, "What have we done?"

In the weeks following the election, one of the refrains I heard as I implored these people to speak, was that those regretting their vote were now embarrassed and being shamed—and for this reason they were silent.
My response was and is: They don't get that privilege.
Silence is not a luxury anyone gets in days like these. If you voted for Donald Trump and you're ashamed of that fact or if you feel like you're being criticized I'm sorry but that isn't what this is about right now. Your shame doesn't trump your responsibility. Your regret without a response is useless. No ones interested in shaming you, we're interested in hearing you.
To be silent now, after voting so loudly is irresponsible and unhelpful.
Your silence doesn't protect refugees or avoid disastrous Cabinet appointees or pay treatment bills for the soon-to-be uninsured.
It doesn't shield marginalized communities from hate crimes or uncover the truth about Russia's role in our democratic process or challenge the President's flagrant nepotism.
Your silence doesn't encourage lawmakers to push against their party even if they feel they should and it doesn't show solidarity with activists in the streets spending themselves to advocate for equality and justice.
It doesn't discourage the President and his spokespeople from rolling out an unrelenting stream of lies or attacking those doing real, Constitution-guarding journalism.
It doesn't hold those in the highest levels of power and influence, accountable for disregarding every procedure, rule of law, and safeguard established to ensure that citizens are protected from those governing them.
Your silence doesn't do anything right now but allow you to divorce yourself from your vote, to avoid any accountability for the man you've chosen, and perpetuates the erratic, reckless behavior that is endangering all of us.
What this means, friend, is that if you are indeed regretting your vote—this would be the time to stand up and say so. Millions of us are out here doing the work of pushing back and speaking for the marginalized, and we're marching and we're calling our elected officials and we're busting our butts to keep our Constitution intact.
And all the while the narrative the President is selling is that this is a partisan, Liberal Media-created mirage. He's attempting to manufacture a political civil war via social media to divert attention from the insidious stuff happening right now that should be horrifying all of us.
And every time you say nothing, our Republic is more and more vulnerable, more and more compromised, more and more in danger of losing the very essence of its freedom and liberty.
All this to say, I'm really sorry for your embarrassment, but even more concerned about your silence. 
Your vote in November, for whatever reason you cast it—was loud.
And if you regret that vote or if you don't consent to what you are seeing from this man and this Administration, your loudness now is necessary too.
Please join those of us who are resisting together because we love America more than a political party, because this isn't about any of us, it's about all of us.
Please speak, and speak up.