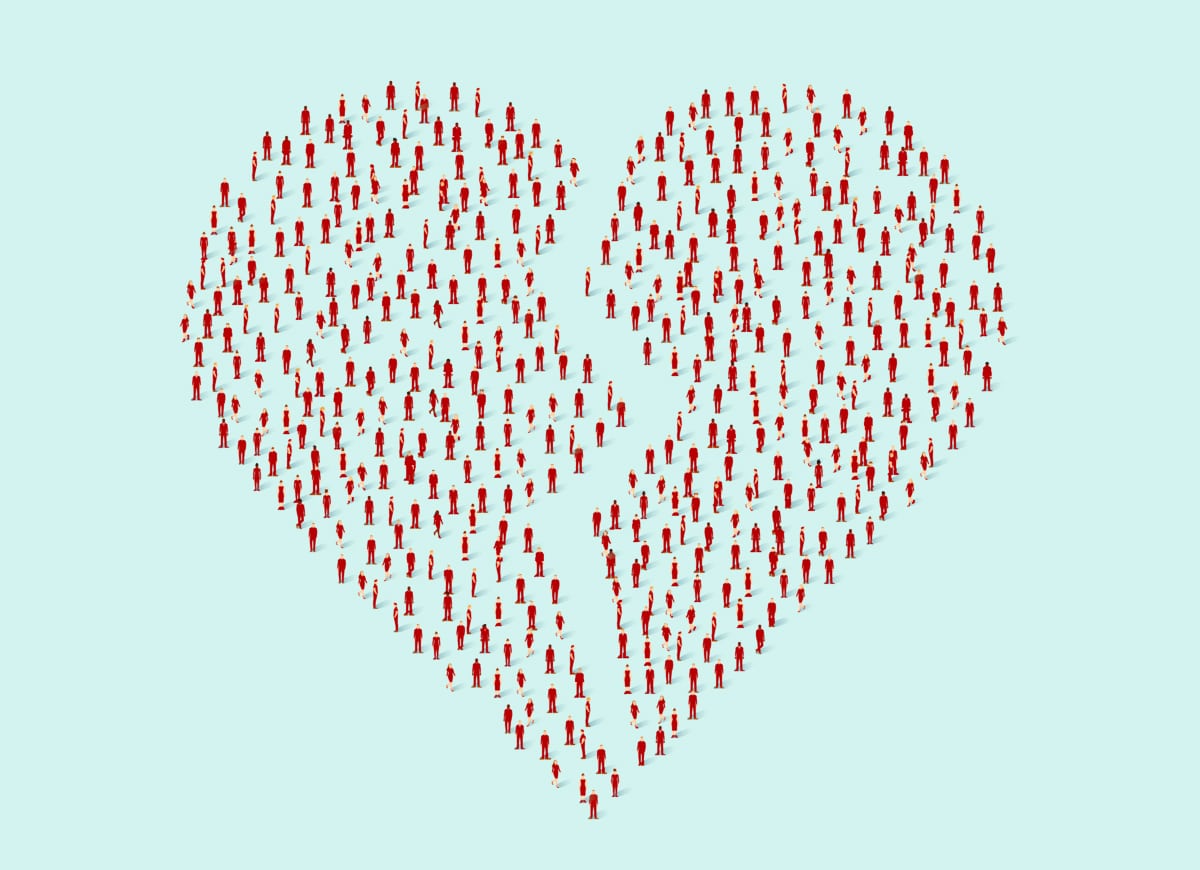 "I feel betrayed."
These were the words that a friend of Mexican descent recently shared with me, about the Bible Belt suburban neighbors she once thought she knew and felt at home with; those whose children she'd made pancakes for after sleepovers, those she'd treated as her very own. She used to believe that she belonged with these people, that these were her people, that they were for her.
But on a Tuesday in November everything changed. Now there is alienation. Now there is fracture. Now there is a palpable distance between them—and bridging it feels impossible.
She isn't alone.
Hers is the story of tens of millions of Americans, trying to repair what has been broken over the past year; trying to rebuild relationships stretched well past the point of collapse by this election and the aftermath of it. It might well be your story, too.
Every day I cross paths with people from every corner of this nation who are gingerly navigating similar daily minefields; living with, working for, being married to, or worshiping alongside people whose vote has driven a seemingly impenetrable wedge between them. 
And I'm one of them.
As a person of faith raised to extend forgiveness, I confess that I am failing miserably these days. As hard as I try, I am not finding much mercy for those whose choices feel so antithetical to my own heart, those whose votes sanction such malevolence and indignity and violence. And as the days pass, this resentment seems to only grow as I watch people double down on what I'd hoped was a momentary lapse in judgment they'd have confessed to and repented of by now. And as they willingly, boldly reiterate their decision, I can't reconcile the image I once had of them, with the reality of their political affirmations.
Simply stated: there are people I once respected, whom I no longer do in the way I used to.
There are people I felt I knew—who I now realize that  I didn't.
I'm not at all proud to say this—it is as much confession as it is declaration, but it is the jagged, unvarnished truth. I'm not sure how to simultaneously affirm the marginalized communities so threatened by this President, while nurturing relationships with those who gladly consent to him. Right now the two tasks seem incompatible; to do one it feels like betraying the other, and so my support for those who are hurting and vulnerable comes at the expense of relationships I'd once held dear. They are the very real and close collateral damage of this election.
Chances are you're walking this road right now. Either through daily explosions over the dinner table, an uneasy truce of small talk, through social media silence, or physical disconnection—you are enduring a level of relational brokenness right now that is unlike any before. And since those fractures are as individual as your specific ties to the people you were close to, finding a way forward that heals universally is a tall order.
Honestly there are likely many relationships that will never be the same—this may be the price of being fully authentic and standing unapologetically for the people and the principles you believe in. An event like this has exposed things that will be impossible to fully bury again, and though you may never be able to repair all that has been broken with people you know or love or work with—it is still worth trying. It's worth having difficult conversations, seeking to understand, overcoming assumptions, mapping out common ground, and striving for something redemptive, wherever there is a similar willingness by the other. And where there is not willingness—the chasm between you may be permanent.
Right now the one fragile reality we can hold onto is that every person believes he or she is good and right. No one ever genuinely imagines they are doing damage, that they are being hateful, and bad as someone might appear from across a table or across a Twitter exchange or across the aisle, no one ever thinks they are the bad guy. In a nation of 300 million people, there are exactly zero who believe they are wrong or hurtful—and this is at least a place we can find commonality.
I am still not sure I will again be able to have the emotional proximity, the sense of shared affinity, or the familial bond I once had with some people because of what this election has revealed to me about them, but because I believe everyone is worth it I am trying:
I am trying to listen more than I speak,
to offer an open hand more than a closed fist,
to see the best in the people I find it difficult to see good in,
to give them the grace I desire for myself.
I fail regularly but this is my daily aspiration—because if it ceases to be so, then I become as harmful as I now perceive them to be.
I hope reconciliation and healing can come for us (and for you and those you are estranged from), but at the end of the day I know that the alienation and betrayal my Mexican friend now feels is not okay, and that she is worth the turbulence I now encounter to stand alongside her and to advocate for her. This is perhaps what times like these do best; like a crucible they burn away impurities so that something else can be yielded. Maybe what is being forged right now is something priceless though costly: we are losing fair-weather friendships and familial comfort in order to find our truest voices. 
In these moments everything is raw and the wounds  are so very fresh. Right now our memories may be our best chance at reconciliation with those with whom there is separation; to remember that there was a day before the past year, when these relationships were meaningful and life-giving and beautiful. They still might one day be again, but the road to bridge the distance created by this election may be longer and more painful than any of us realize. Hopefully we can keep walking it.
May this nation find a way to repair all that is broken among us and between us and within us.
Even if it follows a terrible noise or a long silence—may love still have the last, loudest word.