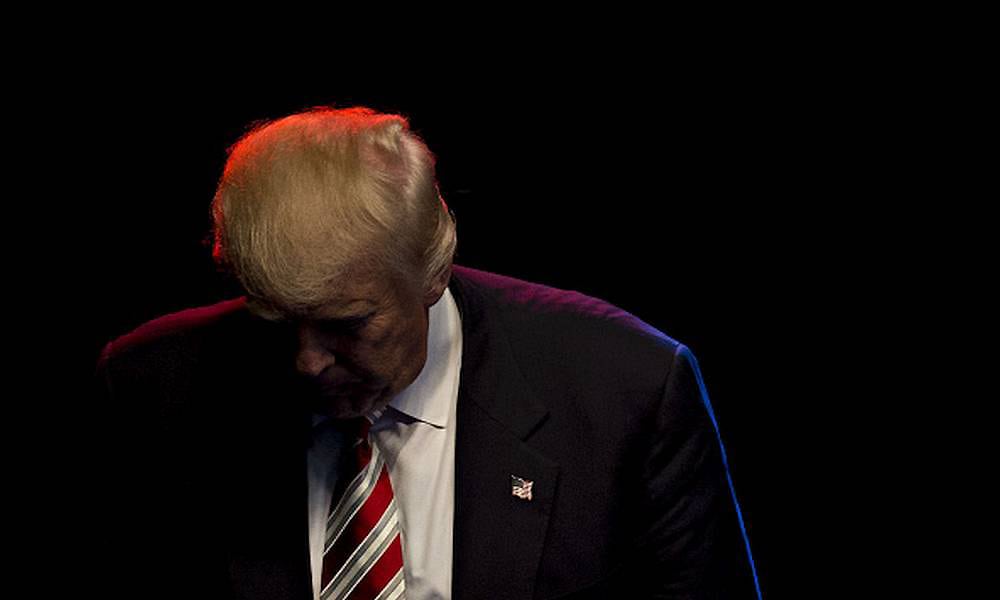 We all make mistakes.
Every one of us can recall times when our judgment was temporarily clouded; when our emotions betrayed us and in a moment of weakness or fear or misplaced anger, we chose horribly and later found ourselves embarrassed and ashamed to realize what we'd done. Such regret is universal—as is the desire to escape culpability when that regret rises up.
But there comes a time when we run out of excuses, when we can no longer plead ignorance or impulsiveness or having been duped, when we have to own our poor decisions and declare our error—times when to not do so would be to willingly repeat the transgression or to prove ourselves more committed to perpetuating a lie than admitting the ugly truth we see in the mirror. There is always a morning of accountability that calls us to face what we'd done the night before. It is here now.
In November there might have been people who could have explained away their support of Donald Trump as a statement of discontent with politics as usual in America, a desire to shake up the bureaucratic status quo, some FoxNews-induced belief that Hillary Clinton was somehow actually the corrupt one. But November may as well have been a lifetime ago. There is now a monstrous body of work to evaluate and it demands to be seen in the raking light of honest, sober objectivity. 
To still be supporting this man in these days with all that we have seen, is to declare war on decency, on equality, on any semblance of forthrightness or fair play. It is to double down on the bigotry which was dismissed as hyperbole during his campaign and which has been ratified hundredfold since taking office. To witness his absolute disregard for the Constitution, his violent allergic reaction to facts—and not condemn it all becomes an indictment of one's own heart. It becomes an act of aggression against humanity.
The are truths that are self-evident in the light of these days that may have been obscured in the campaign:
A brilliant healthcare alternative is not coming.
Coal jobs are not coming back.
Taxes for the middle class are not coming down.
Mexico is not paying for the wall.
Muslims are being persecuted.
Protection for those with special needs are evaporating.
The poor are getting thrown to the lions.
Public schools are being thrown under the bus.
Crumbling bridges and highways are being left to deteriorate.
The elderly are being left to fend for themselves.
The environment is being willfully set on fire.
The whole system is being intentionally blown-up.
The rule of Law in our Government is being trod upon.

Aside from the highest percentage of the wealthiest in this nation—no one is "winning." This is a nonpartisan tragedy.
Though it's still an incredible stretch, I can understand a vote for Donald Trump back in the Fall. I can make a bit of sense of such irresponsibility or recklessness as an isolated event brought on by a well-crafted campaign of fear. We all do impulsive things when we are terrified, when it's dark and we're convinced there's a monster under the bed. But eventually the light comes on and we have reality at our disposal and we get to choose to see things as they are. I can't fathom those presently determined to stay in the dark, to pretend they're not seeing what they're seeing—when what they're seeing is a danger to them too.
It's morning here in America, friend. The brilliant light of day is illuminating every dark corner and exposing every unsavory decision from the night before. Regardless of your vote in November, there are millions of people sharing this nation with you today who don't care to hold the past against you or to nurture a grudge that keeps you shamed.
We just desperately hope you'll be part of the way forward with the rest of us who see that the monster isn't under the bed—it isn't Muslim or gay or Democrat.
The real monster isn't even one man with a great capacity for evil and an unprecedented power to wield it.
The real monster is hatred and the silence that feeds it.
And the monster must be stopped.