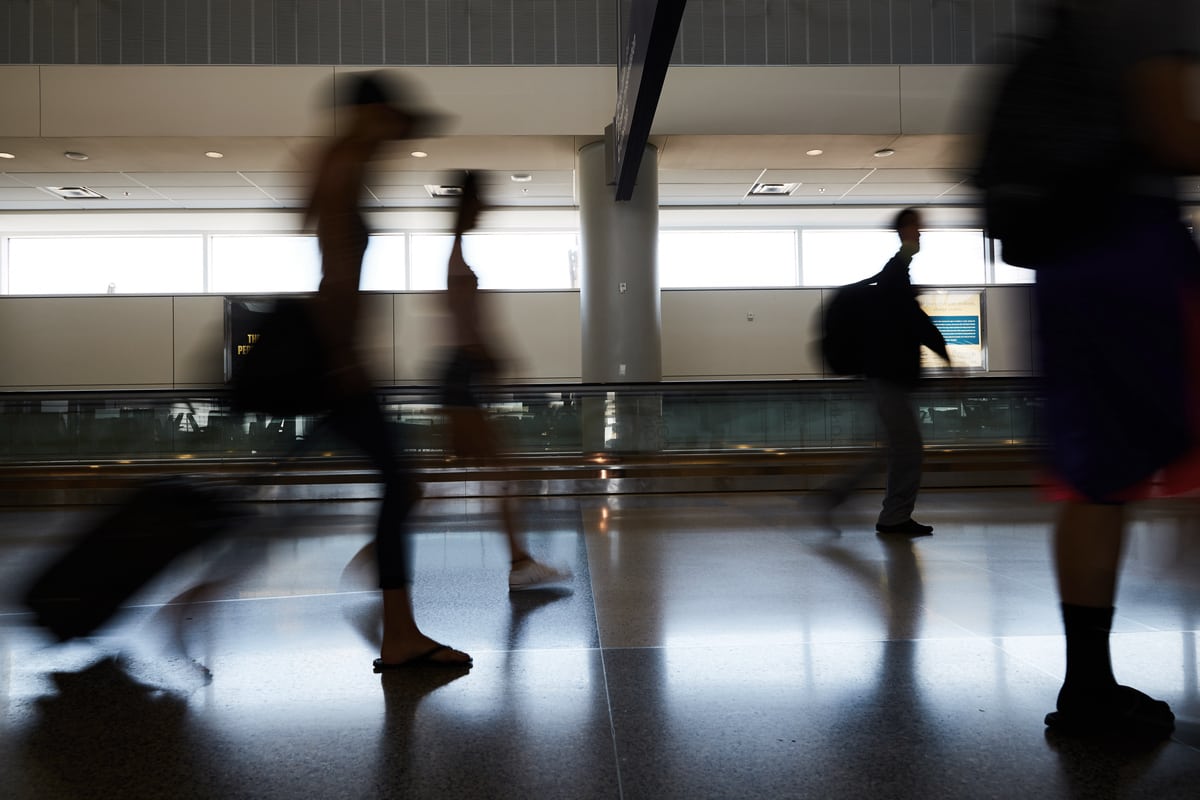 Hell will be an airport, I'm almost certain of it.
The damned will find themselves in a massive, snaking line, boarding pass in hand, their essential earthly belongings heaped upon their shoulders and pulled behind them on jittery roller bags with one bum wheel. They will have an initial wave of expectancy at the thought of the journey ahead and this will render them fully oblivious to the fact that they've entered into a period of eternal suffering and are quite surely doomed. They will gladly move in painfully slow, three-foot increments through a long maze of the similarly ill-fated, unaware that this is the most hope they'll ever have today.
Herded like livestock toward a large metal gate, they'll be asked to quickly remove their shoes, belt, and jewelry while an assortment of grim-faced ghouls photograph and prod them. If they're fortunate enough to be allowed to pass through without a second, more involved manhandling, they will scramble to retrieve their things from a swiftly moving conveyor belt before they're crushed by the crowd of sock-footed humanity behind them who are irritated at their poor progress. They will frantically reassemble themselves and scan the horizon for a hint as to where to go: It will be B9.
The damned will traverse overcrowded hallways, wildly ping-ponging against a small army of sweaty strangers, and when they finally arrive at B9 disheveled and perspiring, there will be a sign telling them they now need to go to C17. Once at C17, they will be met by a joyless woman behind a grey counter who makes no eye contact and seems bothered by their presence when they ask the reason for the change.
They'll turn sheepishly and tiptoe their way down one of the narrow rows of thin, rigid chairs, clearly not meant to accommodate the human frame, dotted by clusters of dead-eyed figures huddled around electrical outlets, several of which will not work. As their bodies finally fall awkwardly into an L-shaped piece of black leathertte, they will notice the clock: They were supposed to have started boarding ten minutes ago. This will be their first hint that things will not be going as planned.
Five more minutes will pass. Then ten. Then fifteen. They will wait and be told nothing. Restlessness will rise among the damned, and they'll scan one another's eyes as if hoping someone else will approach the joyless woman behind the counter. No one dares. Suddenly, she will pronounce through distorted speakers, in words barely discernible to the human ear, that there is a delay. She will offer little details and quickly end transmission, while the doomed travelers stir and grumble, speaking desperate follow-up questions into the ether, but the joyless woman and her cadre of blue-vested minions will pretend not to notice, as they stare into computer screens and speak on corded phones closely resembling children's toys.
As the minutes tick by and the damned nurse the remaining morsels of the snacks they'd hoped to be enjoying at 30,000 feet over 45 minutes ago—they suddenly begin to feel a looming sense of dread. Prayers and incantations begin, requesting relief from the Fates or the Travel Gods. Panic will begin to grow steadily in their midst. They will begin calculating the earliest chance they'll have of arriving where they're heading and their blood pressure will rise dangerously as they inventory what they will now miss. And then, just at the moment when their spirits are almost broken, they will be given a reprieve (cruel and brief though it will be). They are told to grab their things and they are ushered into the cramped confines of a tiny metal tube, crammed with far too many elementary school child-sized seats. Somehow, every overhead bin will already be full.
After having their belongings unceremoniously whisked away, the damned will shoehorn themselves into their appointed places, wedged tightly against the moist humanity on either side of them, unable to bend, extend their legs, or rest their arms without also recreating some ancient marriage rite with the adjacent person. But they will all exhale as one, as the engines roar to life and for the first time in their seemingly endless journey they begin to have some hope for deliverance. Then, the engines will just as quickly go silent and they will moan in unison as the voice of a nondescript man with a perpetually buoyant voice comes over the speakers positioned a few inches from their heads, simply saying, "Uh folks, there seems to be a problem. The plane—is broken." He will say nothing more.
Time will begin to pass and a heavy sense of dread will move through the capsule as the damned begin to understand what is happening. Cramps will move through their extremities, their eyes will tear as tiny jets pummel them with recycled air, and they will watch in abject horror as the percentages on their phones drop precipitously, and with it their optimism.
It will be another 40 minutes until the nondescript man with the perpetually buoyant voice comes on to tell them that "The plane is still broken. We'll update you as soon as we can." Things will begin to unravel among the doomed assembly. Every baby will begin to cry, as if programmed and synched together. The young and the elderly will be the first to lose hope, followed by the small-bladdered and those traveling Internationally, along with the First Class folks who already resented being forced to travel with the common rabble, separated only by a thin fabric curtain. (They too are in Hell, though with a bit more leg room.) 
Desperate pleas will be made to the blank-faced, smiling sentinels roaming the aisles; begging for information, snack mix, anything to stave off the panic now gripping their contorted bodies. No such comfort will be given. Another hour will pass, with all but a few becoming fully catatonic in their despair. And the nondescript man with the perpetually buoyant voice will suddenly return to tell them that they're changing planes, and they should quickly gather up their things and hurry to their new destination: B9.
Their bodies will respond poorly, being riled from their contorted states so suddenly, and they will stumble and stagger through another overcrowded hallway filled with sweaty strangers, experiencing a disorienting deja vu as they are again crammed into a seemingly identical metal tube. They will all fear the worst, and yet as the engines once again roar to life, with a mix of elation and disbelief they will leave the ground and finally imagine themselves fully delivered—for a moment.
There will be no drink service due to the lack of preparation for the second capsule, but the damned will not care, as they are airborne and once again feeling a small bit of the expectancy they began their journey with, but it will be short-lived. When they finally arrive and endure a seemingly endless departing recessional, they are unceremoniously deposited into another hallway, yet this one empty and darkened.
The damned will crane their necks and through exhausted, half-closed eyes, gaze upon giant glowing screens, and terror will grip them completely as they learn their fates: they've missed their connecting flight—and the bar is now closed.
And there will be weeping and gnashing of teeth.