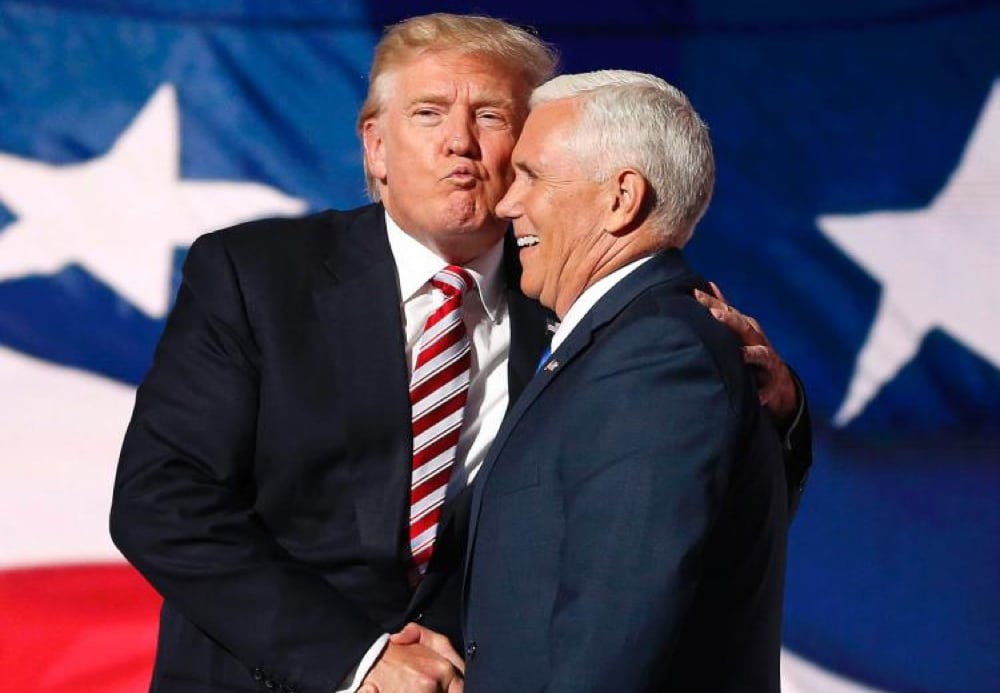 Image: nydailynews.com
It was early in 2016.
The Republican politicians and the celebrity Evangelical preachers met with the devil in secret. The last 8 years had driven them to desperation.
One of the group, the one called Pence, approached the devil and asked, "What are you willing to give us if we deliver Jesus and his American Church over to you and to your associate—the orange faced man with the wild hair?"
So the devil counted out for them thirty pieces of silver.
They all laughed heartily, feigning disbelief.
Jerry Falwell Jr. doubled over.
Paul Ryan spit out his coffee.
The House Republicans gesticulated wildly.
"Just kidding," said the devil with a wink, "I know who I'm dealing with here."
Well into the night they bargained, with each preacher and politician chiming in on his own behalf, until they all reached an equitable arrangement—which included the Presidency, a Supreme Court Seat, carte blanche with the House and Senate—along with millions of fear-blinded American Christians to amen it all.
The group was absolutely giddy over the terms, barely able to conceal their delight.
Seeing this, the devil added one final caveat: he would receive their souls in exchange for it all. Since they'd found less and less use for them lately, they all gladly signed them away.
The devil decided on a way to ratify the betrayal—an embrace and a kiss.
"Nice New Testament call back!" Pence said with a knowing grin, quite proud of himself as the devil cackled.
From then on they watched for an opportunity to hand Jesus over.
______
The next day they found Jesus in America, chastising his disciples who'd fallen asleep while he was praying. They'd been sleeping a lot lately.
Going at once to Jesus, Pence said buoyantly, "Hello Jesus!"
Jesus quietly replied, "Do what you came for, friend."
Pence leaned in and kissed Jesus on the cheek—but nothing happened.
Pence immediately realized something wasn't quite right. He'd expected a more dramatic moment. He turned to Jeff Sessions, who rifled nervously through a stack of papers.
After checking the details of the contract with his nervous co-conspirator, he realized this was not the embrace and kiss the devil had stipulated to seal the deal.
He soon found himself on a large stage, under the searing lights and the fixed gaze of millions of people—standing next to the orange faced man with the wild hair. Pence suddenly understood the gravity of the moment and how much he'd given up. His heart began to beat wildly and he perspired through his shirt.
He wanted to disappear. He wanted to throw-up. He wanted to call the whole thing off. He prayed for the Rapture. But before he could process another thought, the orange faced man with the wild hair pulled him close and kissed him awkwardly.
"This is what you wanted, Mr. Pence. "he whispered in Pence's ear, "You're a winner now. I hope it was worth it."
And from that moment, all over America, in churches and from pulpits, in the Senate and the House, in University commencements and weekly podcasts, on courthouse steps and in press releases—the politicians and the preachers each lined up one by one to publicly kiss the orange faced man with the wild hair—and to betray Jesus.
And they soon received all that the devil promised them—but they lost what they agreed to give away too:
They had gained "the world" and forfeited their souls.
Mike Pence recognized the New Testament call back there too, but it was too late to change anything. He'd made his bed. He'd sealed his fate.
Then Jesus looked to the sky and said, "Father forgive them, they know not what they do."
And he wept for America.