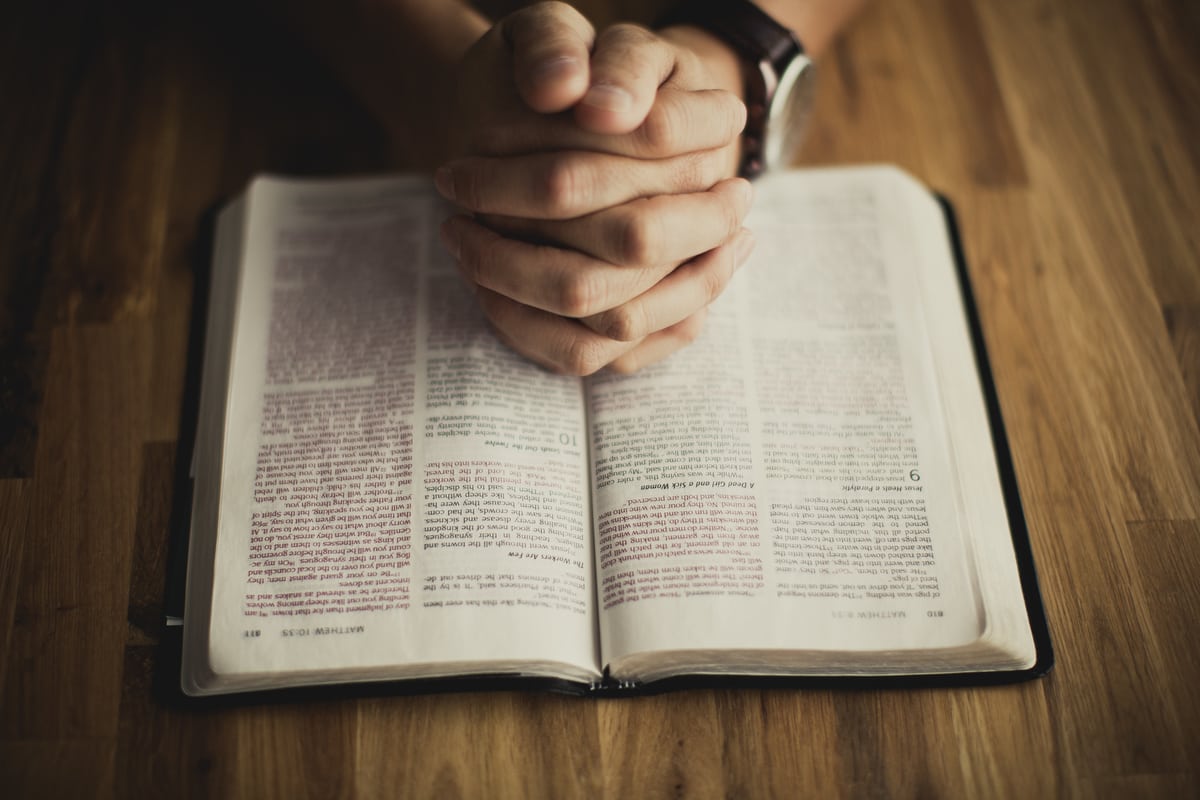 Every day I invariably end up in some form of the same conversation.
I encounter a more conservative Christian, who takes issue with my stance on the Bible or sexuality or sin or salvation or politics, and once they realize that I'm neither embarrassed of these stances nor easily moved from them—they offer a similar solution to the diagnosed "problem" of my Progressive theology:
"You should try reading the Bible and asking God to reveal the truth to you."—as if these are things I'd never considered.
The words are sometimes delivered as unintended insult, other times as judgmental scolding, and still other times as a poorly concealed middle finger. Either way, there's an inherent arrogance in the suggestion itself, assuming that unless the conclusions I've come to match their conclusions, I must not have done the work. I must be rebelling against God. I must be darkened in my understanding; clouded by the Devil—or maybe Rob Bell.
My reply is always the same: "Reading the Bible and praying over it—is precisely how I became Progressive."
For more than forty years as a Christian and two decades as a pastor in the local church, I've lived with the Bible:
I've read it for inspiration and for information.
I've studied it in seminary and in small groups and in solitude.
I've done hundreds of Bible studies and sat through months of sermons.
I've taught it and preached it and reflected on it for hours upon hours upon hours.
I've sat with it in silence and prayed over the words; listening intently for the voice of God.
And all of this has yielded the faith perspective I have today. This has been my long, purposeful path to Progressive Christianity.
The more I excavated the Scriptures and reflected on what I'd learned, the more I felt a shift in my understanding. Little by little, through this continual process of study and prayer and living, I found myself unable to believe things I once believed. Old sureties became unstable and new things became my bedrock. Over time, I gradually but quite surely began to see the Bible differently, and it has led me to this place and to the convictions I now hold.
No longer some perfect, leather-bound divine transcript, dictated by God and downloaded into a few men's heads or dropped from the sky—the Bible for me became an expansive library written by flawed, failing human beings at a particular place and time in the history of humanity, recording their experience of God as best they could comprehend it.
In that library I could find wisdom and meaning, and through those words I could seek God and understand humanity, and craft a working religion to live within. But I could also bring other things to bear upon this journey; things like Science and History, things like nature and community and other faith traditions—and yes, my personal experience living as a never-to-be-repeated human being.
This is the path of all people of faith, if they're honest; however conservative or progressive their theology. And this is the point.
None of us has the market cornered on the Truth, and we all bring the same things to our study and prayer and to our religion—we bring ourselves. We bring the sum total of the families we've lived in and the place we were born and the faith tradition we were raised in. We carry the teachers and pastors and writers who inspired us, the experiences we've had, and even our specific personalities. In other words: we all find our way—in the way we find our way. 
When another Christian instructs someone else to "read the Bible," or "take it to prayer," or to "ask God to reveal the truth to you," they usually mean, "Do all of these things until you get it right—until you agree with me." They are assuming their version of study and reflection are more valid than another's.
And this is the beauty of Progressive Christianity: it doesn't insist that others agree with it, it doesn't claim superiority, and it holds its conclusions loosely. That doesn't mean it has arrived at its present place impulsively, lazily, or ignorantly. Quite the contrary. I've met thousands of Christians who hold more liberal positions on all sorts of topics, who didn't begin that way. They have come to those positions after years or even decades of careful, prayerful, faithful exploration. They are as intelligent, invested, and earnestly seeking as their more orthodox brethren.
And this is perhaps the conservative Christian's greatest challenge, which was fittingly, the same one the Pharisees faced in the Gospels: to believe that others could have a genuine, real, and beautiful experience of God that didn't match their own. People can read the Bible and pray and do every thing they do as honestly and lovingly as they do it—and wind up believing differently.
Christian, the next time you're tempted to flippantly tell someone who doesn't share your religious convictions or mirror your theology, that they should "try reading the Bible and going to God," it might be helpful to seek a humility about your own beliefs and a respect of theirs; to entertain the idea that maybe their reading of the Bible and their prayerful life surrounding it—are the very reason they now hold those beliefs.
Maybe they have studied and prayed and listened.
Maybe God has revealed the Truth to them.
Maybe God doesn't need your consent to do that.