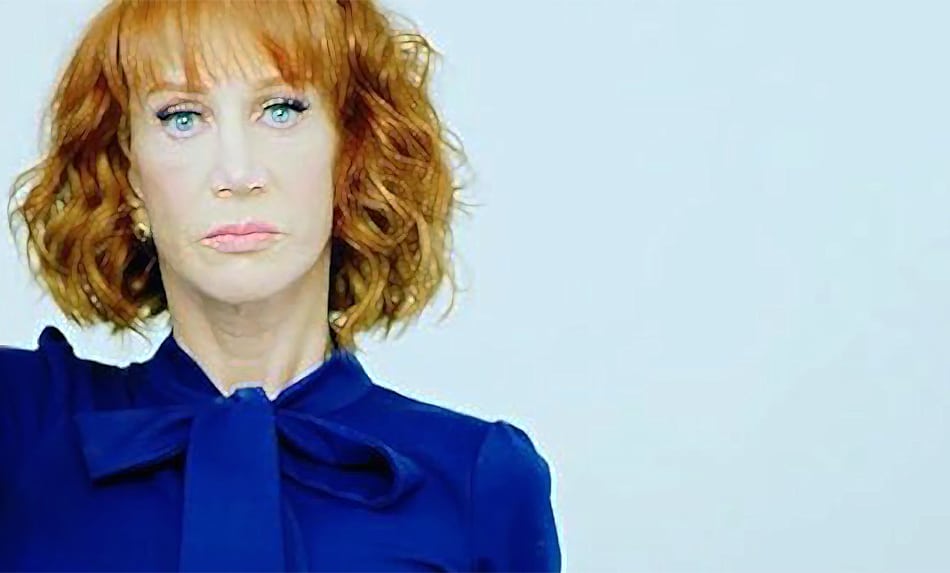 Kathy Griffin made a huge mistake.
She posed for a graphic photo session with a beheaded President Trump mannequin.
It was vile.
It was repulsive.
It was misguided.
It was irresponsible.
It glorified violence.
It was a terrible, unfunny attempt at humor.
It was beyond defense.
Griffin immediately followed up the spectacularly awful decision with a profuse, pleading apology. She was terminated by CNN and has been deservedly criticized.
But the photo itself wasn't her biggest mistake, at least career wise. I'm afraid that her biggest mistake was not being a professed Republican or a devout Christian.
Had she been, FoxNews and Breitbart and Ann Coulter would have rallied around her this week, instead of condemning her like most people on the Left did.
She'd now be the subject of GoFundMe campaigns and Blaze.com fluff pieces.
Members of the GOP House and Senate would have explained Griffin's actions away as artistic statements or misunderstood jokes or "being a straight shooter."
Partisan trolls would have derided her critics online, calling them "libtards" and "snowflakes."
Celebrity preachers would have miraculously managed to give God the glory for showing his Old Testament ferocity through her.
Christians would have lectured those outraged, about Jesus commanding us to forgive her and chastising them to "get over it."
Ted Nugent would have praised her from some state fair shed stage, to the raw throated howls of his sweaty sycophants.
Sean Hannity would have called for CNN to be boycotted for trampling on Griffin's First Amendment rights.
She'd be a revered, stained glass martyr right now, instead of a pariah.
And if she'd been a darling of the far Right, the sickening, violent, ineloquent display of the photo session would likely have sent her on her way to stardom. It may have been the launching of her campaign and brand. She might soon find herself courted by donors and sucked up to by Ted Cruz and invited to speak at Christian Universities.
And if she doubled down on such viciousness, and tossed in some American flags and red hats, and a bit of hate speech about immigrants and Muslims and gays—well she may have one day received the GOP Presidential nomination, instead of being terminated and publicly denounced.
And that's the most offensive thing about Kathy Griffin's photo shoot and the response to it. Yes, she did do something repugnant, and yes she crossed the line of decency, and yes it was tasteless. It was the very thing good people usually want no part of. I'm with them.
Yet my great fear is that if she'd only chosen a different object of disdain. If only she'd picked on, oh I don't know—Barack Obama or Hillary Clinton or Sally Yates—she'd actually be thriving right now. She could have been be set up for a position as a future White House advisor or Attorney General. She could have been setting the stage for a 2020 run for the Presidency fully backed by Christians. That's seems to be what happens when people do horrible things now: they win things; things like pastor endorsements and Montana elections.
Kathy Griffin's decision to pose with an effigy of Donald Trump is indefensible. That's why you don't see anyone defending it, certainly not me. Yet sadly, I'm more and more convinced that had she been a FoxNews anchor targeting a Democrat—there would be a line of the faithful a mile long, defending her and applauding her and saying that she's "making America great again." 
Griffin should be universally chided for the mistake she made, from those on either side of the aisle and of every religious affiliation. And she has been.
Now, if only we could see a similar nonpartisan objection to words, behaviors, and policies that promote bigotry, racism, misogyny, homophobia in places where they really are a matter of life and death.
If only we could corporately condemn things that devalue humanity, that harm children, that nurture violence, wherever it comes from—whether Hollywood photo studios, White House Press rooms, or Presidential Twitter accounts.
If we all actually held our elected officials and our President to the same standards of decency, character, and goodness that we do a New Year's Eve entertainment commentator—we may actually find the greatness we're lacking. We might become the best version of our nation that we are capable of.
FoxNews declared that Griffin was fired because her photo "repulsed the country." It's notable how high their threshold is for repulsion when the offenders and the targets are different, and that is the point.
There rightly was nonpartisan condemnation directed at Kathy Griffin this week. We might take some of that shared outrage and turn it toward the future of our country, at those whose stewardship of our health, well-being, and our very lives—is truly offensive.