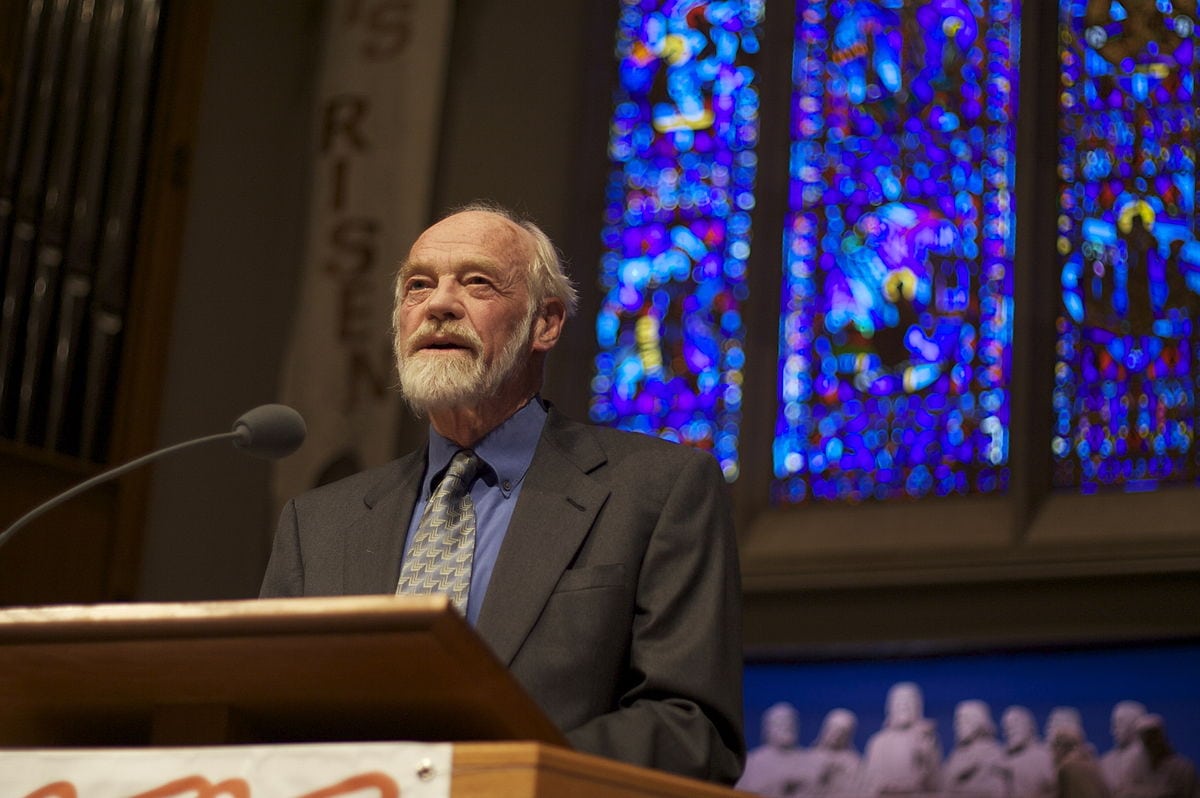 A lot can change in a day…
Last week, influential Christian pastor Eugene Peterson came out in support of LGBTQ inclusion and gay marriage. It was a massive tremor in the Christian community and a potential topping point for many in the battle for full LGBTQ rights in the Church.
The next day, renowned Christian bully book chain LifeWay, typically and immediately threatened a ban of all Peterson's writings, including his hugely successful and popular paraphrase of the Bible called The Message. This has become their go-to response to divergent views.
The same day, Peterson retracted his comments, LifeWay forgave him, and just like that, all was well in the land of Jesus-based capitalism and institutional bigotry that unfortunately much of American Christianity has become.
This was a multi-faceted dagger:
It was a sickening deja vu for the already battered LGBTQ community, who watched another high-profile supporter badgered into silence or reversal by the Christian subculture powers-that-be. 
It was a sad repetition for allies in the Church, who once again witnessed a Christian leader's LGBTQ support wilt under the pressure of financial or professional damage.
It was same old, same old for the watching world outside organized Christianity, who've now come to expect it to always do the wrong thing when it comes to the rights of marginalized communities.
It was yet another reminder to us all, that courage is costly and that many people, even really good people aren't willing to pay.
We shouldn't be surprised at LifeWay's bullying or Peterson's back-peddling or the LGBTQ-hating Christians' shouts of "Hallelujah" right now. Jesus told us this would happen. 
The Bible calls it Mammon—the distorted worship of wealth and position that turns religion toxic. Jesus says with complete clarity that one cannot worship this and God simultaneously. He warns that the love of money will pervert the spiritual pursuits of good people, and sadly these days there's still good money to be made on the backs of the LGBTQ community. Hatred is still big business, especially in the Bible Belt Baptist stronghold of America's South—where if people can't get you to align with their theology, they'll cut you of at the kneecaps by threatening your livelihood. Peterson may not be primarily motivated by this greed and gain—but those who are have surely caused his tragic public change of heart. His reversal speaks more to the motives of those who pressured him into it, than the man himself. There's something insidious about churches and organizations who turn the screws to voices of dissent or difference and threaten their livelihoods and legacies.
What's unfolded since his initial support is the worst kind of religious dog-and-pony show. No one actually believes that after decades in the public eye, his recent support of the LGBTQ community was actually merely a two-day glitch, a momentary error in judgment, or a simple misquoting. (Peterson has been rumored to have made similar LGBTQ-affirming statements off the record at seminars and retreats for years.) I don't even think the people at LifeWay believe that either, but there's gold to be mined here—and so authenticity and truth are of little concern to them or to their Christian brethren.
Neither apparently, is the irreparable damage that's been done to the LGBTQ community this week; those who serve faithfully in churches throughout this country, those who regularly fill the pews of congregations, the teens whose suicide rates are exponentially higher than their cis-heterosexual counterparts, those seeking God and being once again told that they are less-than loved, less than worthy of the good things of this life. Every bit of suffering such events manufacture for so many families, doesn't seem to matter to these Mammon-lovers—the violence it consents to, the enmity it brings to faith communities, the message it sends to already hurting and vulnerable communities.
At the end of the day, Eugene Peterson's reversal has reminded us that far too many American Christians ultimately serve a big green God—and that this seductive paper idol often drives churches and organizations to crush dissenting voices; it turns good, brave men's feet to clay; it causes Christians to treat people made in the image of God like they're garbage; it makes already hurting people again feel their inherent worth is up for debate.
I don't know Eugene Peterson personally, and his writings have been transformational for me. He's put the Scriptures in a voice that people can easily approach and understand, and by all accounts he seems like a really decent human being whose faith matters greatly to him. Having said that, I'm disgusted by the cowardice of his speedy retreat and the sucker punch to the gut it has been to my LGBTQ friends, who once again are used like piñata by the Christian Right; something to be beaten up for entertainment. He's going to have to live with whatever the truth is about his personal convictions, and he's going to have to also carry the weight of his acquiescing—on the lives of gay, lesbian, bisexual, and transgender people whose enemies are now rushing to use him as further justification to be terrible in Jesus' name.
LifeWay isn't a person, so it doesn't have a soul—which is fortunate, because if it did have a soul, I'd tell it to be very worried about it. In the Gospels, Jesus doesn't once condemn a person for their gender identity or sexuality, but he says a great deal about religious people who sell their souls in order to gain wealth and about those who make life hell for the least of these. He's not at all okay with them.
In the wake of this disheartening turn of events, I can only reiterate my support for the LGBTQ community; for their full inclusion in the Church, for their right to marry and serve in ministry and to adopt children. I can only keep working to make American Christianity a place of love for everyone.
Meanwhile I'll lament Eugene Peterson's public change of heart because of what it says, perhaps not as much about him, as about my faith tradition's sickness, about the way it has lost the plot, about the pain it causes.
Most of all I'll grieve the damage still being done to beautiful people, simply trying to walk this planet without having to fear religious people.
To Hell with the big green God.