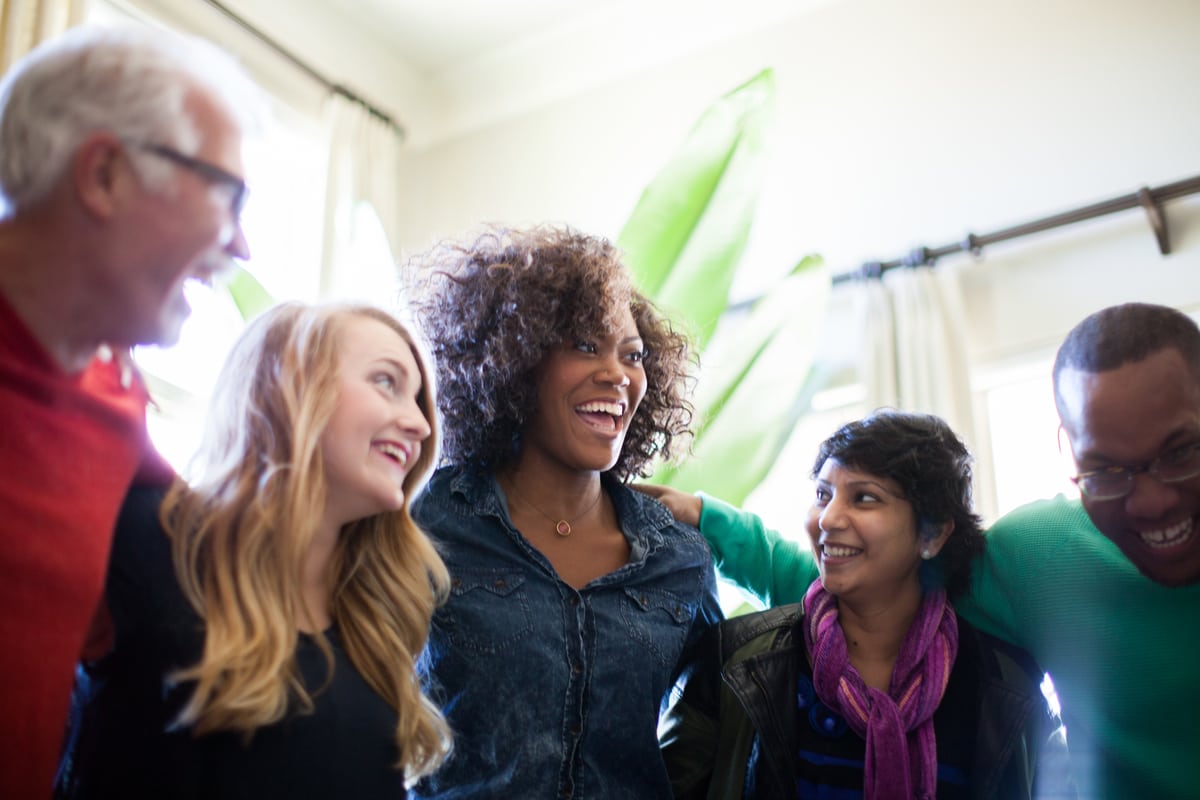 During a Q & A following a session at Wild Goose Festival, a man asked if I ever considered starting a church. I answered that I didn't think so, because most denominations would require me to be less than fully authentic, and that I value being able to speak freely on the issues that matter to me without being beholden to a restrictive system.
Later he came up and identified himself as an Atheist. He said, "I think you should reconsider." The man shared with me that he and other Atheist friends have been following the blog; that it resonates with them and that he believes many people not currently at home in organized religion would be interested in being involved in something living out the values he sees in the writing. It gave me great pause.
This has become a refrain I've heard echoed thousands of times over the past three years: people hungry for redemptive community that makes the world more loving, more compassionate, and more decent—no matter what it's called.
It reminded me that Jesus spent much of his life with religious people, a great deal of it with non-religious people—and all of it with non-Christians. He'd set in motion a revolution of radical hospitality and counterintuitive love that defied precedent and confounded those who imagined themselves righteous. 
There's a moment in the Gospel of Matthew, where Jesus says to the religious leaders who believed they had the market cornered on God, "The tax collectors and the prostitutes are entering the kingdom of God ahead of you!" In other words, Jesus is saying, "These people, the ones you judge and condemn and look down on—they're getting it. They have my heart. You're the lost ones!" He was warning them that their religion and its arrogance had become a millstone around their necks, and that what he was building would be built without them unless they could be internally altered.
Little has changed in two thousand years. 
Now, just as then, the religious people commandeering the name of God have become the very thing Jesus warned the world against. They've become infected with hypocrisy, greed, and contempt—and they are the preventing people from seeing anything resembling the abundant life he preached about. Just as when his feet were on the planet, Jesus is telling us that God has outgrown the box we've tried to build for God, and we'd better be open to a new thing. 
And as part of me grieves what my faith tradition has become in these days, it's also filled me with a near explosive sense of hope, as I watch what is being born in response to it. I see a strangely beautiful congregation assembling; many of those who claim the Christian faith—alongside those who no longer feel at home in the Church, people of differing traditions, those who aren't sure what they believe, and those with no religious affiliations at all. They are all speaking together with a singular, steady, strong voice—one that declares the inherent value of all people, a love that knows no caveat or condition, and the desire to live these days together well. It's as close to the thing Jesus was doing than anything I've seen before.
The skeptics, backsliders, doubters, heretics, apostates, and "sinners" are building the redemptive community the world needs. It was the plan all along. People of every hue; men and women; straight, gay, bisexual, and transgender; the religious, Agnostics, and Atheists—they're all feeling the same pull toward goodness.
More and more I am certain that the Church that will be, the Church that needs to be (just as in the days of Jesus), will be redefined and renovated by those organized religion disregards, ignores, and vilifies. It will be composed of the motley assortment of failures, frauds, and messes, who realize that the table isn't big enough yet—but that it's worth building, no matter what it's called.
Jesus was a carpenter. He knows about building things.