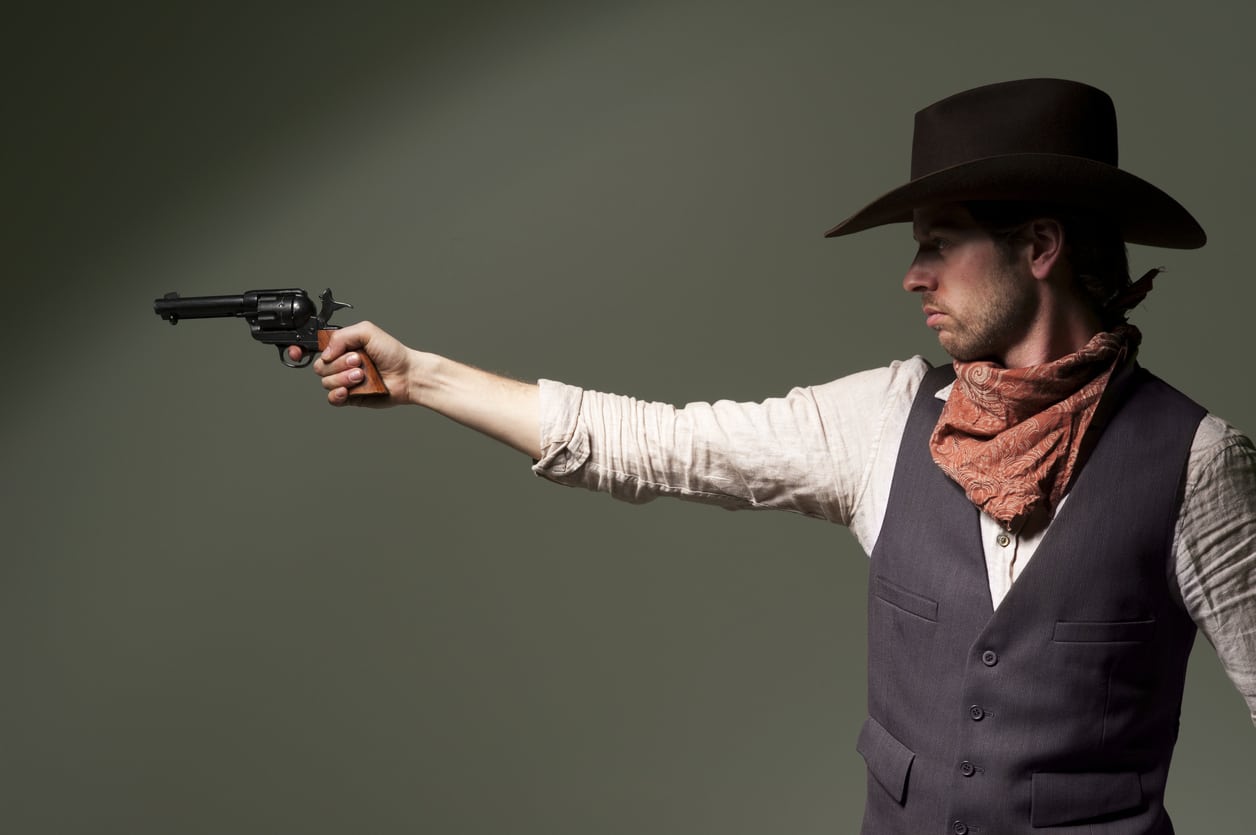 Reality isn't very sexy.
Most our lives don't look much like the movies.
We are usually buried in routine and ordinary and unremarkable.
We often spend the lion's share of our days feeling microscopically small, and dream of being the towering characters we see on the big screen, if only for one glorious moment.
Enter the seductive cowboy fantasy of "the good guy with a gun."
It's the deadly lie that men have been led to believe; that the world is in grave danger, and that we're all poised to be the steel-jawed hero—riding in, packing heat, and saving the day by gunning down the bad guys and getting the girl.
It is the perpetuation of a dangerously antiquated gender trope, where men all want to save and women all just want to be saved; that misogynistic myth sold by Hollywood, Republicans, and Bible Belt Evangelicals. This fantasy is incredibly persuasive and undeniably effective—but it is not reality. 
The National Rifle Association nurtures and exploits this same sick celluloid dream the in the minds of men; thereby manufacturing the very horror that these "good guys" imagine themselves rescuing people from. The NRA creates the deadly demand and simultaneously generates the violent supply. They flood the world with guns to then necessitate the need for gunslingers. They generate an endless, self-replicating revenue stream—and more and more people die long before they should.

In real life, the cowboys and their guns are useless.
As we saw with the horror in Las Vegas, mass shootings are usually absolute chaos, with factual information difficult to get in the moment and the actual threat virtually impossible to ascertain—not to mention the complication of law enforcement walking into greater confusion with multiple shooters. These massacres rarely provide the advanced warning of a clear threat and the benefit of time and precisely controlled circumstances that the cowboy fantasy requires. Unhinged terrorists with automatic weapons seldom give such consideration: one second you're singing a country song with a blissful crowd, the next second your chest cavity is invaded.
The "good guy with a gun" myth revolves around a scene in the heads of the gun owner, of some perfectly played out, magical movie moment that allows them to be the hero, unscathed and without human collateral damage—when in reality such circumstances rarely, if ever present themselves.

That hero myth becomes more important and more real to these would-be cowboys, than the very high likelihood that when all hell breaks loose (like it did in a field in Las Vegas), far more people will be endangered by a civilian with a gun than saved by them.

This lie is what the NRA, FoxNews, and the GOP leverages, and it's why lots of people will keep dying; why elementary school kids will continue be blown apart, music fans again will be riddled with bullets, and churchgoers' bodies once more ripped to pieces: because men are taught to be cowboys—and because life is not a movie.
The saddest truth of the cowboy fantasy, is that everyone believes they're the hero.
Every single person who ever indiscriminately gunned down a group of strangers in cold blood—either through anger or mental illness or a fictional story they told themselves—believed himself in that horrible moment to be a good guy with a gun. As they squeezed the trigger, they all imagined their cause righteous, their rage merited, and their execution of others justified. As they sent rounds of bullets into scores of people, each of them was certain that they wore the white hat while they did.

That's the rub here: that every villain is a hero in his own head, and lots of small, insecure men want to feel big—which is why the blood of thousands of Americans will continue to be spilled every year, and why the NRA and the GOP will joyfully swim around in it.
They are the producers of the grisly cowboy fantasy.
They compose the narrative, they profit from the plot—and the good guys with guns all dying to be cowboys will continue to gladly generate sequels for them.
I've had it with the myth of heroic men, saving women from the bad guy.
I prefer that we save humanity from the deadly cowboy fantasy—by not giving it ammunition of any kind.