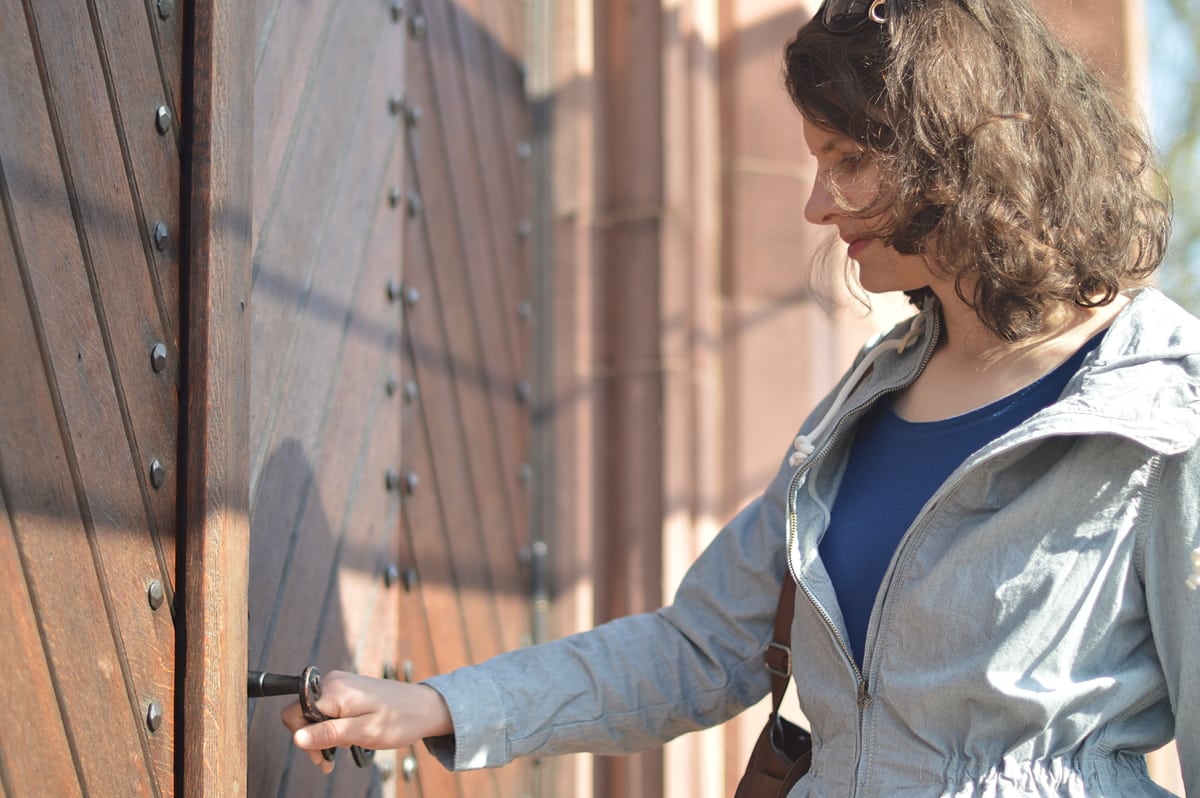 This weekend I was invited by a Connecticut church to host several conversations on faith, politics, and the bigger table over the course of three days.
Because of the disparate audience the blog has found, many people who showed up on Saturday morning would never otherwise walk into a church. Some hadn't ever been to a house of worship outside of the odd wedding or funeral here or there, while others had been estranged for years or even decades from their former faith community. Many came with more than a bit of trepidation. 
But something amazing happened after the first gathering concluded: many of these reluctant prodigals stayed; returning the next day for services and remaining for coffee afterward. They hung out for our afternoon conversation, made plans to have dinner with strangers, and talked about coming back on another Sunday.
A woman in her late forties came up to me at the end of the afternoon, she moved in close and placed her hands around mine. "I didn't think church could be like this anymore." she said, with tears blurring her eyes. "I'd given up thinking this existed." She'd experienced close proximity with a beautiful local church community; not a perfect one, but one filled with good-hearted, grace-giving, flawed human beings who are trying to live and to love people well. It is one among thousands filling the landscape of this world, even as their work is overshadowed by the finger pointers and the damnation-hurlers.
Redemptive stuff happened in that building that reminded me, and reminded many refugees from the Church or maybe showed them for the first time—that Christianity can't be defined solely by those who've used it as a weapon, those who've hated in the name of Jesus, those whose angry diatribes regularly make the news. That isn't the entire story.
I spend a lot of time with people who've given up on the Church, and who've done so for good reason.
They have have experienced discrimination and ostracism in local faith communities, been pushed to the periphery because of their gender identity or sexual orientation, for the color of their skin or their theological deviations. They might have endured  emotional or perhaps even physical violation. Maybe they've simply reached the final straw from a politicized, weaponized religion that seems to nurture inequality and bigotry. Every day I speak to and meet with men and women who've washed their hands of buildings with crosses on Sunday mornings and all of the people in them because of the incredible damage they've incurred there and then and at their hands. 
If you're done with Church, I get you. I've been there. Many days I'm still there. I understand what it feels like to believe that organized religion no longer has anything meaningful to offer you, that you're better off on the outside, that something that far off the plot of Jesus isn't worth your time. I often tell people like you to walk away and not to feel the slightest guilt for doing so; to shake the dust from your feet and to leave. I tell people like you that you don't need those places to pursue a wonderfully fulfilling spiritual journey.
But today, in the wake of my time with new friends
I want to say something different.
I want you to consider another option. I want to suggest that you may want to go back to the Church—and here's why.
All faith communities are not created equal or identical.
Every local gathering of faithful people will be entirely different from another; even within the same denomination or tradition. The leadership, organizational structure, sense of community, core values, and practical theology will all be vastly different because the exact arrangement of humanity will be completely distinct. When you get close enough to clearly see it, you may find a particular community defying expectation in the same ways that people you meet sometimes do once you have closer proximity to them. Judging every local church based on any other local church (or even many of them), is as dangerous and problematic as making the same mistake with any new person you encounter based on a previous one.
There is beauty happening everywhere.

Chances are, even in a community whose basic theological tenets are seemingly diametrically opposite your personal religious convictions, there will still be people there who are less rigid, more open, and willing to learn; those committed to hearing other's stories and serving people in need and transforming their communities and being a source of goodness in the world. You might find affinity despite your surface differences. You might cross paths with someone in whom you find a surprising kindred spirit—and you might alter one another's stories, and the world as you do.
There are no caricatures in any of those buildings.
Every local faith community is filled with completely unique human stories; individual, complex, original journeys that are every bit as rich and painful and inspirational and valid as your own. Along with things you may find fully objectionable in the people in those buildings, there are other things you'll find too: relationships and creativity and dreams and fears and passions and joys and devastations. You may not like each person there the closer you get to them, but you'll get an accurate story about them. You'll realize that every human being is far bigger than the boxes and labels we fashion for them.
Friend, I don't want to pretend that a great portion of organized Christianity isn't doing terrible damage in the name of Jesus; that it isn't marginalizing and excluding and oppressing some of the most vulnerable people in this world. I don't want to look past its horrifying blemishes and its systemic sicknesses and its bloated opulence.
And if you've been wounded in a church, or by a preacher or by a politician claiming Jesus—I certainly don't want to minimize your pain or ask you to place yourself in harm's way, or to be where you're not treated with the dignity you deserve.
But I am asking you to keep your eyes open; to stay curious, and to entertain the idea that maybe there is still a place for you where faithful people gather; a place where you'll learn firsthand that Christians of the bigger table do exist, and that you will be welcome there. It might not be that you're done with religion, it might just be that you need to encounter a religion that is worthy of you, and of God.
There are faith communities where LGBTQ men and women are fully celebrated, where women are valued as leaders, where divides of race and economics are reached across, where theological deviations are warmly welcomed, where hospitality is offered to all. 
Yes, you may want to keep staying away from the Church—
or you may want to try one more time.
It might be the day you find yourself home again, or for the first time.
Order John's book, 'A Bigger Table' here.