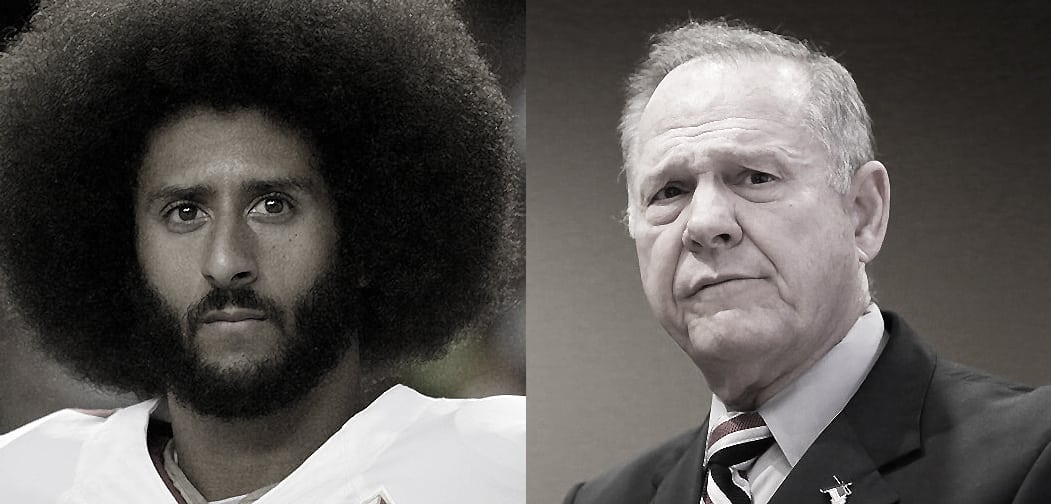 Sometimes the truth about America appears in black and white.
Sometimes it comes with unmistakable clarity, even if you'd rather not see what you're seeing.
On the same day this week, former NFL quarterback-turned pariah Colin Kaepernick received GQ's Citizen of the Year award—while GOP senate candidate Roy Moore (now the subject of several sexual assault accusations), received bold public expressions of support from white celebrity evangelists and Republican politicians.
These very same professed Christians and supposed lovers of America, have spent the past two years incessantly crucifying Kaepernick. The then-San Francisco 49ers QB began kneeling during the National Anthem to bring awareness to the racial inequities in this country, most specifically with regard to the conduct of law enforcement and lawmakers. He and those who joined him were clear and repeated in their intentions and their methods: they wanted to save the lives of people of color. They wanted to be treated with simple equality. That turned out to be a rather offensive gesture, apparently.
Kaepernick was subsequently essentially blacklisted from the league by white team owners all cowering in the face of their Conservative patrons, who branded the protesting players traitors—aided in large part by a race-baiting President who changed the narrative from one of racial equality, to one of insulting the Military, even bragging that the "sons of bitches" should be fired.
Over the past year, Kaepernick and the current players continuing to take a knee, have been the subject of a steady stream of white-hot, white outrage from men like Dallas Cowboys owner Jerry Jones, Papa Johns Pizza owner, John Schnatter, NFL Commissioner Roger Goodell—along with a predatory parade of opportunistic GOP politicians and preachers all looking to cash in on the phony Nationalistic fervor and moral histrionics.
Enter Roy Moore—a white man running for Senate in the Alabama Bible Belt; a man now accused by five different women of sexual assault; one allegedly occurring when the victim was only 14; a man whose predatory past has been well documented.
And yet, even with such a swirling storm of suspected atrocities (the kind of allegations instantly destroying careers elsewhere)—these supposed "family values", Conservative, Christian white folks are now inexplicably lining up to profess even greater support for Moore.
Well, perhaps it's not that inexplicable. In fact, perhaps it's quite easily explained.
Maybe this isn't about morality to them at all.
Maybe it isn't about America or Patriotism or respecting the Military.
Maybe it isn't about Jesus or family or protecting children.
Maybe it's never been about safety in public restrooms or the sanctity of marriage.
Maybe it's never been about what is right.
Maybe this is just a good ol' fashioned racism, that sadly still plays all too well to the white Evangelicals so willing to buy the narrative of scary, bad black men and perpetually oppressed white heroes who like grabbing girls.
That seems to be where Kaepernick went wrong.
For years now he's been trying in vain to get white, GOP Christians to come alongside him and to publicly support him in his cause of justice—and has been met with enmity and condemnation.
Instead of kneeling before a football game to call attention to racial injustice, he should have harassed young girls at a mall (or worse).
He should have done that—or simply been white.
Today he'd be deemed a noble man worthy of their public adoration.
Today he'd be a GOP leader.
Today he'd be an Evangelical hero. 
Today he'd be their "citizen of the year".
Order John's book, 'A Bigger Table' here.