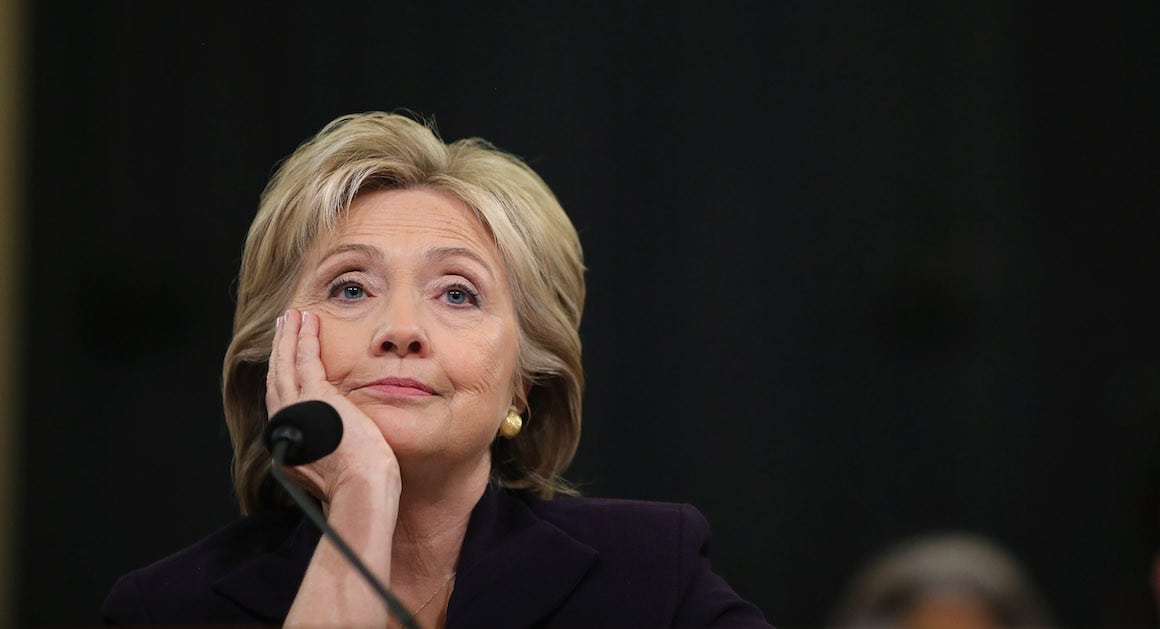 Several times a day I meet or encounter people like you. 
In a conversation about the unquestionably precarious days in this country; someone visibly disturbed by the facts being discussed, matter-of-factly tosses out those words; that sentence that sounds like the earworm of a woefully overplayed pop song, grating upon the ears every time you hear it:
"Well, Hillary would have been worse."
This is abject nonsense, and if you're saying it—you need to know how ridiculous you sound.
It's a continuation of the same tired, misogynistic, bot-fueled, fake news fantasy-land, 2016 narrative, declaring that Donald Trump;
with his p*ssy-grabbing bravado,
xenophobic tirades,
truth allergies,
intellectual ignorance,
verbal diarrhea,
public bullying,
multiple bankruptcies, multiple wives, and multiple affairs—was somehow ever the "lesser of two evils" here.

The idea that Hillary Clinton would have been remotely capable of the kind of wanton recklessness, legislative overreach, and civil rights assaults we're experiencing right now in America, is so far afield of reality it should come replete with unicorns, leprechauns, and a Trump popular vote victory.
Of course, those delivering such parallel universe prophecies, never have any specifics to offer about precisely how a Clinton Presidency would have eclipsed Trump's in predatory behavior, political scandals, and legislative offenses—but that doesn't prevent them from saying it with volume, authority, and repetition.
That's because these people need to believe this myth, in order to protect themselves from their culpability in creating this national cancer, in launching this global joke of a Presidency, in doing such damage to so many people.  
No, I don't know with certainty what would be happening right now in a Hillary Clinton-led America, but I can tell you without hesitation what wouldn't be happening:
Millions of sick and poor Americans wouldn't have spent the past months fighting to not have their healthcare taken away and sabotaged by their Government.
Our environmental protections and national parks wouldn't be quickly evaporating.
Thousands of kids wouldn't be sleeping in cages, and there wouldn't be ICE raids in hospitals rooms and church parking lots, and families of immigrants ripped apart without notice.
Christian extremists wouldn't be legislating their prejudices around sex education, gender identity, science, and school prayer.
LGBTQ Americans wouldn't be seeing their rights repealed and their voices not counted.
We wouldn't be facing incessant rounds of Travel Bans designed to vilify people of color.
Mitch McConnell, Paul Ryan, and Jeff Sessions wouldn't have carte blanche to steamroll the will of the people.
Bigoted monsters like Steve Bannon, Sebastian Gorka, and Stephen Miller wouldn't have been allowed access to the White House or have had influence in our national trajectory.
Nuclear weapons wouldn't be used in social media exchanges as penial substitutes.
Russia wouldn't still be avoiding sanctions.

This is all really quite simple: Hillary Clinton wouldn't have been capable of the malice and malpractice Donald Trump is capable of, simply because she's a rational, level-headed, intelligent, articulate, faithful, compassionate human being—and he is none of those things.
She wouldn't be having middle of the night Twitter rants.
She wouldn't be using mass shootings to marginalize Muslims.
She wouldn't be calling Nazis and racists "fine people."
She wouldn't be playing patty cake with Vladimir Putin. (He is terrified of her.)
She wouldn't be attacking political opponent's gender, national heritage, or physical characteristics.
She wouldn't be emboldening racists to march through streets in the light of day.
She wouldn't be leaving her response to mass shootings, to simply "thoughts and prayers" and more NRA coddling.
She wouldn't be daily tripping over herself for praise and credit and affirmation, like some insecure middle schooler.
She wouldn't still be holding rallies, in a desperate attempt to gather a choir of sycophants to shower her with adulation.
She wouldn't be attacking the integrity of the Free Press, the FBI, or the Judiciary.
She wouldn't be golfing hundreds of her days away at a property she was profiting from.
She wouldn't be stumbling and shoving and faking away moments of international diplomacy, because she lacked basic knowledge of the issues or the ability to be decent.
She wouldn't be trying to build a wall across our border that she'd lied about Mexico paying for.
She wouldn't be talking about pee tapes and lying about trips to Russia and explaining payoffs to prostitutes.
She wouldn't have had a revolving door Cabinet filled with white supremacists, creationists, and flat-earthers.
She wouldn't be praising murderous Russian dictators and slandering the FBI.
Many of the people saying that Hillary Clinton would be doing anything remotely approaching the malevolence and incompetence of this President—are those who voted for him and realize what an unmitigated disaster he is. The only defense mechanism they have against that knowledge—is straining to believe our Government could somehow have been even more divisive; even more inept, even more racist, even more hostile to foreigners and the poor and the sick than it is now.
This of course, is an impossibility—and rational adults understand this.
Hillary Clinton wouldn't have been a perfect President (no such President has ever existed)—but she would have been a President with dignity; one who worked hard, who studied carefully, who showed compassion for hurting people in times of crisis; one capable of restraint and empathy and reason. She would have put America first, not on website headers and rally banners—but in the way she protected all its people, in the way she celebrated its diversity, in the way she did her job.

So friend, you're welcome to keep throwing out the fantastical, baseless, conversation-stopping assertion that Hillary Clinton would have been worse than the fast food dumpster fire you've helped set here.
Just know—that I don't believe you.
I don't believe you believe you.
I think we both know that you sound ridiculous.
You owe Hillary Clinton an apology.
Order John's forthcoming book 'HOPE AND OTHER SUPERPOWERS" here!