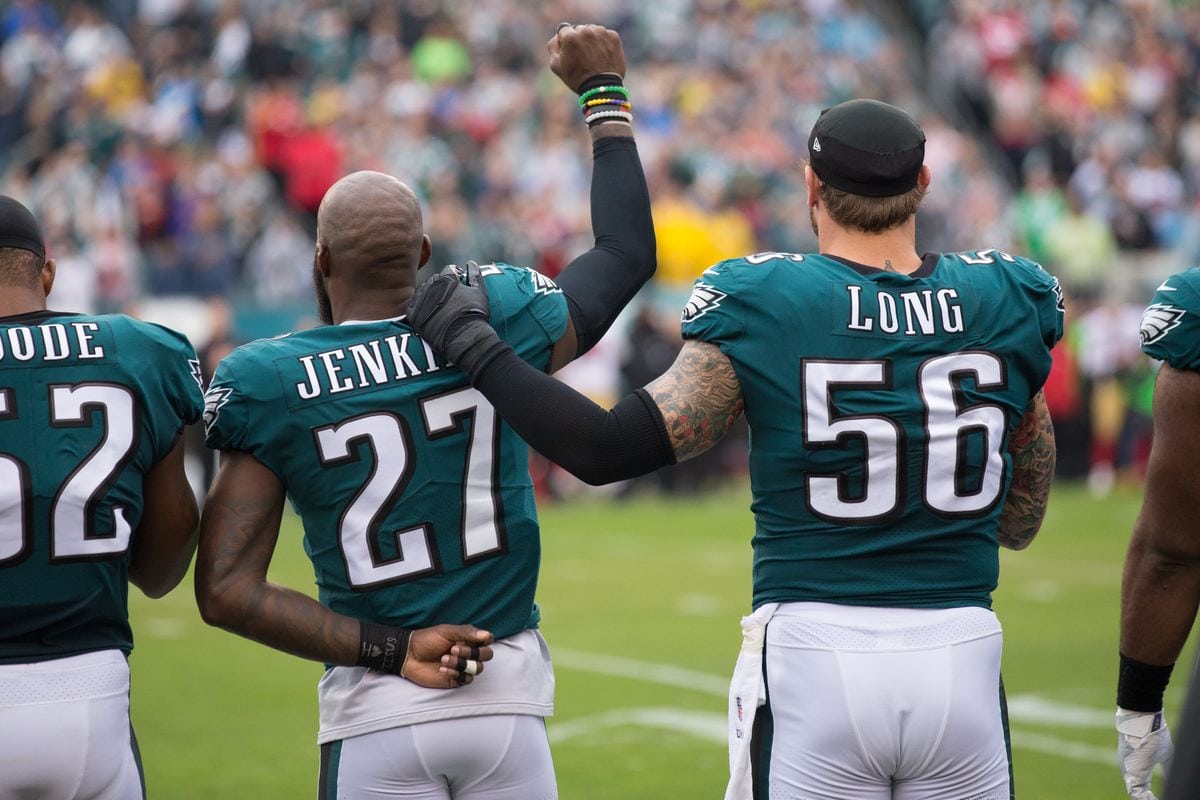 White America,
All this NFL National Anthem stuff is really pretty simple. It always has been.
A couple of years ago, Colin Kaepernick took a knee during the National Anthem to leverage his platform and visibility and turn our collective attention toward the injustices people of color experience as a daily occurrence here in this country. Other players followed; some kneeling, others sitting down or locking arms or raising a fist in the air.
They silently, respectfully, stoically made an appeal to our shared compassion on behalf of people who do not have a voice.
That was it.
These players told us as much.
Over and over again they told us why they were doing this.
They asked us to consider whether the freedoms we sing about are available to everyone, whether the flags we so readily wave are more than ceremonial.
This should have been enough.
We should have simply listened to them then.
We should have taken a good, hard look in the mirror.
We should have faced our still growing legacy of institutional racism and mass incarceration.
We should have asked the tough questions about the way we hire, train, and police the conduct of law enforcement.
We should have told these players that we hear them and that we are as grieved about the premature deaths of young black men as they are.
Sadly we didn't do these things, largely because our President doesn't care much for people of color who stand up (or kneel down) for themselves. It isn't good for business—when business is about barriers.
Donald Trump changed the narrative of NFL player protests by intentionally lying about their motives, positioning them as traitors, and counting on his white base to lap up the toxic snake oil.
He then strong armed cowardly NFL owners who failed the players by caving to him, by demanding a display of Patriotism, and allowing the league to financially penalize any player for taking a knee.
He counted on Republican politicians (having already proven themselves bereft of spines and balls) to echo the anti-American smear campaign—and they were more than happy to oblige because it intoxicates their constituencies.
Trump did what he's done throughout the campaign, election, and his Presidency: he exploited easily manipulated, angry white people looking for someone to ratify their prejudice and consent to their enmity and give them an excuse to feel outraged.
He purposefully used his position of power to try and steamroll people of color asking to be treated equally, into silence—and in the process, he and his supporters proved exactly why these athletes were kneeling to begin with.
This predatory President, spineless NFL owners, and complicit white fans treating players like expendable animals—all conspired to made Colin Kaepernick's point for him. (In a completely unrelated matter, the quarterback still hasn't made a roster.)
Trump preemptively canceled the White House visit by the Super Bowl winning Philadelphia Eagles—a move akin to a guy backing out of a date when realizing he was about to get dumped. The Eagles have been at the forefront of the NFL's anthem displays, and their players have been loud, clear, and eloquent about the inequalities in this country, the need for social change—and now, in opposition to the President's agenda of division and silencing.
Trump tried to sidestep confrontation as most bullies do. He shut down the team's visit, choosing instead to hastily assemble a half-assed Nationalistic dog and pony show designed to further place himself (and America) opposite people of color who dare to ask for full access to that America.
It isn't fooling anyone—well, anyone who wasn't already fooled.
It's all rather simple white folks: Trump played you. He exposed the bigotry you are so afflicted with. He reminded us why Nationalism is so dangerous and he showed that a third of the population refuse to let facts get in the way of the story white people they tell themselves about race, privilege, and their own oppression.
It's super simple, at this point:
You can either toss out motives and intentions that these players have repeatedly denied—or you can lean in and listen to them.
You can beat your chest with fake Fox News outrage—or you can be silent for once, realizing you've always been heard and now someone else deserves to be.
You can pretend this is about when and how these athletes are protesting—or juts admit that it's the fact that they're protesting at all that really offends you, and you wish they'd stop inconveniencing you with truth that you'd rather not deal with.
You can choose supremacy wrapped in a veneer of cheap Patriotism—or you can choose to defend the freedoms you claim to be so damn protective of, by making sure everyone gets a seat at the table and has the same right to life, liberty, and happiness.
This is about what it's always been about: us choosing to affirm white privilege or black lives.

Make a choice.
I've made mine.
I'm choosing humanity.
I'm taking a knee.