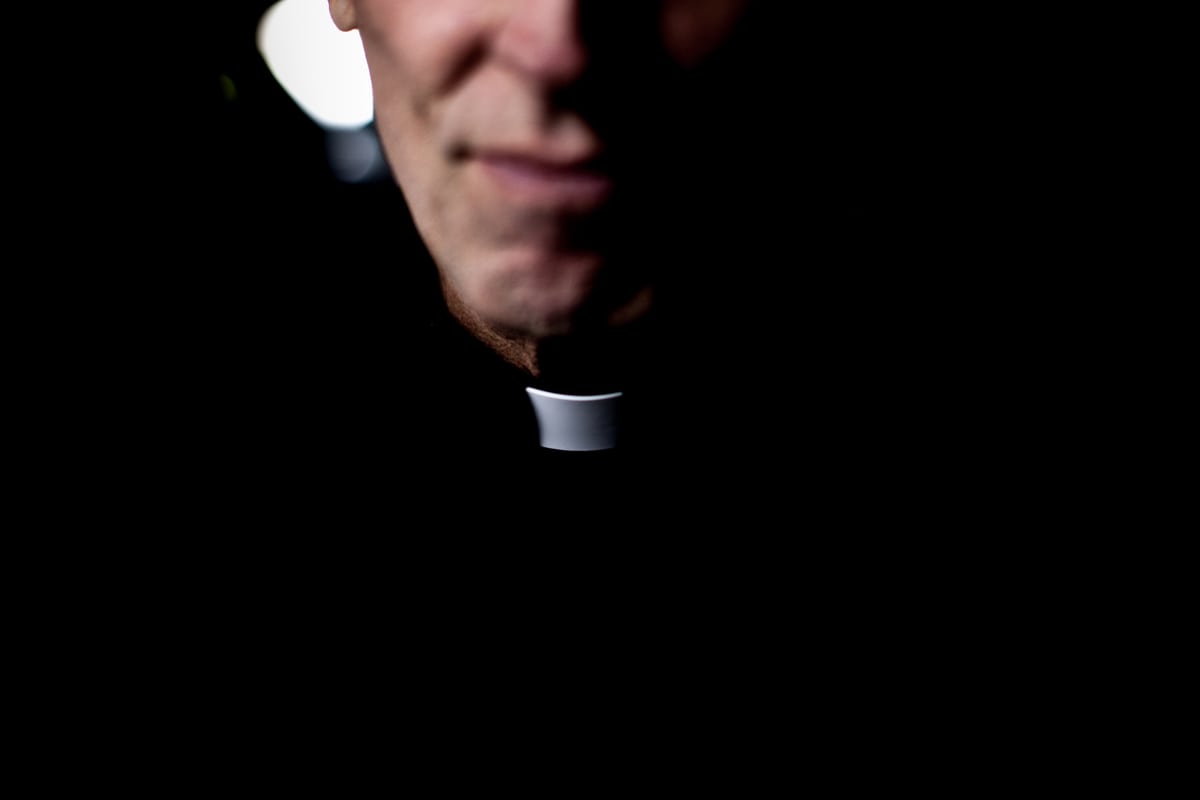 Note: The following article may be triggering for abuse survivors.
I grew up in the Catholic Church, attending Catholic School for the first 9 years of my educational life.
Though I do carry many great memories from those days—looking back now, signs of the almost unfathomable sins that continue to be unearthed in the larger Catholic Church, weren't difficult to spot.
One day four decades ago, is still burned into my brain.
I was around 10 years old, and a group of other boys and I had just finished helping hand out bulletins during services. We were all promised fifty cents for our work, and were gathered in a small, dimly lit alcove of the church with the Monsignor, who was (we'd been taught) about as close as you could get to God—without meeting the Pope or dying.
When it came time to receive our monetary rewards, the elderly man looked at the first boy and said to the rest of us with a buoyant glee, "So what shall we give him for today his work? He paused. "Shall we give him—a kiss?"
He smiled, tilted his head down through thick glasses, and looked around the circle, waiting for a reaction. When there was only perplexed silence—he quickly laughed, gave us each our pair of quarters and we all dispersed to meet our parents outside.
To my fourth grade brain, it simply seemed like an awkward and badly conceived joke—and maybe it was. But as an adult looking back, it now feels like a massive red flag; a possible near miss on what could have been one of the thousands of tragic, horrifying stories adults have carried through childhood and into midlife.
As I rewinded through those days, there were other things that now seem odd; young boys regularly being taken out of class to go to the Monsignor's home just a stone's throw away to clean his shoes and do other menial tasks, largely unsupervised. 
To be clear, I never experienced inappropriate contact or sexual or physical abuse of any kind, and never heard stories of other students in our parish who had—but I can see now just how vulnerable young people were made by a system that defies men, and gives them carte blanche and unprecedented access to unprotected children. Even if the priests there weren't predators—we'd have been sitting ducks if they had been.
The priests (not unlike their Evangelical pastor counterparts) were presented as conduits of God, to be treated with genuflecting reverence and unquestioned obedience—and it is this misplaced piety by the adults around children, that created and continues to create environments ripe for the kinds of sexual abuse we're seeing exposed. 
Pope Francis recently issued a letter to Catholics, that while admitting the vile transgressions, claims they are relegated to the Church's past (a sentiment echoed by Pittsburgh's Bishop.) I'm not sure that is a realistic assumption, especially when its leaders are still treated as demigods and still given far less accountability and far more access to children than secular leaders ever are.
It's time the Catholic, Evangelical, and Mainline Christian Churches faced the harmful theology of elevating flawed, failing, imperfect human beings above those they're charged with caring for. They aren't holy men and women. They are ordinary men and women who are as prone to greed, perversion, and sickness as any of us. We need to admit this, for their sake and for the sake of the children currently growing-up in our faith communities. We need to love our children enough not to place them in harm's way, in the name of a God who is often invoked by adults who damage them. We need to protect them with all the practical safeguards we provide kids in schools and summer camps, but we need to go further than that. We need to stop pretending our clergy have a closer proximity to God, because that lie is so easily wielded to abuse.
There are thousands of honorable, decent, loving men and women in ministry in America's churches, doing beautiful, life-giving work without ever considering harming a child—and this is all the more reason to supply them with a system that ensures that predators aren't given a safe place to prosper. We need to bring the raking light of honesty and accountability into our churches, so that we don't have a future generation looking back with despair and shame, on the ways they were failed by adults around them.
Religion at its best encourages people's humanity. It protects its most vulnerable, cares for those most in need of care, and gives safe sanctuary to those in the tempest—but at its worst, religion leverages power, silences dissent, and provides the perfect incubator for people's blackest darkness.
People of faith in all traditions, need to overturn the tables of false idolatry and personality cults that allow evil people to prey upon children, and to hide behind crosses and collars while doing it.