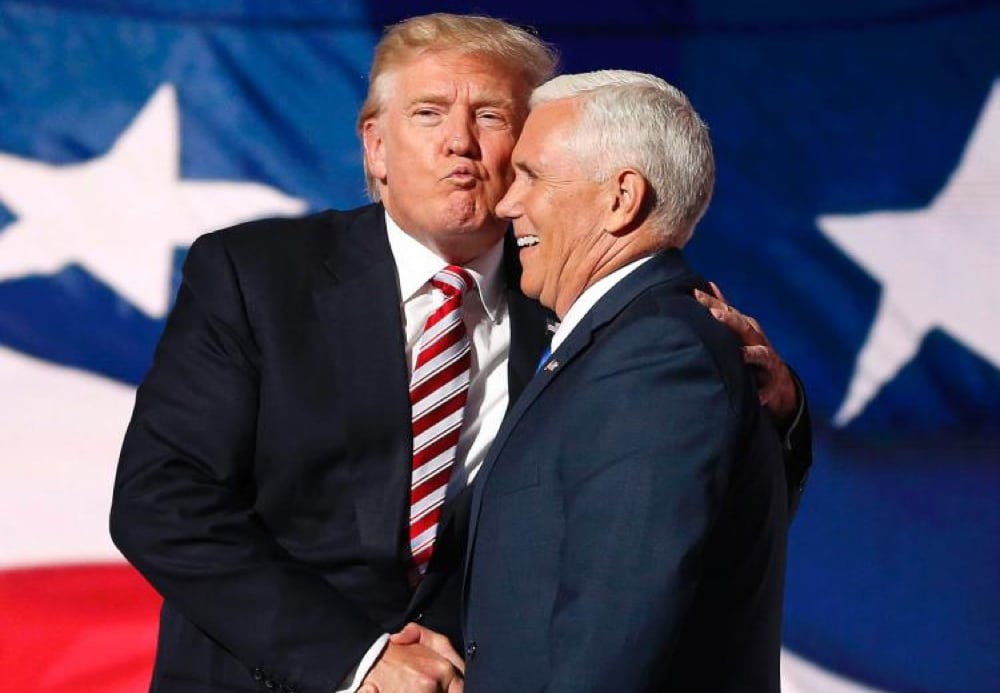 Everyone, the Vice President is offended.
In the wake of the response to the news that his wife Karen, is working for a school that excludes both LGBTQ students and staff members, Mike Pence let us all know, with characteristic detached, tongue clicking condescension—that he is disappointed and disturbed by it all.
"Major news organizations attacking Christian education is deeply offensive to us." he chided.
Is it?
As a Christian and a pastor, I find Mike Pence offensive.

His position as fully complicit right-hand man to an unrepentant serial predator, offends me.
His complete silence on a litany of human rights atrocities overseen by this Presidency offends me.
His feet of clay in the presence of the legislated assaults on migrant families and uninsured people and sexual assault victims, offends me.
His manufactured persecution complex, while speaking from the place of greatest privilege, offends me.
His lifelong obsession with demonizing the LGBTQ community, offends me.
His support of conversion therapy, that tells LGBTQ people they can pray away the most inherent truths about who they are and how they love, offends me.
His reckless and continual weaponizing of Jesus, offends me.
His Olympic level hypocrisy, that claims any moral high ground while working for a bottom feeder like this President, offends me.
It is offensive to me, that LGBTQ teenagers have massively higher rates of depression and suicide attempts.
It is offensive to me, that millions of loving, compassionate, intelligent, kind, creative people walk away from faith, because professed religious people regularly expose them to the greatest violence.
It is offensive to me that LGBTQ people find inside the Church, their greatest threats and most persistent bullies.
It is offensive to me that people like Mike and Karen Pence hide behind religious liberty, while they wound people they believe are worth less than they are.
It is offensive to me that frauds like the Pences loudly parade their "pro-life" virtue to the world, while showing complete contempt for gay, lesbian, bisexual, and transgender lives—and the lives of women, Muslims, migrants, and sick people.

Their profession of a Christian faith lacking any resemblance to Jesus—offends me deeply.
Jesus' life was spent on the periphery, living with and advocating for the vulnerable and disregarded. Karen Pence partnering with an organization that is choosing to further marginalize human beings based on an inherent part of who they are, is the antithesis of the message of Christ. It is to pile burdens on already burdened people, it is to marginalize those already at the margins. It is to abandon the compassionate heart of Jesus and to trade it in for power-wielding malice.
Karen Pence and her husband and those like them, would have us believe that she is exercising religious freedom in aligning with an organization that would withhold education, opportunity, and simple joy from LGBTQ human beings—when in reality, they are passing the buck of their prejudices to a God who simply does not consent to them.
There is nothing in the Biblical account of the life and ministry of Jesus that blesses excluding people based on their gender identity or sexual orientation; no Scriptural grounds for the institutional cruelty we're seeing, nor any justification for the discrimination Mike and Karen Pence seem so burdened to perpetuate.
And the fact that people like him and his wife, given their platform and influence, are using these things to intentionally place people in harm's way while using Jesus like a hammer—really offends me.
It's a sin.
Get John's book 'HOPE AND OTHER SUPERPOWERS" here!