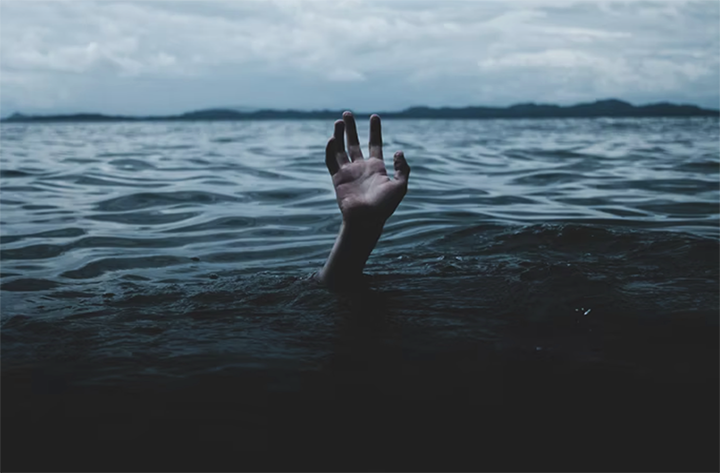 Have you ever thought you were dying?
Not, I was so embarrassed I thought I'd die.
Not, I'm dying for a cheeseburger.
Not even, one die I'm going to die.
I mean, have you ever been suddenly swallowed up by a terrifying, suffocating, this is it, end-of-the-line, kicking-the-bucket certainty that you are leaving this life in these very seconds?
I have.
I was a few days past my recent brain tumor surgery. For the delicate procedure, my surgeons had brilliantly traversed my nasal cavity, removing the bone at the top, allowing them access to the dangerous foreign growth surrounding my pituitary gland, removing it in sections through my nostrils.
The upside, was that I had no exterior wounds, no invasive cutting into the skull—and outwardly, almost no visible evidence of the complicated, nearly five-hour surgery inside my head at the base of my brain.
The downside, was that my wounds were all within my nose and sinus cavity, and extremely vulnerable to sudden movements, bending over, sneezes, deep breathing— and any number of relatively normal actions that could disrupt the surgery site enough to dislodge the tenuous blood clots.
Apparently, I'd performed one too many of those actions.
Lying in my bed, I felt a tickle at the back of my throat, as if I'd drank water a little too fast. By the time I remembered that I'd been on strict fluid restrictions and that this couldn't be water, I was suppressing a cough fighting to force its way out. I stood up to try and get ahead of it, and as I caught my reflection in the mirror I could see a slow trickle of blood begin streaming out of one nostril, then the other, and then—boom.
As if someone had turned a garden hose all the way open, two crimson rivers furiously spilled out in front of me and onto the floor. I slammed the nurse's call button, and by the time I heard a voice say, "Did you need something?" my mouth had so filled with blood that I couldn't answer. When she failed to hear me, I forced out a coughing, gurgling, desperate, "Help!"
A small army of nurses burst into the room and began attending to me. I felt the pressure in my ears rising as my head filled with fluid and my hearing became muffled. My heart rate skyrocketed.
Holy sh*t, I'm dying. I thought to myself.
"Call my wife!" I screamed, as several hands held pressure and giant ice packs around my head. They gave me injections and reassured me that I was going to be OK. I thought they were lying.
Choking on blood, and horrified at the sight of my own blood pooling around my feet, I pleaded:
"I need my kids!I need to see my kids right now."
They're 45 minutes away, I thought to myself. I'll never see them again.
"Sh*t!" I kept yelling.
"Where is my wife?" I asked again, as if she could have been reached in the ten seconds since I'd last called for her.
I thought about my mom, my siblings, my friends. I thought about my father who died eight years ago and wondered if I'd soon meet him.
They say when you're about to die your entire life flashes before your eyes, but that wasn't true for me. What flashed before my eyes were a handful of people who have defined my life. People flashed before my eyes. They were my life.
Within ten minutes, the chaos had subsided, my bleeding had slowed to an intermittent trickle, and I was being extricated from my blood soaked gown and bedding while people diligently mopped up the Steven King crime scene I'd quickly managed to generate. My breathing and heart rate began to return to normal.
I wasn't going to die.
At least, not right then.
But I thought I was, and that was enough.
For the rest of the night I laid there thought about those earlier desperate moments: about what I'd felt, about where the entirety of my energies became focused, and about all the stuff I didn't care about:
What do you imagine you'll think when you think you're dying?
Do you suppose you'll think about work projects you won't get to complete? About not getting to upgrade the kitchen cabinets that you've been complaining about? About your waistline or your hairline or your career path?
Will you think about the raise you've been waiting on or the cost of the kids' college or the weight you've been wanting to lose or your retirement account balance?
You won't.
Trust me.
In the moment death feels imminent, you won't give a damn about your work or your portfolio or your house or your job. The, long, sprawling, and expansive story of your life will suddenly and completely shrink down to those human beings who know you intimately and whose lives will be most devastated by your departure.
I don't know what you imagine is important right now, what monopolizes your time, what occupies your mind on most days, but I have a feeling it may not be worth it. It may not merit the energy or the worry or the minutes you spend on it, and in the moment you feel or are actually pressed up against the finality of your days—you won't even think about it.
I'm living differently now.
I'm measuring my life in by the people I love and am loved by, by the relationships I get to spend these days inside of and by the human beings I alter with my presence.
What will you think about when you think you're dying?
Think about that today.
And then, live your answers.