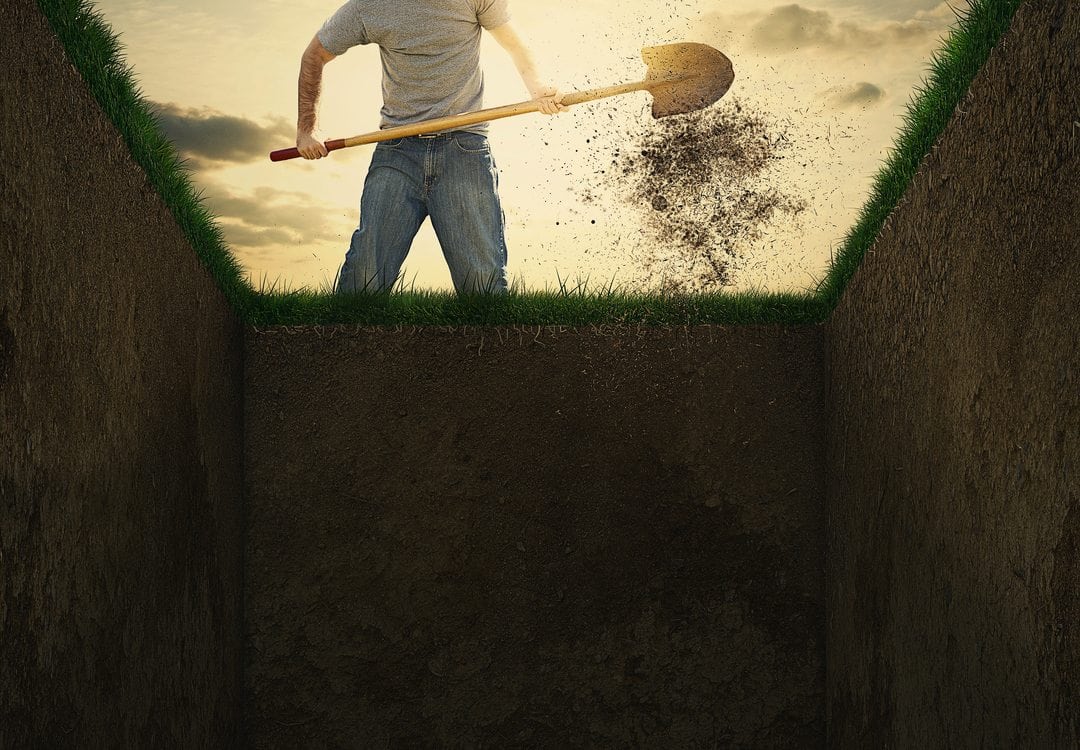 It's all over.
At this point, it doesn't matter who won this election.
Yes, the results have determined the residents of 1600 Pennsylvania Avenue for the next four years, but a different outcome wouldn't have changed one clear, devastating truth: Christianity in this country has been mortally wounded—and it was a self-inflicted injury.
This year much of the Church has been fully complicit in elevating to the highest levels of the political process, a man completely devoid of anything remotely representing Jesus, and passed him off as sufficiently Christian. Celebrity pastors and name-brand Evangelists have sold him as "a man after God's own heart", or at the very least a decidedly imperfect tool of Divine retribution in the style of the Old Testament—and they've repeatedly bastardized the Scriptures, insulted the intelligence of the faithful, and given the middle finger to the Gospel in order to do it.
And millions of Christians have held their noses and washed their hands while still trying to make their beds and cast their lots with the most openly vile, profane, hateful Presidential nominee in history. The desperate theological gymnastics and excuse making professed Bible-believing churchgoers have engaged in to try and justify it all has been the height of tragic comedy, with all the laughs coming at the expense of the Good News.
People have been watching it all, and regardless of the perceived gains, there is a price to this soul-selling.
The price is our shared witness.
The price is our credibility in the world.
The price is the integrity of the word Christian.
The price is the very name of Jesus.
A steady exodus from the American Church has been going on for the past few decades, but last year's campaign and the election has blown open gaping holes in its once impenetrable walls, and intelligent, decent, faithful people are streaming out in droves—and I don't blame them one bit. They're right to run from this thing. It's polluted beyond saving. It is irreparably tainted by its very caretakers. It is a dead body dressed up to look alive for an hour on Sunday.
Whatever American Christianity has become in this year isn't of Jesus anymore, no matter how loud the preachers pound the pulpit or how many Scriptures they quote or how big the steeples become or how grand the display of showy faith it makes.
God has left the building and good people are following quickly behind.
I talk to these people every day. Many of them once called Christianity home. They are deeply faithful, incredibly sincere—and they aren't stupid. They understand what's happening here. They recognize that Jesus and this monstrosity are not made of the same stuff. They've saw the campaign unfold and they watched the Church slowly but surely fall in line behind hatred in order to preserve itself. They seen it grow more and more comfortable closely aligning with malevolence in order to save its own skin, even if it meant camping out on the devil's coattails. They are grieving and furious and not sure what to do.
These are really decent people who still follow Jesus but who can no longer live with the profound disconnect between him and this terrible cancer that has stolen his identity. They know that regardless of the outcome of this election, that everything has changed. Too much damage has been done. Too much compromise has seeped in. Too much poison has entered the blood stream. Too many people have shown their true colors. There is no way to make nice and pretend it hasn't happened.
And so no matter who is in the White House, the task at hand for these folks is to figure out how to be Christian in a place that has seemingly forgotten how; to forge a path of faith that makes a definite break from what the election has declared mainstream for followers of Jesus.
Yes, some Americans will still be doing business as Christianity, and yes the celebrity pastors and the name brand Evangelists will still pound the pulpits and quote Scriptures and make showy displays of faith in buildings with big steeples—but that's all a desperate, flailing attempt to distract people from the stinking corpse in the center of the room. We see it. We wish we didn't, but we do.
And yet, even with as much grieving as there has been watching this all unfold and even with the tremendous loss that we feel right now, for many of us hope still burns like a delicate ember in the center of our chests, because we know that there is something better that this faith of ours once was and still can be.
We still believe that there is goodness to move toward, as difficult as it is to find right now.
We know that this thing that is dead, isn't the thing we seek or cling to or treasure or find life in.
And we know most of all, that the story we walk in is the story of death that will be overcome, despite the lack of evidence for hope.
And so we're mourning and we're throwing dirt over this dead body—and we're here together, waiting on the resurrection.