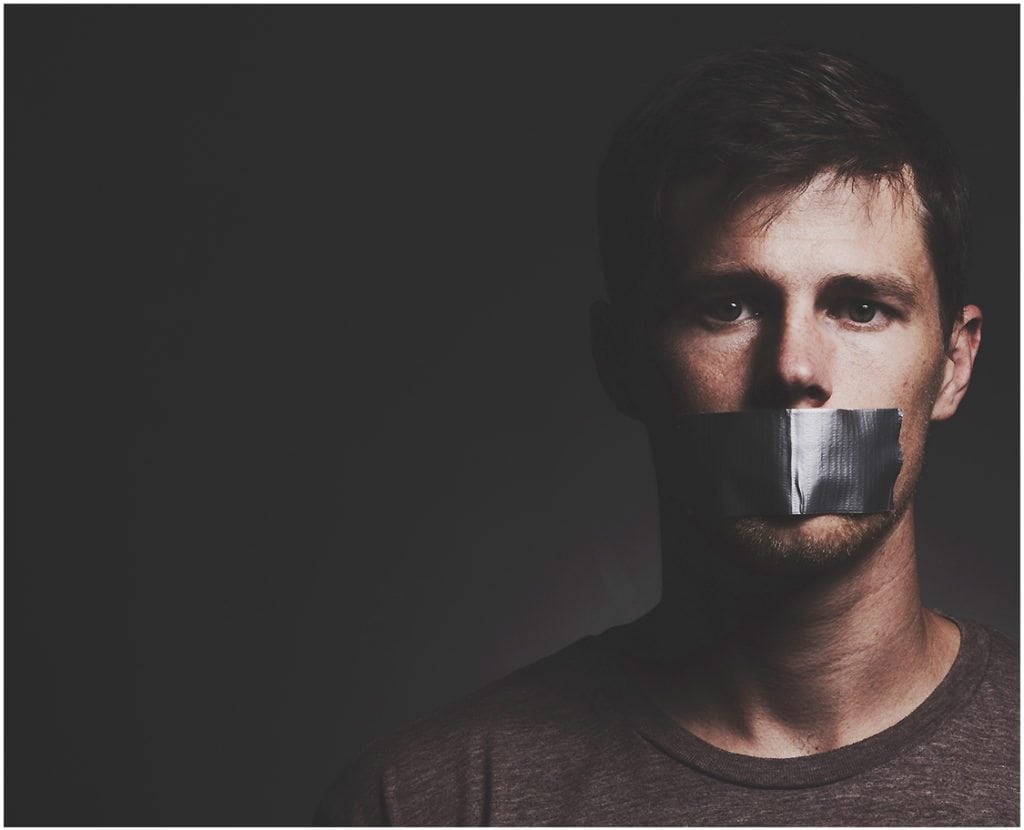 I know lots of loud Christians, though these days I am finding too many of them are selectively loud.
They live at a high volume and know no inside voice—but only when it comes to the handful of sins they fancy condemning; those ones that reliably grab the headlines and consistently rally the faithful and generate easy Amens in the pews. Then they commandeer the megaphone and the airwaves with such regularity and relative ease; deftly marshaling their resources of pulpit and platform and political bedfellow, to brandish showy outrage at a failing humanity.
Then their brimstone tirades and finger-wagging crusades become ubiquitous. 
Yet there are times when these perennially loud religious folk suddenly come down with acute moral laryngitis; days when they lose their usual prophetic voices and are rendered conspicuously silent:
When black men die at the hands of police.
When area mosques are vandalized.
When shooters rampage gay clubs.
When Native Americans brave dogs and bulldozers to defend their graves.
When dark-skinned people seek shelter on their shores.
When the Presidential politics of fear come wrapped in stars and stripes and crosses.
In these moments the once ever-present Church suddenly disappears.
The perpetually loud Church says nothing.
The brazenly bold Church goes into hiding.
The freedom-loving Church seems less interested in freedom.
The pro-life Church becomes less passionate about life.
The For God So Loved the world Church shrinks down to the Red States of America Church.
And this silent sermon is preaching loudly to the watching world about what really matters to far too many professed followers of Jesus. It is once again reminding millions of people that there really isn't that much Good News for them; that the Gospel is a white man's luxury item.
Where are our timely Sunday sermons? Where is our collective righteous anger? Where is our visible presence on the ground and in the protests? Where are our perpetually zealous pastors and evangelists?
The world hears you, quiet Christians. I hear you. Jesus hears you.  
If you're pro-life just as long as that life isn't black or gay or Muslim, you're not really pro-life, you're pro straight, white life. You're pro-babies—as long as those babies grow up to join the NRA and vote Republican.
If your idea of freedom is the kind reserved for only those who look or vote or worship the way you do, it isn't really freedom you're burdened with, it's protecting privileged affinity.
If there is a border of nation or pigmentation or religion around those you feel most called to defend and protect, you've made God into your own image and crafted a special-interest Savior who lobbies only for "your kind".
Because Christian, if as you so rush to proclaim, all lives really do matter to you—then you should be fighting for a whole lot more of them right now. You should be much louder than you are right now. You should be in the streets and at the pulpit and over the airways championing the sanctity of  life; in Tulsa and Charlotte and Aleppo and Pulse. 
You should be so loving the world in a way that more resembles Christ. 
In these moments, organized Christianity will be damned for its silence or redeemed for its volume. It will be proven to either be complicit in the wounds of the world, or it will become the balm that stops the bleeding. It will either look away or it will look into the mirror.
Today we who claim faith will either be a clear resonant voice of equality and justice—or a loud, clanging cymbal of selective, self-serving noise.
But know this, Christian: you are being heard in these days—whether you speak or not.